Cultural and Creative Industries: New Engine for Economic Growth
CULTURAL and creative industries (CCI) are regarded as a positive force in promoting consumption, international trade, and employment, and also for strengthening social cohesion. This is because the CCI feature strong industrial integration, high added value, and are environment-friendly. These emerging industries enjoy a rising status in the pattern of national economy, and will hopefully become a driving force for industrial upgrading, macroeconomic growth, and technological innovation.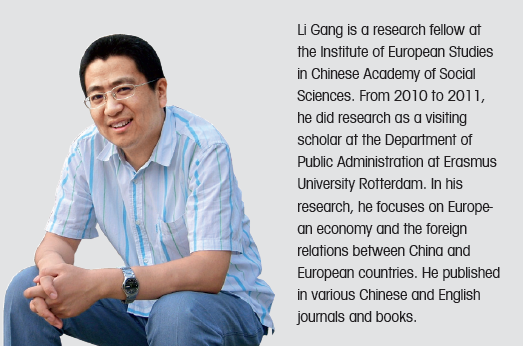 World Consensus
When proceeding from global economic development, upon entering the post-industrial stage a country inevitably develops cultural and creative industries. This is proven by a glance at the history of many developed countries.
One example is that of Great Britain in the 1990s. Having become mired in a manufacturing crisis, the British government carried out policies aimed at developing cultural and creative industries. The CCI sector soon became pivotal in revitalizing the economy, and helped to reduce unemployment. CCI are undoubtedly now a pillar of the British economy, accounting for as much as 8.2 percent of the country's GDP, and employing 8 percent of the total workforce. Its creative product exports have been growing at a yearly rate of 11 percent.
Germany, another big manufacturing country, also attaches great importance to cultural and creative industries. They have become increasingly prominent in its economic pattern as a whole since 2009. In 2012 the added value of the German CCI sector rose to £63.6 billion – 2.31 percent of GDP that year, and 10 percent higher than in 2009. The CCI's contribution to national economic growth was still dwarfed by that of financial services, machinery manufacturing, and auto industry. But it nevertheless surpassed chemical and energy industries. In 2012, a total of 246,000 cultural and creative companies in Germany provided over a million positions, or sufficient for three percent of the entire working-age population.
Promote China's Economic Transformation
In September 2009, the Cultural Industry Revitalization Plan, the first of its kind in China, was ratified. It signified the elevation of the cultural industry to a national strategic industry. According to the plan, China has given preference to the CCI sector, which includes cultural creativity and design, film and television production, publishing and distribution, performing arts and entertainment, cultural exhibitions, advertising, and the animation industry.
The recently unveiled 13th Five-Year Plan also emphasizes making CCI a pillar industry. It is indeed expected to become a new economic growth point, and a new engine to propel economic restructuring and industrial upgrading.
Cultural and creative industries will indeed become a new growth point of China's economy. As the global financial crisis seriously affected traditional industries such as finance and real estate, amid the resultant long-term economic stagnation, countries across the world have readjusted their economic development strategies and searched for new growth points.
The CCI feature high industrial integration, soaring demand, and strong innovative capacity. They are thus perfectly in line with China's goal, in the context of the "new normal," of ensuring growth, expanding domestic demand, and promoting employment. Against this backdrop, the CCI sector has become a highlight of economic growth.
According to the National Bureau of Statistics, the added value of China's cultural and creative industries increased from RMB 1.1052 trillion in 2010 to RMB 2.7235 trillion in 2015, representing an expanded share in GDP from 2.75 percent to 3.82 percent. In terms of the growth rate, the CCI sector in China achieved 11 percent in 2015, higher than the macroeconomic level. That in Beijing, Shanghai, Jiangsu, and Guangdong accounts for more than 5 percent of local GDP. Cultural and creative industries have thus become a main impetus for promoting China's economic growth and optimizing its structure.
Cultural and creative industries have accelerated China's economic restructuring. In the past three decades China made great economic and social achievements, with average annual growth of more than 10 percent. Against the backdrop of supply shortage, a comparatively low industrialization level, and cheaper labor costs, investments and exports were a main force in developing the economy, building the industrial system, and improving people's livelihood.
Along with the social and economic changes, however, the drawbacks to this economic pattern emerged. Excessive investment led to serious excess capacity in some sectors, resulting in low productivity and serious economic imbalances. The old industrial development pattern, featuring high energy consumption and hence high pollution, also had serious impact on the environment. Large-scale investment moreover increased government debts, and over-reliance on exports made the Chinese economy vulnerable to cyclical changes in the global economy.
The cultural and creative industries tally perfectly with China's current demand to transform its economic growth mode and upgrade its industrial structure. They will therefore offset the drawbacks to the outdated extensive growth pattern.
The main investment elements in the cultural and creative industries are intellectual resources and fruits; their dependence on material resources is lower. The green, low-carbon CCI sector thus has dual significance in modern economy. On the one hand, it is an important part of modern services, and on the other, it has a strong capacity for integration, penetration and radiation that can help to develop and upgrade relevant industries.
In March 2014, the State Council promulgated the document elevating industries related to culture, innovation, and design and promoting their integration and upgrading. The document aims to speed up CCI's fusion with other aspects of the economy, including manufacturing, construction, tourism, agriculture, and sports industry. In fact, these trends are now clearly apparent.
The cultural and creative industries also help to expand the consumption scale and promote the consumption structure. China is embracing a new type of economic growth mode that focuses on domestic consumption, which it regards as a driving force for sustainable growth.
A prosperous CCI sector will enlarge domestic demand and consumption. In its recent survey of 160,000 households in 31 provincial regions, the National Bureau of Statistics found that, in 2014, per capita consumption expenditure increased year-on-year by 9.6 percent (excluding price fluctuations), of which per capita expenditure on culture and entertainment showed an increase of 16.4 percent. Cultural expenditure thus achieved average growth of more than 12 percent from 2011 to 2014. Along with a rising per capita GDP and household disposable income, the proportion of cultural consumption will increase further, so once again optimizing the consumption structure.
Provide Opportunities to the World
The development of China's CCI sector has resulted in a surge in manufacture and export of cultural and creative products. This has not only enriched global cultural markets, and boosted international economic growth, but also contributed to the diversity of world culture.
In March 2016, UNESCO published a report entitled "The Globalisation of Cultural Trade: A Shift in Consumption – International Flows of Cultural Goods and Services 2004-2013." It revealed that in 2013 China topped the world by exporting cultural products worth more than US $60 billion, accounting for 28.2 percent of total world exports in this sector, about twice that – US $27.9 billion – of the second country, the U.S. In the same year, China imported cultural products worth US $5.84 billion, about 3.5 percent of total world imports. (See Figure 1)

The strong demand and potential for China's cultural market constitute great opportunities for foreign companies. At present, China's middle-income population is close to 300 million, a figure expected to double in a decade. People in the middle-income group are the main consumers of cultural and creative products due to their higher incomes and education levels. According to the China Cultural Consumption Index (2013), a report jointly released by the Ministry of Culture and Renmin University of China, the country's potential cultural consumption that year reached RMB 4.7 trillion, while the actual level remained at RMB 1 trillion. Driven by strong demands and a series of policies, the cultural and creative industries are expected to become the new growth point in the context of the economic "new normal," so bringing great opportunities for all cultural companies.
Services