Ningxia: Putting Money Down on Culture
Construction of a Cultural Industry Owes as Much to Management as to History
By YANG YUJING
WITH an area of 66,400 square kilometers and a population of 6.25 million, Ningxia Hui Autonomous Region is located on the upper and middle reaches of the Yellow River. The region is the largest settlement of the Hui ethnic group, which makes up 36.2 percent of the region's total population. Ningxia's jurisdiction covers five prefecture-level cities and 22 counties, county-level cities and districts. This land of plenty has a long history, unique scenery, and is richly-endowed with resources. The regional capital, Yinchuan is one of China's famous historic and cultural cities.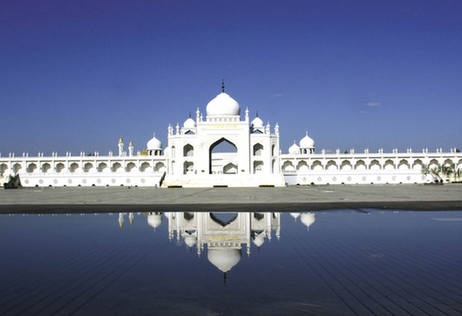 The Hui Ethnic Culture Park in Yinchuan.
Unique History and Culture
On the interface of farming and nomadic cultures, and a channel of cultural exchange between the Western and Eastern world, Ningxia's distinct geographical location has contributed to its rich history and culture. As early as 30,000 years ago, Paleolithic people lived here. Since then many ethnic groups migrated and became part of the population during different historic periods, a condition which gradually resulted in a multi-ethnic culture, including the Yellow River culture, the Hui Islamic culture and the culture of the Western Xia Dynasty. The abundance of historic relics here attests to the attraction this land holds for so many peoples. Among them remnants of the Great Wall of the Qin Dynasty, cliff paintings in the Helan Mountain, imperial mausoleums of the Western Xia Dynasty, which are nicknamed "pyramids of the East," and a number of ancient towers and monasteries.
At present, the region is aiming for a harmonious and affluent new Ningxia, giving prominence to cultural development. Based on its abundant unique cultural resources, Ningxia has implemented a strategy to boost culture that emphasizes both non-profit cultural undertakings and a profit-making cultural industry. By launching a slew of policies and projects, the region has significantly improved its public cultural services, cultural infrastructures, the prominence of its cultural industry and the protection of cultural heritage. The growing prosperity of Ningxia's cultural sector is providing strong support to local economic and social development.
High-quality and Efficient Public Service
Starting with a demonstration project for its planned cultural service system, Ningxia established a network that covered the entire region, incorporating a number of landmark public services such as the Ningxia Library, Ningxia Museum and Ningxia Radio and Television Center.