Into the Wild – Hiking through Qizang Valley
By HU JUN
NOT far from Sichuan's Jiuzhaigou, a well-known national park and World Heritage Site on the edge of the Tibetan Plateau, is a place devoid of human habitation. High above sea level and without readily available telecommunications or transport, this lonely paradise features breathtaking natural scenery unspoiled by humans. Locals call it Qizang Valley.
The only way to enter it is on foot or horseback, and visitors must bring their own accommodation in the form of tents. Last autumn, I, together with eight other teammates, became one of those visitors and braved altitude sickness and freezing conditions to make the ascent to the valley.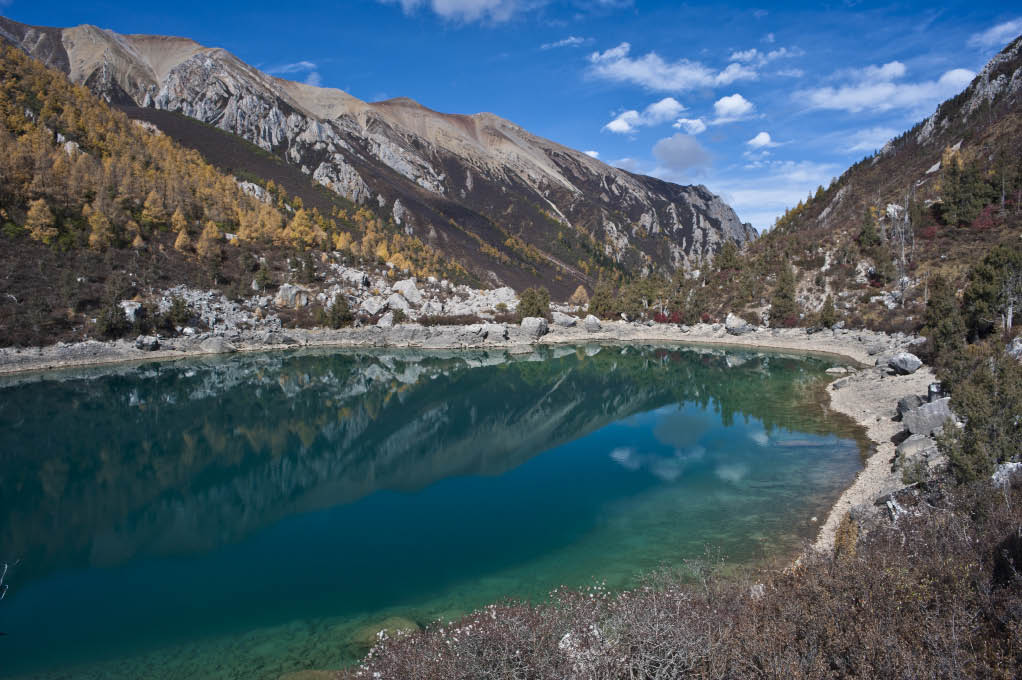 Changhaizi Lake.
Preparations
Isolated from civilization, it was essential for us to be prepared for every eventuality. This wasn't like hiking in the hills around Beijing, where if we got lost or hurt, we would seldom be more than half an hour from help. On this trip we brought all the basic equipment needed for camping and more, having done meticulous research on previous adventurers' travel logs about every possible route, their conditions and the best camping sites. Our first-aid kits contained medicine and treatment for everything from the common cold and allergies, to altitude sickness and serious injury. We carried walkie-talkies in case the group got separated. Lacking just one item in a bad situation and we would have been in deep trouble.
Having traveled from Beijing via Chengdu, we donned our down jackets as soon as we emerged into the freezing air at Songpan County, an ancient town 320 kilometers from Chengdu. This was only a taste of what was to come. That evening we enjoyed every mouthful of our dinner, as we knew it would be our last meal cooked in a kitchen for some days. After checking our luggage against our kit list one last time, we took our final shower and settled down to sleep in comfortable beds.
Day One: the Kaka Valley
The Kaka Valley lay between us and the Qizang Valley. We had to cross this on foot. The first day's walk was a leisurely 16 kilometers across smooth terrain. Bushes grew on either side of the path, their red leaves darkening as autumn approached its end. We were flanked by high mountains. Feasting our eyes on this scenery under a clear blue sky and crisp white clouds, we were in high spirits. Every member of our group was a keen photographer, and the click of shutters accompanied us as we paused to take yet another snap. Our guide Zhao waited patiently for us to record the glorious views before us, never showing impatience or hastening us on our way.
After two hours of walking we came across a fenced meadow in the middle of a quiet, open plateau. Zhao told us we could stop at a local home to take some food and drink and rest for a short while. Before us lay a simple wooden house nestled against the mountainside. The grass that grew in front of the house was so lush and green that as soon as we stopped our first instinct was to lie down and bathe in glorious sunshine.
Inside we drank cups of yak butter tea, said to help prevent altitude sickness, prepared by our hostess. The tea, made with barley flour, yak butter and sugar, was thick and creamy and more like soup than a hot beverage. We finished the tea, and stood on the balcony looking at the distant scenery and feeling reinvigorated. At that moment we felt like we had found the true Shangri-La.
Speaking to our hostess, we discovered that few of the hikers that pass by her little wooden home stop here to appreciate the scenery, instead hurrying on to reach their destination. Since the main objective of our group was to take pictures, we had planned a much more flexible schedule. Making such a detour allowed us more opportunities to capture the beauty of this unique valley.
We arrived at our campsite, sheltered from the wind by a col, at 6.30 pm. At the end of a tiring day, I found that putting up a tent was much harder than the hike had been, and struggled to complete the task. While I made some final adjustments, my teammates dug a hole to serve as a simple toilet a short distance from the campsite.