Daya Bay
Pearl of the South China Sea
By HU JUN
WITH extravagant Hong Kong literally just round the corner, Daya Bay is an overlooked beauty. Except for a brief period in the 1920s when it gained notoriety as a haven for pirates, the bay has led a quiet existence, under-appreciated by tourists and developers alike.
Situated between Shenzhen and Huizhou cities in the South China Sea, Daya Bay covers an area of close to 1,000 square kilometers. Its sparkling waters are dotted with over 100 islands and oddly shaped rocky outcrops, which have earned it the name, "Little Guilin by the Sea."
My family used to go to Shuangyue Bay and Yangmeikeng Beachfront Village for family vacations. The two spots are at opposite ends of Daya Bay, but for some reason we never drove along the 52-kilometer-long coastline road. I set out to correct this injustice last spring, unaware of the stunning scenery that awaited us.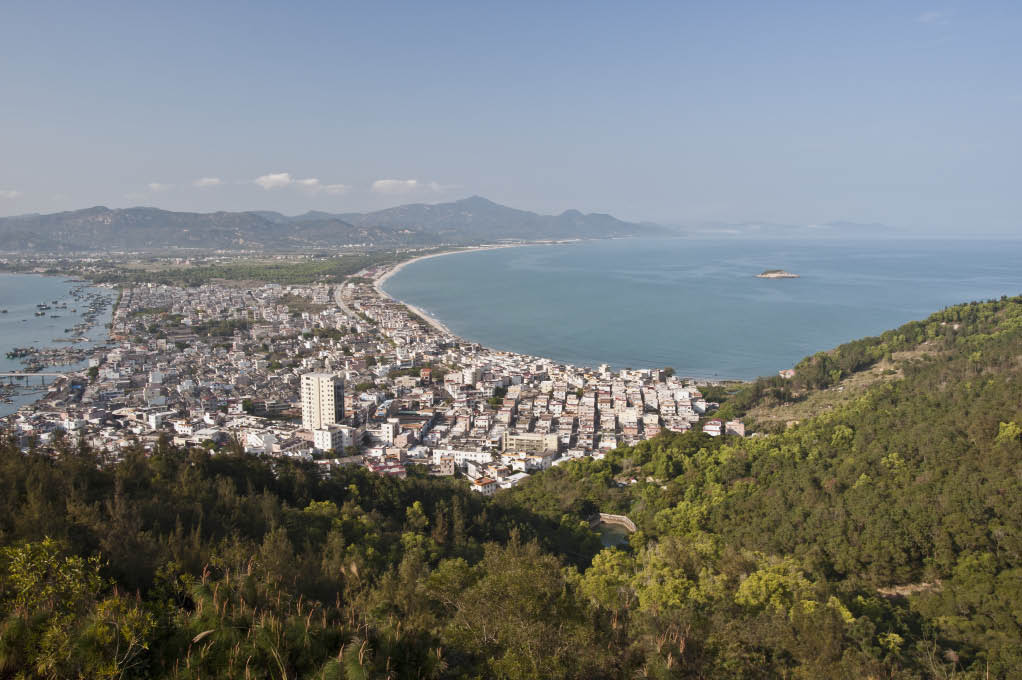 The Bay of Two Moons.  
We first drove from Shenzhen to Gangkou Town in Huidong County of neighboring Huizhou City, the easternmost point of the bay. It is said that the best spot to view Shuangyue Bay and understand its mysterious name – meaning "Bay of Two Moons" – is from the top of the Daxing Mountain.
The mountain is surrounded by sea on three sides and shelters a small bay with a cozy one-kilometer coastline. Turtle Bay, as it's known, is the only sea turtle nature reserve on a continental shelf anywhere in the world. Every year from June to November countless sea turtles converge on the beach to lay and nest their eggs.
From atop Daxing Mountain, we enjoyed a bird's-eye view of Shuangyue Bay. In the middle of our field of vision was Gangkou Town with its ascending rows of quaint houses. To the right of the town is Dongshanhai Bay, and to its left, Pinghai Bay. Both bays are crescent-shaped, and in an instant we understood the beautiful analogy behind the name, "Bay of Two Moons."
Dongshanhai Bay's white sand beach extends a glorious seven kilometers, but it's yet to be fully developed with an eye to tourism. The bay scenery is charming, but we saw almost no visitors, which we put down to a lack of adequate tourist infrastructure.
Gangkou Town is a paradise for lovers of seafood. The main business of the town is seafood processing and export, but it seems the best dishes are still served up – at reasonable prices – in the town's numerous restaurants that line its main street. Local cuisine includes sea cucumber braised in brown sauce, sea urchin fried rice, steamed grouper, boiled shrimp, stir-fired clam and clam and fish soup.
Before leaving the town, we stopped by at a farmers' market and stocked up on some local fruits including lichee, mango, papaya, longan and banana. It wasn't long before we were enjoying the fruit while sitting on a balcony and appreciating the fine sea view from our hotel for the night.