Zhang Jiao, Ardent Advocate of Afforestation and Green Farming
By staff reporter LU RUCAI
Zhang Jiao and the CT reporter sit on her self-cultivated hill as she talks about her green farming ambitions.
ERSTWHILE multimillionaire Zhang Jiao, now tens of million of yuan in debt, considers herself both lucky and wealthy. Her riches consist in a formerly barren 3,000-plus-hectare hill in Yanqing County, Beijing, that, thanks to Zhang's funds, is now covered in a wild profusion of verdant vegetation.
"I've never regretted my choice, because I believe I created a miracle," Zhang told China Today.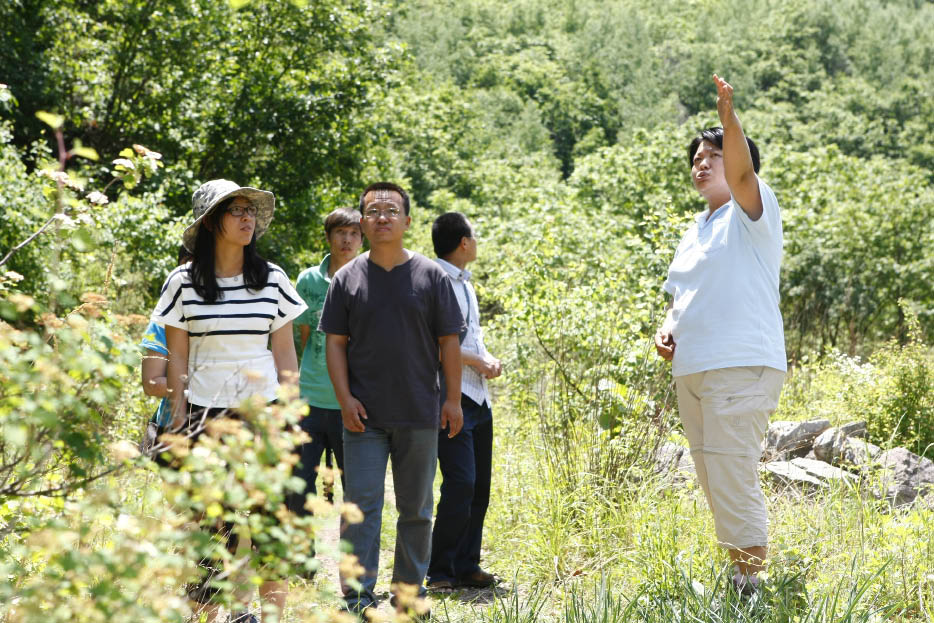 Zhang's main ambition is to promote her mode of afforestation and green farming and prove that it is replicable.
Money Is Not Everything
I met Zhang Jiao on her hill, 100 kilometers or more from downtown Beijing.
Shortly before buying the management rights to this then barren hill in 1994, Zhang Jiao had scooped her first crock of gold by virtue of business acumen that enabled her to brave the waves of China's reform and opening-up. Zhang was the economic mainstay of her family, which comprised her single mother and herself. She learned the fruit business and how to manage money by taking note of the dealings of her elders. Before long she became dissatisfied with life as a small-time fruit vendor, and began casting about for broader, more lucrative markets. She hit upon the idea of trading in various commodities – a decision that took her all over China.
In the 1980s China's burgeoning economy teemed with business opportunities for those such as Zhang who were versed in the market. She traveled to Hainan Province to buy bananas, to Sichuan for oranges and to Northeast China for rice with the aim of selling them in places where they were in short supply at a steep profit. The proceeds of Zhang's market savvy and hard work made her a multimillionaire.
Zhang found that a bulging purse did not bring her spiritual solace, and that she needed more from life than just money. In 1994, she went to Yanqing, which at that time was prospecting for a suitable investment, for an outdoor excursion, and was mesmerized by its majestic and picturesque landscape. When she came upon a barren hill there she promptly took the decision to buy the management rights to exploit it.
In 1995 Zhang went to live on the hill and has been there ever since. A derelict stone-piled house became her and her workers' dwelling place. It never occurred to her that she would live there for more than a decade with no utilities or mobile phone signal. She still sleeps on the adobe kang in her small bedroom, and her furniture comprises a rickety table and a few chairs. The small TV Zhang bought for her workers when electricity was installed two years ago is the sole luxury in this humble home. Such meager living conditions are seldom seen even in China's most remote rural areas.
Zhang refused to let us take any photos of her house, perhaps because she thought our readers would not be interested in her living conditions. Scooping a ladle of water from the big jar to quench our thirst, we suddenly felt more attuned to Zhang's rural life.
For Everyone
Every morning at the crack of dawn, Zhang starts her work on the hill. "Winter is for soil restoration, summer for afforestation," Zhang told us. For her, the past 10 or more years have flashed past. Throughout her self-appointed state of isolation, she has not taken any holidays, not even at the all-important Spring Festival. To avoid oversleeping, she keeps her watch an hour fast.
When Zhang told people of her plan to afforest this barren hill, restore its vegetation at various levels and carry out conservation strictly according to the pattern of virgin forest, they thought she was out of mind. Her ambitious goal has taken her to virgin forests in Shennongjia of Hubei Province and the Greater Hinggan Mountains in the utmost north of China. Today, dramatic changes are apparent in the layers of vegetation on this formerly barren hill, which in the autumn months becomes a blaze of color.