The Second Spring of Shannan Town
By staff reporters TANG SHUBIAO & LI WUZHOU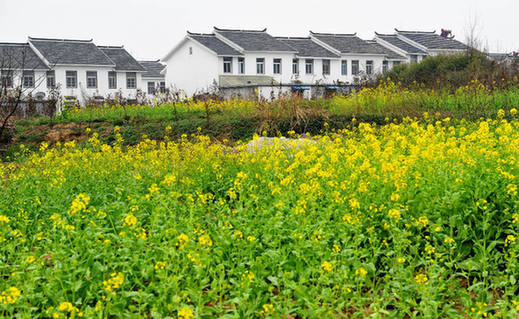 Shannan's Xiaojingzhuang Village is the birthplace of the household responsibility system, which heralded in China's reform and opening-up. 
THE first town to carry out China's landmark rural forms that ushered in the household responsibility system more than three decades ago lies southwest of Hefei, capital city of Anhui Province. Since decentralizing, combining and putting companies in charge of managing its fields and appointing local farmers as industrial workers in this agricultural enterprise, it is now experiencing a second wave of development. Comprehensive efforts in the primary, secondary and tertiary sectors of the economy are expected to create fresh prosperity in the region.
The town that embodies the new development pattern of China's rural areas is Shannan of Feixi County in Hefei.
Pioneer of the Household Responsibility System
A memorial hall stands in Xiaojingzhuang Village of Shannan dedicated to the household responsibility system that came into effect more than three decades ago.
At that time the people's communes, in which cadres oversaw collectivized productive labor, were in operation in Shannan and elsewhere. It was a system that inspired little incentive to exceed production targets. Shannan resident Li Zuzhong, now 73, was the village accountant at the time. He remembers how the shift away from people's communes happened, "During a drought in 1978, when villagers were starving due to poor harvests."
Tang Maolin, Party secretary of Shannan District committee, first led a discussion on the household responsibility system in a nearby village in September of 1978. It was, however, Xiaojingzhuang Village, through the common efforts of 98 villagers who shared 153 mu of fields among their 21 households with the aim of individual production, that more or less brought the system into effect.
Then Party secretary of Anhui Province Wan Li supported the reform, making Shannan an experimental unit of the household responsibility system.
There was an abundant harvest in Shannan a year after the reform. That of wheat was double what it had been in 1978 – enough to deliver 9.9 million kilograms to the state as compared to the 500,000 kilograms the summer before the reform.
Wan Li went to the meeting held in Li Zuzhong's hut in Xiaojingzhuang Village to gauge the success of the reform. He recalls how, on seeing the harvest produce piled high in front of every household, Wan was convinced of the system's efficacy.