Innovative Nanchang
By WU MEILING & XU XUESONG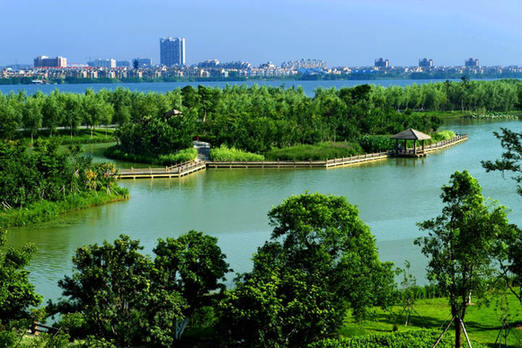 The high-tech zone includes large spaces for water and trees.
THE Nanchang National High-Tech Industrial Development Zone sits in a wetland on the iconic Yangtze River. Twenty years ago, Jiangxi Province's capital Nanchang was chosen as central China's first national eco-industrial zone. Since then locals' dedication and hard work has made the zone a great success.
Established in 1991, it has achieved a 30 percent annual increase in its main business income in recent years. Though the zone covers only 0.08 percent of Nanchang's land, it contributes a quarter of the city's industrial added-value and a third of the city's taxes and profits. It is evident that the zone is a vital part of Nanchang's industrial development.
During China's 11th Five-year Plan (2006-2010), the Nanchang National High-tech Industrial Development Zone initiated plans to spread to the Yaohu Lake region from its previous development base in the Aixi Lake region. It has great hopes for its future involvement in global industry and is currently striving to become a modern ecological hi-tech zone in order to preserve and protect the environment while improving local income.
Tall Trees and Highrise Buildings
The success of the Poyang Lake Eco-economy Zone inspired the creation of a new ecological hi-tech zone by the Yaohu Lake. The Yaohu Lake zone, with the Yaohu Lake at its center, is designated the sub-civic center of Nanchang City. The forest park that surrounds the lake is the main feature of the area. The zone includes a central business district, a modern commercial area along Ziyang Avenue and the headquarters economy area on Changdong Avenue. These different districts and their functions will be well integrated, setting up a smoothly running environment for investment and development.
There will be a complex of at least eight highrises along the 18-kilometer main axis of the city, each over 200 meters in height, in the style of Manhattan's Rockefeller Center and Singapore's Orchard Road. Specialized commercial streets will stretch along the shore of Yaohu Lake. The mid-lake island will service not only the Nanchang National High-tech Industrial Development Zone but also the whole city's financial needs as a major financial center.
The research and development center of Jiangxi Copper Corporation, the headquarters of the China Power Investment Corporation, and the regional headquarters of China Energy Conservation and Environmental Protection Group are some of the first to bed down in the zone and add to the vitality of its development.
The zone, however, won't be merely an economic center. Its forest park's 18 square kilometers of lush green plants will provide employees and local residents with a setting in which to enjoy the lake's unique charm. In the evening they will be able to stroll along the 20-kilometer-long landscaped promenade around the lake and enjoy the natural scenery.