Beijing Fair Promotes China's Service Trade
By SUN LI
THE first China (Beijing) International Fair for Trade in Services (CIFTIS) was held at the China National Convention Center from May 28 to June 1, 2012. "Trade in Services: New Vision, New Opportunities and New Development" was the theme of the event.
CIFTIS is being touted as an important launch pad for Chinese firms to reorient their trade business toward higher-end services. Indeed, CIFTIS could be the next go-to acronym in trade circles at home and abroad, and could mark the biggest shift in China's pattern of trade since that other acronym, the WTO, came to China in 2001.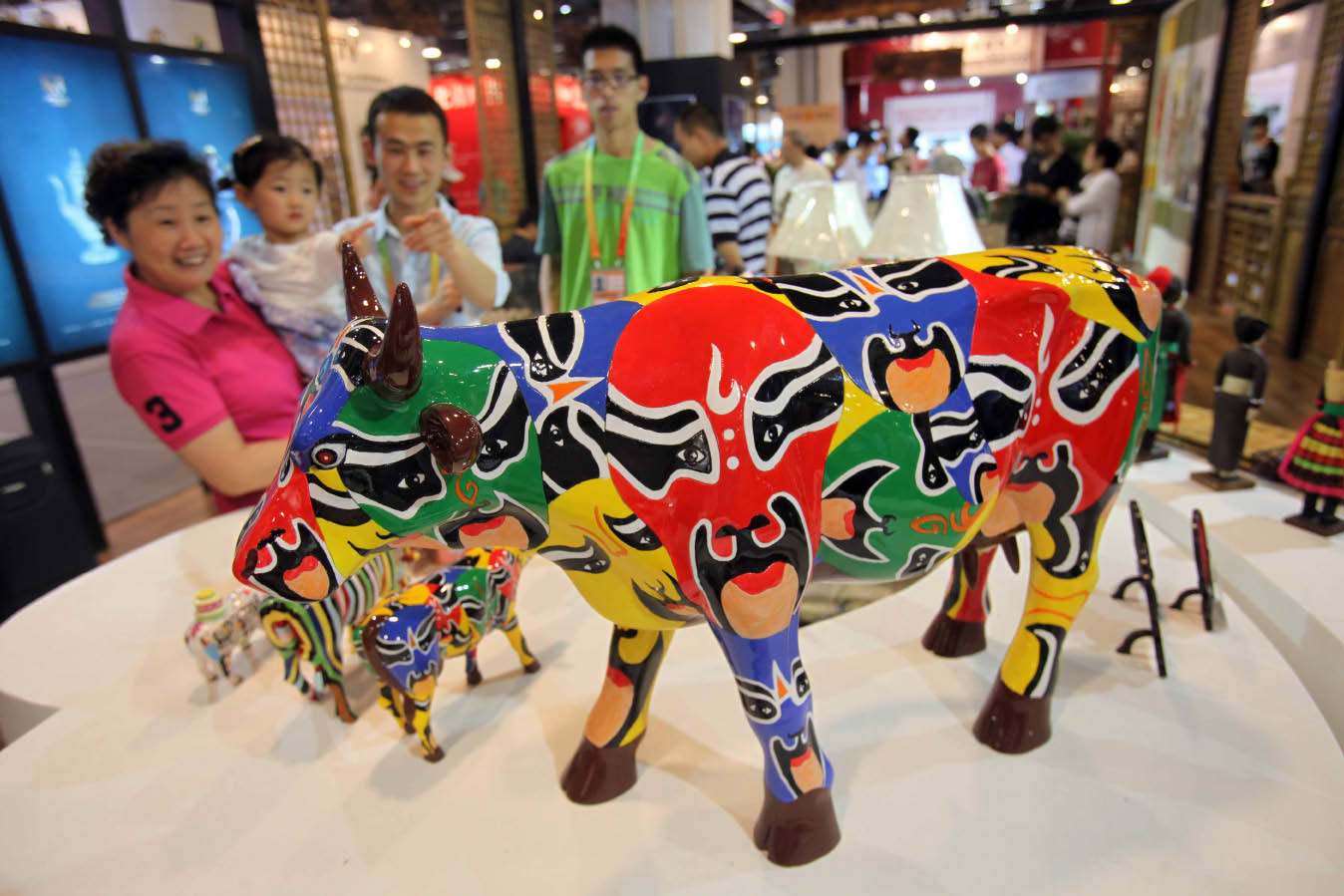 A worker at the first CIFTIS gives visitors background information on a handmade ox covered in colorful Beijing Opera style faces. CFP 
A New Trade Fair, Born from Demand
In recent years, China's trade in services has developed rapidly. A lot of growth has come from increasingly competitive emerging services such as IT services, insurance, finance and consultation, while traditional services, including tourism, transportation and construction, have held strong. China's overall trade volume in services is increasing rapidly, and Chinese services are recognized internationally as solid, competitive products.
In 1982, the total volume of China's foreign trade in all services stood at a mere US $4.4 billion. By 2011, this figure rose to US $419.1 billion. China's share in the global trade in services had climbed to five percent in 2010, from 0.6 percent in 1982. The period 2006-2011 in particular saw a sharp increase in the trade in emerging services, with volumes rising from US $31.34 billion to US $87.35 billion over the period – an average annual increase of 22.8 percent.
According to Lü Jijian, deputy director of the Trade in Services Department of the Ministry of Commerce, from 2007 to 2011, the ministry held three conferences on China's trade in services in Beijing and Shanghai to analyze development trends in the international trade in services and capitalize on those trends. During the period, China climbed to number three worldwide for service imports and number four for service exports.
CIFTIS is a natural successor to annual conferences held for the last three years to promote China's trade in services. CIFTIS aims to become a stage for China to promote its strength in services and achieve its 2015 target of total trade volume of US $600 billion – an average growth of 11 percent for 2011-2015. CIFTIS is to be an important conduit for China's service imports and exports, a channel for the authoritative release of information and policy on trade in services, as well as a negotiating space for businesses and traders.
CIFTIS is devoted to building a bridge for service enterprises in order to foster international exchanges and communications. The fair provides a dialogue platform for world participants to push forward cooperation and development in the services trade, and is on track to make solid contributions to exploiting China's new advantages in trade. The fair's organizers hope to see future recognition of the Canton Fair in the south as the nation's largest event for commodity trade, and CIFTIS in the north as the equivalent for trade in services.