Zibo, a City with Tales to Tell
By Wu Meiling
THE history of a city tells a story of a society and its prosperity.
Linzi in Shandong Province first rose to prominence in China as the capital of Qi, a vassal state during the Spring and Autumn and Warring States periods (770-221 B.C.), when it became a regional cultural, economic and political center. Its Jixia Academy, often compared with its contemporary Platonic Academy in Athens, Greece, incubated almost all the leading figures in the many schools of thought that contended with each over 2,000 years ago.
Today Zibo is an important transportation hub for rail, road and air services. Located in the heart of Shandong Province, it is 70 kilometers from Jinan International Airport, and about 200 kilometers from Qingdao International Airport and Qingdao Harbor. Convenient transportation allows visitors easy access to the area's rich historical and cultural attractions and splendid natural scenery. Neighboring Mt. Tai in the south and backing onto the Yellow River in the north, Zibo enjoys the beauty of mountains and plains. The city is a high-tech center as well, with many national level technological innovations to its credit.
With its past prosperity and cultural inheritance, Zibo is more than ready to make its mark in the world.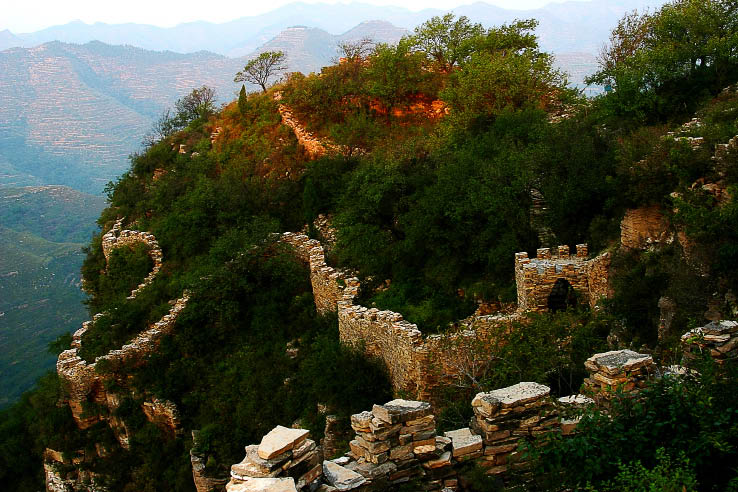 Segments of the Great Wall built in the rule of the State of Qi. 
Respect Talent and Value Merit: the Heritage of a 3,000-year-old Civilization
The history of the State of Qi is central to an interpretation of this seat of a 3,000-year-old civilization. After the Western Zhou Dynasty was established in 1046 BC, the emperor awarded its top adviser Jiang Ziya a fiefdom where he founded the State of Qi. At that time, "the land was barren and sparsely populated." Though in his late 80s, Jiang brought in a series of new policies to develop the area. According to historical records, he followed local customs but simplified them, reducing the formality, and fostered a tradition of respecting talented people and valuing their merits.
Positive winds of change swept the state as the talented were selected regardless of family background, and meritorious and ethical behavior was praised. People of other states gradually migrated to Qi. Jiang's measures boosted the prosperity of the state, so future generations kept up the tradition.
How Qi achieved its glory is household knowledge in China. In 685 B.C., the old duke of Qi died and on hearing the news his two sons rushed back from neighboring states to claim the throne. Xiao Bai, the younger one, was hit by an arrow shot by his brother's tutor Guan Zhong. Fortunately the arrow was not fatal, but Xiao Bai promptly bit off his tongue and played dead. His rival was deceived by this and slowed his pace, and Xiao Bai won precious time to get back and inherit the throne.
The new duke didn't exact revenge for the arrow; on the contrary, he appointed Guan Zhong as his prime minister. Guan was so grateful to the duke that he devoted his life to ensuring the supremacy of the state. He offered much valuable advice to his ruler. In one case he told the duke: "A single timber can't support a mansion; a small creek can't create a sea. If you want to achieve greatness, my lord, you need five talented people around you." He continued to make his recommendations and they were not self-serving: "In terms of formality and eloquence, Xi Peng is better than me, so please appoint him minister of foreign affairs; in terms of cultivating wasteland and increasing the population, Ning Qi is better than me, so please appoint him minister of agriculture; in terms of maneuvering soldiers and chariots in battle, Wangzi Chengfu is better than me, so please appoint him commander of armed forces; in terms of settling a lawsuit reasonably and fairly, separating the innocent from the criminal, Bin Xuwu is better than me, so please appoint him chief of the judiciary; in terms of giving straightforward advice regardless of his own interests, Dongguo Ya is better than me, so please appoint him to be in charge of supervisory and advisory affairs." Guan added, "These five will help you establish a rich and strong state, but if you want to be the most powerful duke of an entire era, I, Guan Zhong, should be retained here." Xiao Bai followed Guan's suggestion and eventually achieved the historical supremacy he desired.
In the fourth century B.C., Qi entered another golden age under the leadership of Duke Wei, who carried forward the tradition of respecting the talented and meritorious. At that time, society showed less vitality as the state was controlled by noble families under a feudal system. Breaking with tradition, Duke Wei appointed Zou Ji as prime minister, Tian Ji as general and Sun Bin as military counselor. They undertook political reforms in several areas, including the legal system and the talent selection process. The state began to grow in strength, and finally achieved victory in two historic battles with its rival state Wei.
Duke Wei also paid great attention to education. Jixia Academy was founded in the capital city of Linzi and became a major cultural center for all of China as a parade of outstanding scholars were invited to lecture there and participate in political decision-making. In the late years of Duke Wei's reign, Qi became one of the most powerful states in China.
The respect of talent and promotion based on merit guaranteed the supremacy of Qi, the prosperity of its economy and survival of its culture. Before the Eastern Han Dynasty (25 - 220), Linzi had become one of the largest and richest cities in the country. Records show that there were over 40,000 households with a population of 200,000 in the early seventh century B.C., and 500,000 to 600,000 residents in over 70,000 households were estimated to exist in the late fourth century B.C. In the second century B.C., Linzi was even "larger than Chang'an (now Xi'an)," capital of the Western Han, the regime that ruled the city at the time. Like an old saying goes, "Chang'an in the west and Linzi in the east," Linzi was the only city in eastern China to be on a par with the capital, and the city was always placed in the hands of the beloved princes.
Linzi is regarded as the birthplace of Chinese commercial interests. Guan Zhong implemented a series of policies to promote commerce, like reduced taxes. "Merchants all came to Qi like rivers to the sea." Guan also came up with a form of macroeconomic theory, which was recorded in Guanzi, a work celebrating the Chinese commercial spirit, which earned him the unofficial title of "father of Chinese commerce."
Commerce brought vast wealth to Linzi, and its affluent citizens developed an array of interesting pastimes. Strategies of the Warring States Period and Records of the Grand Historian both wrote that the residents of Linzi liked to play instruments and indulged in games like cock-fighting, gambling and football. This is the earliest record of football being played in China, and Linzi is regarded as its birthplace.
Prosperity also boosted the development of academic thought. Jixia Academy attracted the most gifted scholars and intellectuals of the day. Coming from different backgrounds and schools of thought, their exchange of ideas facilitated the first large-scale enlightenment and flowering of cultural cohesion in China. In this sense Jixia Academy made as great a contribution to human civilization as the Platonic Academy of Western civilization in its time. Sun Tzu's Art of War and Sima Rangju's Sima Law, fruits of this enlightenment movement, are still widely used in contemporary army and business management, and show how the legacy of a 3,000-year-old civilization can be revived in modern times.