The Chinese-Hollywood Mode
By TANG YUANKAI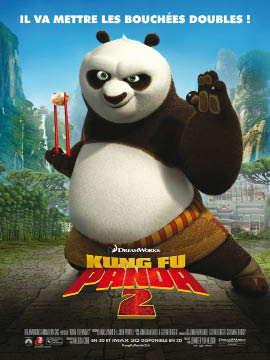 ON the eve of June 1, International Children's Day, Kung Fu Panda 2 was screened in China, a release scheduled as a gift for the nation's kiddies. The box office surpassed RMB 100 million in the first weekend (May 28 - 29), overwriting the record 100 million of Avatar's first three days. Though the movie's performance was not ideal in the U.S. market, it knocked out the status quo in many countries: in France, it was a top draw in its first week after release.
Kids enjoyed the animation, while accompanying grown-ups sighed at the use of iconic Chinese symbols. Chinese movies had these resources at their disposal (Kung Fu and the panda bear) but it took Americans to put them into a blockbuster.
Last year the total box office in China exceeded RMB 10 billion, to which James Cameron and other "foreign aids" made a great contribution. However, even this figure is dwarfed by other media industries. The profit of one leading online portal such as Tencent, for example, surpassed the entire movie industry last year. According to the 2011 China Film Industry Research Report recently released by the China Film Association, Chinese producers don't enjoy a hefty share of the revenues from overseas market.
The capital and distribution problems that used to beset Chinese producers are no longer obstacles to absorbing significant proportions of their markets, but the current pitfall is that they cannot make movies that really grab Chinese audiences. Beijing Screenings, held annually for the last 15 years, is the place for international buyers hunting for Chinese movies worth their distribution rights. As Outlook Weekly said, foreign producers' impressions of Chinese movies were often that they "don't understand" them.
"Getting It"
So, some Chinese filmmakers and even amateurs started to mull over the "secret" of Kung Fu Panda's success. The panda mimics an American teenager from speech to behavior. But his appearance makes it easy to love the "cutie" for audiences around the world, even in China. And this time he came back to his hometown in Sichuan, and had a Chinese-style adventure there.
Compared to the first hit movie, the sequel is definitely more Chinese. However, professionals explain that after all, it is not new for Hollywood to absorb the essence of another culture, package it commercially and sell it to the world. Luo Xuan, CEO of BMC Animation, one of China's leading 3D animation houses, said in a nation of immigrants like the U.S., Hollywood was engaged in cross-cultural understanding projects as early as the silent movie age. Creators were forced to transform special elements of different ethnic groups and make them easily understandable for those of a different language and cultural background. "This specialty became a good sword, arming the Hollywood that prevails today in the world."
Hollywood spent long time forging that sword. When Mulan (1998) was shot, hundreds of Disney animators came to China to collect data. The site research allowed them to understand the essence of Chinese traditional art – its features of tranquility, balance and harmony. To prepare for Kung Fu Panda, heads of different departments also came to China personally. They made reference to many books about Chinese ancient art, architecture, totems, costumes, food and scenery. Based on this data, a panda world was created that was acceptable to many Chinese people.
"Mark Osborne, one of the directors, spent 30 years on Chinese culture," Rao Shuguang said. Rao is deputy director of the China Film Art Research Center and deputy director of the China Film Archive. He said we should appreciate the great effort Hollywood has made to explore Chinese culture and deploy the elements so cleverly to win over Chinese audiences.
In his opinion, Hollywood's investigations and research were very specific and detailed. Research of other cultures is not new. As early as 1927, the US Department of Commerce issued a series of reports on foreign countries' film markets. The one on the Chinese film market listed the number and distribution of cinemas, ticket prices and advertising methods. It even researched and described Chinese audience's tastes, and made sure of the fact that "American movies are more popular among Chinese than those made by any other countries, as they actually like 'the good prevails over evil' motif and Hollywood 'happy ending' formula."
However, it is true that Americans sometimes misuse exotic elements. Chinese producers would never make a panda a Kung Fu master, as it was an unthinkable match with the cultural image the panda represents. But the Kung Fu Panda idea, some experts believe, may very well have been a hit because Americans were not "kidnapped" by the cultural symbol, or confined within the limitations of the image. They "let their imagination fly." Some Chinese thought it "outrageous," but others found it fresh and engaging.
Before Kung Fu Panda, Chinese filmmakers were shocked by Mulan, a traditional Chinese figure with a Disney label. They never expected that it would become a box office smash around the world. The heroine Mulan was instantly one of the most popular symbols of the culture, and the theme song rode on top of U.S. music charts for several weeks in a year when the Titanic theme song My Heart Will Go On dominated the charts. Some American parents even named their adopted Chinese daughters "Mulan." The adapted musical was sold out from Mexico to the Philippines. In Hong Kong Disneyland, every visitor has a photo taken with the resident cartoon figure Mulan.
More than 10 years later, China shot a real-life version of Mulan. "Foreigners can make popular movies based on this story, why can't we?" one of the producers said. But the result was disappointing, and described as "just so so." An online comment was more detailed: "The love story was too dominant, while the essence of the original story was lost." This version was regarded as far worse than Disney's. He put it bluntly, "The Chinese filmmaker did a worse job interpreting his own country's story."
"China doesn't lack good stories, but we don't tell them the right way," said Zhou Tiedong, general manager of China Film Promotion International (CFPI). He believes the Chinese stories Hollywood borrowed were more successfully realized on screen than many of their other borrowed tales. "The box office returns of Mulan and Kung Fu Panda are the best proof."
Hollywood is now the model of Chinese filmmakers, some of whom have "abandoned" the dream of making "French movies." Gao Qunshu, a middle-aged director well known for his "European style" TV dramas, shot a new movie last year Wind Blast that the critics regard as very Hollywood and very Western – charging horses, car chases, gunplay, fire, and of course passionate love scenes. "The movie was an attempt to localize Hollywood style," said Gao. There's little argument that Hollywood provides an effective model for how to produce movies and tell stories.
Many people thought it easy to copy Hollywood, but that was wrong, said Professor Li Daoxin with the School of Art, Peking University. "Techniques and skills are very important, but the most important thing is to replace their essence with the essence of our culture."
In his opinion, Avatar and Kung Fu Panda were culture capsules that actually passed on the American spirit. He doubts an Avatar could be made in China. On the other hand, we can make sci-fi, disaster and war films with our own culture at the core which express the feelings of Chinese people, and resonate with all human beings. "To make good films, we should stick to our cultural background and values."
Many contemporary Chinese filmmakers badly want to be "recognized by the world" now, which is regarded as misguided by Professor Li. "For so many years, they hurried to 'go global,' but had no idea how to move a Chinese-speaking audience, nor did they seem to be interested in that challenge. To date we have not seen a single movie applauded by all Chinese-speaking people or emblematic of the spirit of the Chinese nation, not to mention Chinese movies doing well in the Asian market."
When foreigners and even Chinese people find some Chinese movies "hard to understand," it means the story or characters are unrealistic or illogical. Jiang Wen, actor and "amateur" director, chose a slow pace, directing only four films in 16 years. His first film In the Heat of the Sun (1994) made Xia Yu, an 18-year-old freshman, the best actor selection at the Venice Film Festival; his second film Devils on the Doorstep (2000) won him the Grand Prix of Cannes. His latest work Let the Bullets Fly (2010) broke the box office record that "blue chip" director Feng Xiaogang set in China.
"What I benefited most from my studies at the Central Academy of Drama is a practice called observing life. I practiced it for the entire four years of college life," Jiang Wen recalled. He played an old husband in the theatrical production of his graduating year. The script demanded he should always get his wife's attention by starting a sentence with "sweetie" but he changed the device to "I say," which was an informal oral appellation between husband and wife in times past. "Wonderful!" teachers and classmates applauded. "It was from real life," Jiang said. He still admired several older-generation directors – their movies, so deeply rooted in everyday life, had a special charm, so "You believed in their stories absolutely."
A Language Known by All
The Chinese market attracts foreign blockbusters and also foreign producers seeking co-production opportunities. In 2010, 46 of the 47 Chinese films screened overseas were co-produced. Jean Jacques Annaud's new film is an adaptation of the Chinese bestseller Wolf Totem.
"In recent years, the number of co-productions has increased 10 percent annually," said Zhang Xun, general manager of China Film Co-production Corporation, "and this year saw a big jump." Chinese filmmakers used to look for opportunities, but now more and more foreign producers come to their door. "The policy for co-productions has been relaxed recently." Last year the Chinese film administration and its Singapore counterpart signed an agreement that co-productions between them will enjoy the same governmental funding and incentive policies as domestic films.
In the past a co-production usually meant a simple infusion of capital, material and talent. But now investors will actively participate from the very beginning of the process – drafting scripts, tweaking plots, and discussing the context of actions. Zhang holds the opinion that cooperative scripting will bring different ideas and cultures together.
In Zhang Yimou's early movies, folklore is the best carrier of common concepts and feelings between different cultures. The practices like "jolting the marriage sedan" in Red Sorghum (1987) and the red lanterns in Raise the Red Lantern (1991) were criticized as pseudo folklore by domestic critics, but a film professional believed these folk symbols allowed Western audiences to understand what the director wanted to express – the vitality of the nation, and women's despair and depression in a traditional patriarchal society.
"We should also develop a way of telling stories that audiences like, otherwise it's impossible to have an effective dialogue and communication," said Rao Shuguang. He added that those expecting a good performance in overseas markets should follow common communication rules no matter on what operation level or stage of the process. Modern mass communication is audience-centered instead of disseminator-centered, so the characteristics and psychology of audiences are taken more seriously. Some Chinese films neglect the differences in culture and expression, which makes overseas audiences confused, even excluded and resentful.
In this regard, a scholar who used to be an interpreter for French audiences had the same sentiments. "In Chinese war films, a common scene is the commander inspecting his troops and saying 'Comrades, thank you for your dedication!' If we translate that literally into French as 'vous avez de la peine!' or 'vous avez souffert!', the audience would be at a loss. Don't belittle such trivialities as interpretation and translation; they are essential to cultural communication."