"You will see grief within ten paces, see sorrow at a dinner table," someone described Beichuan Qiang Autonomous County like this after the devastating earthquake on May 12, 2008. The county is also depicted in stark statistics: 20,000 people dead or missing, 27,000 injured or disabled and 142,000 homeless with direct losses estimated at RMB 60 billion.
Three years have passed and the question we sought to answer was whether Beichuan people still walk in grief and eat in sorrow. What is their life like now?
"My wife and son died. I won't forget them until the day I die myself," said Lei Shunyong, "but we survivors have to live our lives, come to terms with what happened, and move on."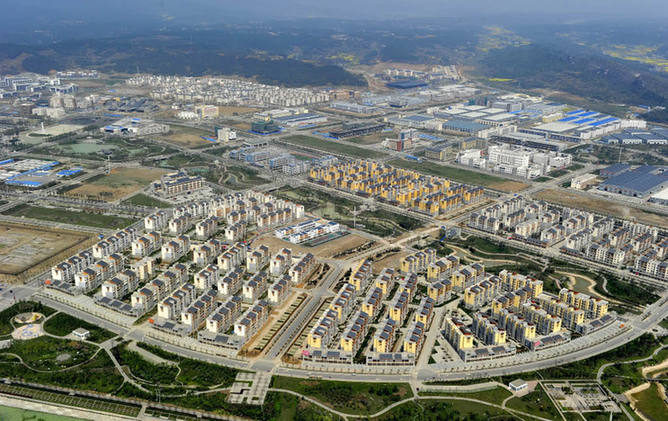 The rebuilt Beichuan.
Beichuan: Three Years After the Quake
By staff reporter ZHANG JUAN
I'VE been to two Beichuans this trip – one is the site of the old county seat and graveyard of tens of thousands of victims; the other is 23 km away, known as Yongchang Town. This is the new seat of Beichuan with very different associations.
Guarding the Old Beichuan
Despite doing a lot of psychological preparation, I was still shocked when we walked into the ruins of old Beichuan: The twisted and broken steel pylons, whole buildings crushed into the ground, and every kind of structure distorted into every kind of shape. On the ruins of old Beichuan Middle School, I saw a white banner with the message "In memory of our beloved son He Chuan; the Third Anniversary; July 13, 20 years old; Son, Dad and Mom miss you so much."
"The quake victims were buried here," Zhao Kaisheng reminded us, "we are keeping vigil for them." Zhao works at the Headquarters of Old Beichuan Protection and Tangjiashan Barrier Lake Management. Three years after the catastrophe, the living have moved out, but commemorating the victims continues.
Premier Wen Jiabao visited the county and as the old town site was impossible to rebuild on, he instructed the new Beichuan to be erected on what is known now as Yongchang Town. The earthquake site will be preserved as the world's largest earthquake ruins.
When the reconstruction headquarters was set up at the old town in June 2009, Zhao and 60 colleagues moved in. They first started geological disaster control and a construction reinforcement project to protect the site and establish safe access for memorial services.
"Just entering the abandoned town, to be honest, I felt really horrible. After all, so many lives had been buried here in just seconds. But I gradually got used to it. I felt a duty to the deceased's families. Sometimes I felt I was talking with these souls." Zhao said there is no local presence on his team, and he himself was seconded from Mianyang, another stricken city. "Just imagine, no one can face the ruins where their own family members lie below them." Zhao inspects the old town at least twice a day and knows every corner of it. "I can see any small change in any place."
Beichuan Earthquake Museum is a national museum on the site of the county seat and the earthquake memorial hall is still under construction. The museum not only records the moment of the earthquake, it is our tangible memory of the deceased. It warns us to respect nature and promote the spirit of endurance in times of catastrophe. Zhao pointed out this is a new kind of undertaking for China, even the world, to preserve a huge earthquake site like this. As there is no model, the project is essentially evidence of value to science and should become part of earthquake research.
The Chinese government earmarked RMB 420 million for site protection. Experts from Shanghai Tongji University, one of China's premier architecture schools, produced a detailed plan late in 2009 which specifies the site will be retained as it is; all added facilities for protection are removable. Since too many things need protection, a classification system for things to be protected was needed. The basic principle is to do minimal intervention. Now a protective grid has been set up to prevent rocks from rolling down hills, rivers have been dredged, and 23 damaged buildings in 14 places have been reinforced. Recently a 254-meter-long 18.8-meter-high dam was built on this 0.9 square km site, to prevent mudslides from burying the ruins in the rainy season.
Walking on what used to be the main street of the county town, Zhao told us it used to be the gateway to many towns of Beichuan County. Reconstruction headquarters recently turned the flood bank to a roadway so cars are diverted from passing too close to the victims' cemetery. The deceased will rest in peace.
Since May 2010, the site of Beichuan has been open to the public "in a limited way" – 1,000 visitors are allowed to visit the site by appointment. Zhao said comportment and attire should meet a special standard for manners and dress code, for example bright colors are frowned upon. Chinese, English, Japanese and Korean signboards saying things like "Let the deceased rest in peace, console the living," and "In these ruins our beloved lay, do not disturb them." Zhao said the mourning of visitors consoles the families of the victims and also shows respect for life and nature.
Visiting the old town remains traumatic for Beichuan people. Zhao found that they actually have ambivalent feelings – they miss their family members who passed away but they rarely come back except during Spring Festival, on Tomb-sweeping Day in April and for the earthquake anniversaries. On these days, Beichuan people burn incense and "ghost money" (paper that resembles banknotes or coins) for the deceased. "It's a place that overwhelms people with sorrow."
On May 12, 2011, about 50,000 people came back. "When they found out how well we protected the site, they felt a little better." Of course, this was the busiest time for Zhao and his colleagues. For reasons of safety and to prevent disturbance of the protection measures, Zhao needed to patiently persuade people not to go back to their former houses. His efforts sometimes met with disrespectful comments. If persuasion failed, the team would follow them and get ready for any incident. When the people left, they would check the burned paper carefully and clean it up. "If they get some comfort out of this, we can put up with some unkindness," he said. Chinese tradition dictates a mourning period of three years. Zhao hopes the heavy sadness will fade. They have changed the black banner with white words to a blue banner with white words reading: "Less sadness, more peace, we after all need to move on."
Loneliness as Aftermath
"Ruins, broken and incomplete families," Han Guijun described the Beichuan of three years ago. Han is a member of the Standing Committee of the CPC Beichuan County Committee and an official of the Publicity Department. He told us that among the 1,500 officials of Beichuan County, 436 died in the earthquake; and of the survivors, 90 percent lost family members. Han himself lost nine relatives. "We are quake victims, but also organizers, leaders and practitioners of reconstruction." Compared with other people, local officials were burdened with unusual pressures.
Han and his colleagues are still working in makeshift houses. "To make sure people have a stable home as soon as possible, the office buildings will be the last phase of the project in new Beichuan." The temperature in May reached 30 degrees, and interviewers and officials alike were soaked in sweat. We were told that the team would work there for several more months before the new building was ready for them. A Japanese reporter from People's China praised Beichuan's officials for "serving the people."
Li Hua, an ethnic Qiang, is deputy director of the Beichuan Planning and Construction Management Committee. On May 12 Li and his family went back to mourn their relatives, and saw his former home and office. "I was deputy director of the construction bureau at that time. My office was on the sixth floor," he recalled, "but the whole building fell down vertically in a moment. I ran out and saw my office was on the first floor. The building is still there and supported by a steel column, but no one could tell it was once a six-story building."
The earthquake took the lives of Li Hua's father, sister and five cousins. Like all other families in grief, Li Hua "couldn't believe so many people disappeared in the blink of an eye." And he couldn't accept that fact until festival time returned but they did not. He was most concerned about where his father was buried. "My sister worked at the local judicial bureau. I know her office was flattened. When the earthquake happened, my father was not at home and even my mother didn't know where he had gone." Li Hua added that after the disaster his mother "said little and behaved a bit strangely, didn't want to live with us, and insisted on going back to live in her own house."
Li describes himself as "very optimistic." "You see, I lost my father and sister and many others died, but the president, the whole country, and the whole world are showing how much they care for us and are helping us start a new life." Li Hua cannot forget the scene when he took a bus to a shelter in Mianyang, "So many people handed us steamed buns and water. They were all strangers but helped us spontaneously. I was so moved." In his opinion, death is a natural part of life. "I always persuade my colleagues to think of their afterlife: we Sichuan people are easy to get along with. So many people like my father and sister who went to another world must be happy now – playing Mahjong or chatting with each other. Why do we worry about them?"
Li Hua chain-smoked. He used to smoke only one or two cigarettes a day but now goes through two packets a day. "I've no way to relax. We are working so hard for the resettlement, especially coordinating victims and locals of the new town. The situation is very complicated as it relates to people's needs and we want everyone satisfied. There's great pressure." Li admitted that he's afraid of being alone. "Actually I want to occupy all my waking hours with work. I'm afraid of spare time and the thoughts I can't help but drift into."
After the earthquake, surviving officials were described as "5 + 2" and "day plus night." They had no off time or any holidays. Some media called it "a test of endurance" and asked that attention be paid to their mental health.
In the fifth month after the earthquake, Dong Yunfei, director of Beichuan County Agricultural Committee, was overcome with grief over the loss of his son and committed suicide. "Dong Yunfei was my boss. I was his deputy at that time," Li recalled. The case focused attention on Beichuan's officials. The CPC Beichuan County committee designed and implemented a policy of post-quake care for officials, strengthening psychological interventions and counseling; they screened off the duty roster those with major psychological problems. "I remember when leaders were questioned after Dong's death," Li said, "I told them suicide would be impossible for me, but I couldn't guarantee that I had no mental problems. The leader asked me what I wanted the most, and I answered honestly – to sleep a whole day."
As the reconstruction is almost finished, Li's life is inching back to normality. Now officials are forced to take vacations. He went to Hong Kong and Macao with colleagues in July 2010. "Everyone thinks positively now. In the past we would worry about if it was expensive or expect it to be useful, but now if you like and can afford vacations, you just go. Maybe a new attitude has arisen out of the disaster."
Li has a new house in the new town. "Shandong Province is our aid partner and they helped construct the new houses. All the Beichuan people got their houses through a lottery system. Li's is 117 square meters at Yulong Community with a price tag of RMB 100,000. He applied for a 50,000-yuan loan from the housing provident fund, and added a government reconstruction allowance of 32,000 yuan, so Li doesn't have much mortgage pressure. "My old house was three square meters larger. I spent all my savings of 58,000 yuan on it in 2002 and took out no loan. But the earthquake destroyed it in a second."
Subconsciously Li Hua compares his new house with the old one, and the new life with the old one. The life in the old town is a memory that can't be taken away.
"Not As Strong As You Imagine"
Beichuan Middle School is the county's only senior high school and over 1,000 of its students died in the earthquake three years ago. Construction of the new school was funded by the All-China Federation of Returned Overseas Chinese. The total cost was RMB 200 million, most of which was donated by hundreds of thousands overseas Chinese from 73 countries and regions. The memorial wall records messages of sympathy and hope from all over the world. On the walls of classrooms are plastered with articles written by these teenagers to express their gratitude to donors.
Buildings on this modern campus are usually three or four stories high, the tallest merely five stories. Every building has several emergency exits to guarantee students can flee outdoors in 20 seconds. As some students caught by the quake were disabled, facilities for the handicapped (like ramps) are standard equipment in the classrooms, dorms, library, restrooms and canteen. Disabled students have independent dorms especially designed for them, in which the bed and toilet are easily accessible.
When we found Zheng Haiyang he was preparing for his college entrance examination at the school. Back in 2008 he was in Grade One in Beichuan Middle School. His image became known all over China for the smile and victory sign he offered rescuers while still trapped in the rubble.
"My cousin was tall, about 1.8 meters, and very handsome. What's changed is that he is only about 1.6 meters now, and can only walk a few steps with his prosthesis. Most of time he has to sit in the wheelchair." Wei Xinting, aged 25, and a guide in the new town, sobbed several times when talking about her cousin. She said Zheng's legs had to be almost totally amputated after the rescue, and had needed a second operation when his wounds became infected.
The earthquake changed the life of this outstanding student. "He should have taken the exam last year, but the operation put it off." Wei said her cousin, but for the earthquake, would have been admitted to a good university. "But his health was poor and he missed too many classes; he will go to whatever college that admits him." Wei said her aunt was beautiful but became old and grey-haired overnight. "Her life is all about her son," she explains. Beichuan Middle School employed her as a teacher responsible for dormitory life, and this way she takes care of her son as well.
However, Wei is glad that her cousin has survived, while several members of the family are gone forever, including Wei's favorite cousin. "We couldn't find her body and finally had to establish a cenotaph for her."
On the second anniversary of the earthquake in 2010, 19-year-old Zheng Haiyang wrote in a commemorative article: "We showed our strength for the cameras, were very optimistic and smiled at every stranger, just because we don't want you to see how vulnerable we still are… we are not as strong as you imagine…" Wei rarely hears her cousin talk about the earthquake. When the two cousins were together, they talked and laughed like before, as if nothing happened. "We regard him as a normal person, which is what he wants."
Time waits for no one. Wei hopes her family will leave their sorrow behind. Her job is introducing the new county town of Beichuan to visitors. She said every time she describes to visitors how the town has progressed, she feels gratitude to those aiding the reconstruction.