Educating for Disaster: A Long Way to Go
By staff reporter LU RUCAI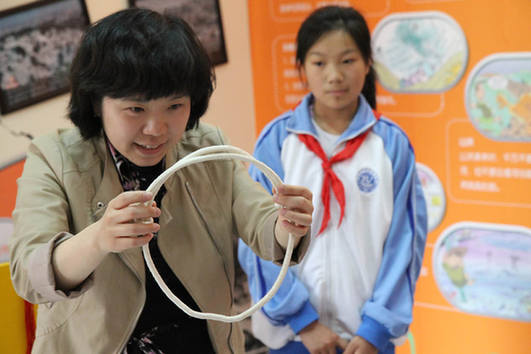 Li Guyi teaches her students how to make knots for escape situations. 
REGARDING disaster prevention and mitigation education, it's just not enough to rely on public organizations," said Guo Xiao, assistant to secretary general of China Children and Teenagers' Fund (CCTF). "Government departments like the Ministry of Education are making up for the missed 'lesson,' but it's a little bit late."
This "lesson" drew widespread attention from Chinese society.
Disaster Prevention Becomes a Lesson
"Today we're learning a very important skill, which will probably save our lives at a crucial moment." Li Guyi started her lesson in a classroom set up for experiential education on emergencies. The students were in Class One, Grade Two of Zhiranju Primary School, Dongcheng District in Beijing, and they were busy making escape knots. In half an hour they had learnt how to make the fishing knot, figure-eight knot and other useful knots. Then Li Guyi played a video illustrating an escape from a fire, which kept the kids enthralled.
Li has taught lessons like this many times for different classes.
"Before the experiential classroom for emergency readiness was established, all I could do was to tell students what to do, but now we have more options like playing games and watching realistic videos." Li has worked at the school educating in morality since 1999, and currently is responsible for safety education as well.
The classroom, donated by the CCTF, came into use on August 31, 2010 as the first of its kind in Beijing. The year before, the CCTF initiated a project establishing education bases in middle and primary schools, communities and cities, aiming to help children develop disaster prevention and emergency response skills. Guo Xiao said the project includes launching campus safety training courses, setting up experiential learning classrooms or centers in schools, communities and civic venues.
At Zhiranju Primary School, students access a variety of information on earthquake safety, traffic safety, first aid and mutual aid, social security and health. They learn by taking part in different activities themselves; and on the bookshelves are books written especially for them like Safety Common Sense Chinese Students Should Know, Children's 45 Ways of Self-protection. "Since the huge earthquake struck Wenchuan in 2008, the whole society attached greater importance to safety education," Li Guyi said. "After all, it was a calamity of the type we had not seen for decades."
Guo Xiao said the safety education project was made possible by donations from enterprises and aimed to help students of primary and junior middle schools to develop disaster prevention and emergency response skills. The largest project is in Chengdu, the capital of Sichuan where 40 classrooms for experiential emergency response were built. "The teaching method is very popular among students," Guo explains, "and several schools have made training part of the regular curriculum, like fire and earthquake drills."
In the Primary School Affiliated to Chengdu Normal University, safety training became compulsory last year. Every student should have at least two skill-based lessons every school year and master safety knowledge in seven areas including earthquake, fire and first aid.
"Now the biggest problem is that disaster prevention and mitigation education is not an item of the regular curriculum for all schools. Our education system commonly puts greater importance on academic appearances. It takes time to achieve this. It is gratifying that many schools have begun to pay more attention, and the actions of non-governmental organizations will urge the government to attach greater importance on this issue."
Strengthening Awareness of Disaster Prevention
"We should teach disaster readiness and safety to the whole population, not only school children. As for what I taught in class, I know it, my students know it, but do their parents know it?" Li Guyi said, and recounted an impressive story. In 2004 before a major tsunami occurred in Indonesia, a 10-year-old British girl noticed sea water roiling and an abnormally withdrawn tide. She warned, and saved many people around her on that beach. "Knowledge cannot be mastered overnight but is accumulated over many years. Our students probably master only one skill in Grade One, but when they reach 18 years of age, they know a lot. However if they didn't start somewhere they might know nothing by adulthood."
The nuclear disaster in Japan has raised safety awareness among Chinese people. Since that fateful date in March, orders for first aid kits have inundated online stores. But many people still think disasters are far from their own door and have not made preparations, either in knowledge or materials. "I was impressed by the Japanese people's calmness after the earthquake. At that time I thought I should do something to be prepared myself, but it was just a thought, gone in an instant." Ms Cheng works in a foreign-funded securities company and is the mother of a three-year-old girl. Having read related information about earthquakes, she admits frankly, "I would probably be not able to protect my daughter if disasters like this happened here."
Overview of Disaster Prevention, published by the China Earthquake Disaster Prevention Center, conducted a survey of middle and primary school students in Wenchuan about disaster prevention and mitigation in May 2010. The result showed that 70 percent of respondents had not received any related education, and 85 percent said they would not seek out related books to read. Only three out of ten respondents had been trained and 35 percent knew the signs of a pending quake. On skills application, 90 percent were unable to apply skills associated with earthquake survival.
In areas where the earthquake didn't strike, the situation was even more negligent.
Low sales, either in bookstores or online, affirm that people are disinterested in the wide range of relevant books like Manual on Disaster Prevention and Emergency Response and When Disaster Strikes. "Many publishers grabbed the opportunity to publish these books, but marketing was not successful," said Xie Xiaomei, science book purchaser for Dangdang, a leading online bookstore in China, "and even after the Japanese earthquake, the situation got no better." She looked quite stumped when she commented, "I can only say they are a very small part of our total sales. Take one of the most successful books in this category. Since hitting the market in mid 2009, only several hundred copies have been sold." She confessed that she didn't buy any of these books herself, and just occasionally picked up some useful tidbits on escape and survival tactics from TV.