Daqing: Science Giant
By XU YING
HALF a century ago, Daqing was a barren land in the mid-west of Heilongjiang Province in the center of Songhuajiang-Nenjiang Plain. On September 26, 1959 its first oil well was drilled, and a settlement was established to exploit the rich reserves. It was named Daqing, getting its name from celebrations for China's National Day on October 1. In the following decades Daqing evolved from a mining project with rough-and-tumble barracks to an urban enterprise with a complete set of public services, and eventually to an economically balanced and environmentally sustainable modern city.
With the dawn of the 21st century, Daqing started a new comprehensive phase to consolidate its existing development, moving into a period critical for achieving social goals. Currently, Daqing is endeavoring to upgrade its economic growth pattern, stimulate sustainable development and enhance social harmony.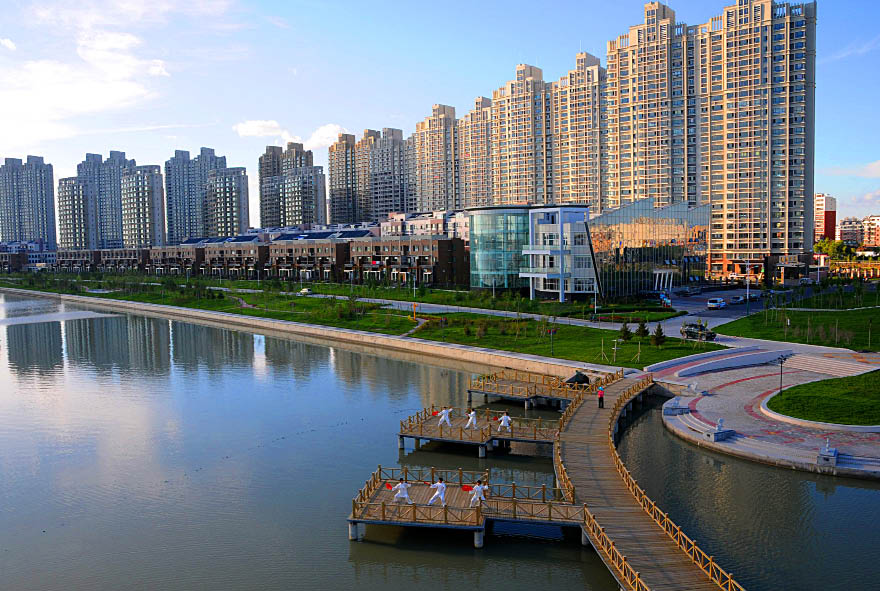 Vibrant residential communities feature modern buildings and a beautiful environment.
Consolidating the Foundation for Development
However, the Rome wasn't built in a day, and change of this kind is wrought over years. After over 50 years of development, Daqing has formed a solid economic base with its 2010 GDP reaching RMB 290 billion.
Daqing's citizens have a simple belief: the more rapid urban development is, the more solid a foundation is needed, and the pace of development should be tempered. If Daqing is to bring its strategies for scientific development into full play, further consolidation of industry, urban infrastructure, culture and other aspects of society are needed. Strengthening new industries downstream from its original oil industry is one way to build a strong position all around, highlight its striking cultural environment and improve its institutions. For every citizen to enjoy the fruits of its development and to build a fairer and more harmonious society new heights in economic strength, environmental protection, social services, urban transformation and livelihoods must be reached.
Meanwhile, the people of Daqing understand that their home was born from oil and the sweat and sacrifice of its oil workers in the early days of the city. To push development further in a new era, Daqing must add the spirit of openness, inclusiveness, honesty and sharing to its tradition of hardwork and perseverance. At the beginning of the 12th Five-year Plan for National Economic and Social Development, Daqing proposed five strategic tasks around scientific development. First, it aims to maintain a stable annual oil output of 40 million tons and extend the life of its oilfields to 100 years. Second, it will nurture new supportive industries downstream from oil production, to increase industrial scale and quality across the board and consolidate its industrial base. Third, it will speed up urbanization and modernization of the city by building a pleasantly livable environment and efficient, sensible urban management. Fourth, it will intensify its efforts to build a new socialist countryside, ensuring increased grain output, higher incomes for farmers, and social stability. Fifth, it will comprehensively strengthen social services and maintain community safety and stability so as to build a harmonious Daqing, ensure the well-being of the people, and improve their lives.
A long-term vision is critical for the healthy development of any city. Da-qing people believe that only with a more solid foundation can they engineer their next glory.