West Lake Cultural Landscape: A Newly Listed World Heritage Site
By staff reporter ZHU HONG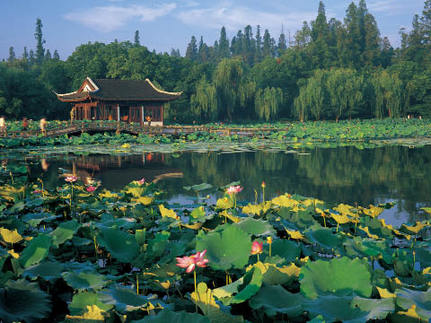 A breeze ruffles lotus flowers in Quyuan Garden. Sun Xiaoming
THE West Lake, located in Hangzhou of Zhejiang Province in eastern China, attracts tourists no matter what the season. In June 2011, West Lake was listed as a UNESCO World Heritage site, the first listed in the lake category in China. In ancient times, it was a place favored by poets and scholars, so the cultural landscape is also rich.
As the World Heritage Committee commented, "The Hangzhou West Lake Cultural Landscape best represents the aesthetics of Chinese garden design and has been among the most important sources of inspiration for garden design in China, and around the globe."
The Cultural Inheritance
The fundamental layout and natural evolution of the West Lake commenced in the 9th century. Its exquisite characteristics were formed in the 13th century, and its prosperity was restored in the 18th century. Its influence continues to be felt today. The West Lake itself and the surrounding hills configure a picturesque landscape dotted with more than 100 historic and cultural relics.
"The West Lake was a lagoon in its early days, but after dredging, structures cropped up. It developed into a cultural landscape over several dynasties," Chen Tongbin, director of the Institute of Architectural History of China Architecture, Design & Research Group, commented. "Many people take the West Lake solely as a natural scenic attraction, but it's more than that. It carries deep cultural connotations that earn it a reputation as a cultural landscape." Chen was one of the planners who worked on the West Lake's application for inscription on the World Heritage List.
The Hangzhou West Lake Cultural Landscape comprises many elements. Key features are obviously the West Lake, the hills that encircle it on three sides, and off to one side, Hangzhou City. Bai Juyi, a famous poet in the Tang Dynasty, and Su Shi in the Song Dynasty, both served terms as governor of Hangzhou, and they built their namesakes the "Bai Causeway" and "Su Causeway" as emblems of their devotion to the people. These two causeways and the "Ten Scenic Spots of the West Lake" are the best historical and cultural attractions there. The best-known scenic spots are each marked by a stele with an epithet written in the handwriting of the emperor. The three islands, the gardens, and the West Lake Cultural Relics are also worth taking in.