Behind the Recurring Food Safety Incidents
By staff reporter AN XINZHU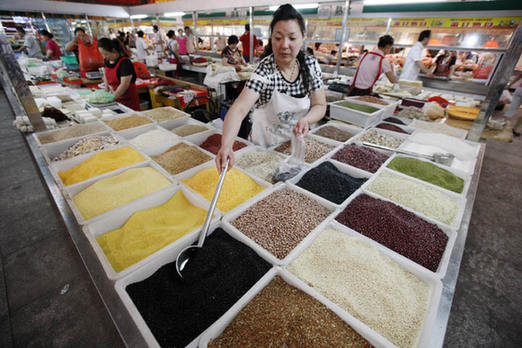 Food safety is a growing public concern in China; but are violations exaggerated? China Foto Press
THE steep profits gained by selling substandard and fake food and the mild punishments for such deeds to some extent are responsible for the high frequency of food safety violation incidents in China," Xu Hu, a deputy director of the Public Order Administration within the Ministry of Public Security, made this remark at the third China Forum on Food Safety, held on June 13.
China has been inundated with food safety crises. Public suspicion is intensifying, media oversight is escalating, and the spread of information is gaining speed. All of which are putting the government in the hot seat, pressed by demands for a prompt official response.
Revealing, Not Misleading
The first half of 2011 saw a raft of food scandals. The most infamous include tainted pork (clenbuterol, or lean pork powder), dyed steamed buns, recycled bread and beef extract-laced chicken and pork. As usual the media provided the whistleblowers in most of these cases, and extensive reporting whipped up a sensational maelstrom of public attention.
In early June, a CCTV program exposed the poor sanitary conditions of two plants manufacturing salted duck in Nanjing, Jiangsu Province. Within two days they were suspended, the whole industry in the city reviewed, and relevant measures were taken for the purpose of reassuring a troubled market.
Similar to the cases of poisonous bean sprouts, tainted vermicelli and dyed anise peppers in other provinces, all the manufacturers received severe penalties from the relevant authorities following muck-raking reports by the media.
"As a nutritionist, seeing these cases quickly investigated and handled, you know that people will somehow feel relieved. But the media have paid too much attention to food safety issues," said Luo Yunbo, director of the Food Science and Nutrition Engineering Institute at China Agricultural University. He believes that food safety problems have been "over amplified," and are not as serious as indicated by the media. "One of my friends from Europe told me that he had had a good time during a 10-day trip to China, and he thought the food safety problems were not so serious as to warrant a media frenzy."