History Reverses Itself in Student Exchange Programs
By LAUREN JOHNSON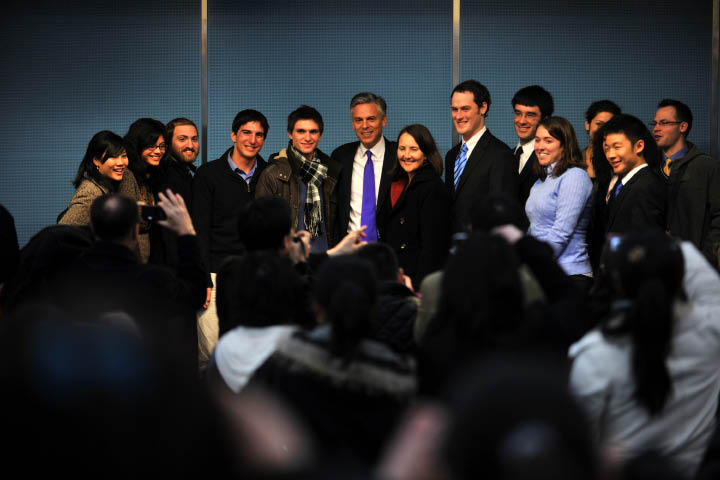 US Ambassador Jon Meade Huntsman with American students in Hunan Province earlier this year.     
    AFTER decades of bumpy China-U.S. relations, America is set to expand the 100,000 Strong Initiative, sending more American students and teachers to China to gain real-world experience, learn about China and bridge the gap between two of the world's largest and most influential countries. 
    The tale of China-U.S. relations is one with many twists and turns. The U.S. slams China on human rights while China criticizes the U.S. on its intervention in sovereign nations. Trade disputes between the two countries continue to cause concern and there are fundamental differences in world views as represented by the majority of citizens in each of these two vastly different countries.
    Still, there have been ongoing and impressive attempts by both countries to understand one another. Chinese have adopted Western dress and business practices. Westerners have adopted many of the pillars of Chinese culture, like martial arts, Chinese medicine and Buddhism. Most importantly, both parties have been historically interested in sending their most precious resource abroad — students.
    In 1872, after China lost the Opium Wars, the Qing Dynasty instituted a new program to learn from Westerners. Professor T.K Chu writes of the movement: "In 1872, the year when the Qing court sent its first dispatch of thirty teenage students to America, China had been left behind by the Industrial Revolution for more than a century." There was no intention, of course, of eclipsing the society's essential Chinese characteristics. The country badly needed to advance, modernize and reorganize in order to prevent infringements on sovereignty or further imposition of unequal treaties. The Qing Dynasty employed young minds to absorb Western technology and methodologies and then return to China to educate others and spread the secrets of Western success. Many returned students shaped the future of their nation by working as leaders and educators in academia, industry and even the government. The initial Qing Dynasty educational push created lasting results, and established the tradition of sending students abroad.
    Today, ten times more Chinese enter the United States for educational purposes than the inverse, and 600 times more Chinese learn English than Americans learn Chinese, says a recent Open Doors report issued by the Institute of International Education. Now, with the 2010 launch of the 100,000 Strong Initiative, the Obama administration aims to reverse this trend and pave the way for generations of Americans to study in China.
    The national initiative is government-supported, but privately funded, relying "fully on private-sector philanthropic support to direct funds to existing U.S.-China educational exchange programs that are seeking to expand," according to the U.S. State Department website. This separates the students from the auspices of the government, and gives them the autonomy they need to return to the U.S. and pursue their natural interests using their newly gained China expertise. So the initiative is focused on its specific long-term goal of building up enough volume and consistency of philanthropic and non-profit funding to ramp up existing study abroad programs.