Know Thyself, Know Thy Enemy: Sunzi's Art of War
By WEN HAIMING
SUN Wu, better known as Sunzi, is widely considered to be the greatest strategist ever and exerted a huge influence on Chinese history and culture. He is believed to be the author of The Art of War, a classic treatise that continues to influence military tacticians today. The masterpiece became popular and came into practical use in Western society during the 19th century, growing even more popular in the 20th. The strategic concepts the book elaborates on are valued in cultural, political, economic and business circles in both the East and West.
A contemporary of Confucius (551-479 BC), Sunzi was born in the State of Qi (in present-day Shandong Province) in the late Spring and Autumn Period (722- 481 BC). He fled with his family to the State of Wu when Qi was in chaos. He compiled his insights and reflections on military arts, and their sheer ingenuity drew the attention of Wu Zixu, himself a resourceful strategist. Wu recommended Sunzi to the king, who made him a general. In partnership, Wu Zixu and Sunzi helped the State of Wu annex the much more powerful State of Chu, a feat that strongly attested to Sunzi's military brilliance.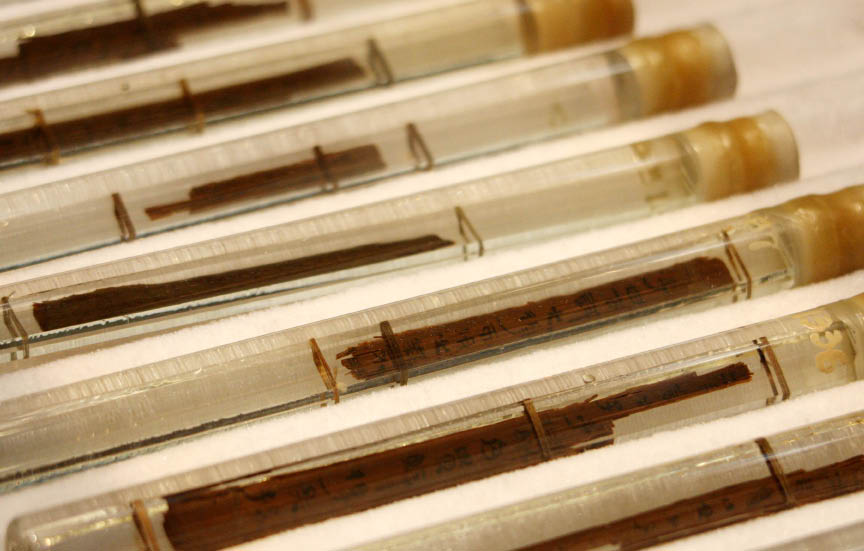 Sunzi said it first: "The clever will triumph." Bamboo slips inscribed with The Art of War.                                                                       China Foto Press 
Victory Without Fighting
There is a well-known story about Sunzi, showing his deep understanding of army discipline and leadership, and demonstrating how an army should be trained. The king of Wu wanted to test Sunzi's military skills after reading his work The Art of War. He commanded Sunzi to turn his 180 concubines into competent soldiers. Sunzi divided them into two teams, appointing the two concubines most favored by the king as the team leaders. At first, the two leaders just burst out laughing at Sunzi's commands. Sunzi persisted, but they responded in the same way. Sunzi then ordered the execution of the two women. The king of Wu was shocked. Sunzi explained: "I have been appointed your Commander. While I am in command of the troops, it is my duty to carry out the mission even if you protest." Afterwards, all the remaining concubines performed their maneuvers precisely and without daring to utter any complaint. Troops of the State of Wu were henceforth trained by Sunzi, became an ever stronger and more fearsome army and won many wars for the kingdom.
The great classic The Art of War is actually based on a fundamental distaste for warfare. Sunzi believed one went to war only if there was no alternative. For Sunzi, war was a grave matter of state. Life or death is determined for men, and a course that leads to either survival or ruin for the kingdom, so it must be examined with the greatest care. His view was that leaders of a state should explore all other alternatives to warfare, as even a military victory is a defeat in the sense that it requires tremendous expenditure, reducing the state's manpower and resources.
Sunzi believed therefore that the most important factor in resolving conflicts between states was the use of strategies to avoid military action and simultaneously achieve victory. The highest form of the art of war is to force the enemy to abandon plans to attack, achieving defeat without military action.
In war, Sunzi knew, the battlefield is a whole situation and it is in flux. To control one's enemy, one must adapt to changing conditions. This requires the sensitivity and adaptability of an intuitive genius. Any wrong perception or misstep may lead to mass loss of lives. A general needs to control the "big picture" with absolute commanding power, and remain at ease in the face of a transforming battlefield.
The changing situation on a battlefield also requires a commander to have strong self-discipline, not be governed by self-interest. He should only respond objectively to current and emerging situations. In any given set of circumstances, a great commander is able to take full advantage of the situation, and achieve his purpose. Hence, for a great commander to make right decisions, he must have a noble character, peaceful mind, and extremely accurate judgment.