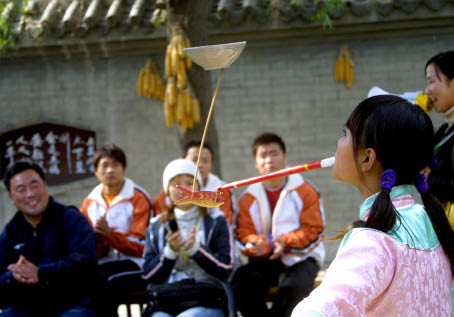 Don't try this at home: a Wuqiao girl mastering the bowl-balancing stunt. Photos by China Foto Press

    Wuqiao acrobatics is actually divided into seven genres, all of which combine martial arts, magic and dance. Diabolo, flying hats, pole climbing, chair stacking and the "pagoda of bowls" are the classic and perennially popular performances.

    Apart from handing down superb techniques to generation after generation of apprentices, Wuqiao acrobats ensure the vitality of this cultural heritage by learning and incorporating other art forms, including those from foreign cultures.

    Liu Yonggui, a preeminent acrobat during the Qing Dynasty, integrated horsemanship and opera into his performance, choreographing Guan Yu's Spearplay, which celebrated the gallantry and loyalty of a famous general in the period of the Three Kingdoms (220-280).

    In modern times the bicycle was introduced into China and Wuqiao acrobats soon began to perform the traditional pagoda of bowls on this new apparatus. Performers then had to catch stacks of cups or bowls on the head whilst wheeling around on a small bike.

    By perfectly integrating traditional skills and contemporary arts, Wuqiao has successfully sustained the appeal of the ancient art. Moreover, recent innovations have enriched this folk art with the wider appeal of more cultural connotations, making this ancient Chinese technique more appealing to overseas audiences.

    By the early 20th century, quite a few acrobats had begun to perform abroad. In 1917, Wuqiao acrobat Sun Fuyou recruited more than 100 performers and toured his troupe around 30 countries and regions. Sun classified the performances into four categories that were preserved by later generations: martial arts, magic tricks, animal performances and sideshows. Sun's troupe was in effect China's first circus and won fame throughout Southeast Asia.

    In 1920, another outstanding acrobat Sun Fengshan organized his Beijing troupe to perform in major European cities such as Berlin, Paris and London. These two troupes were well received in the West. More important, they introduced the rich heritage of China's stunning folk art to the world.

    Based on the far-reaching influence of Wuqiao acrobatics both at home and abroad, the local government decided to hold an international acrobatics festival in 1987. The biennial Wuqiao International Acrobatics Festival is not only a venue for the world's best tumblers and balancers to present their most sharply honed skills, but also a great opportunity for every country to taste each other's acrobatic culture. Thousands of visitors descend on Wuqiao County to enjoy the amazing performances from more than 30 countries. Not surprisingly, Wuqiao International Acrobatics Festival has become one of the three largest acrobatics competitions in the world, on a par with the International Circus Festival of Monte-Carlo in Monaco and the International Circus Festival of Tomorrow in France.

    Wuqiao's reputation is swelling as well. Local troupes bask in a steady flow of performance invitations, and more and more acrobatic fans are exploring how to make the art an occupation. Acrobatic schools in Wuqiao always have stacks of applications, and not just from Chinese students; more and more foreigners are coming to learn from Chinese masters. Over 200 overseas students from more than 10 countries have graduated from acrobatic schools in Wuqiao since 2002.

    Wuqiao people are always pushing the envelope of this ancient art, keeping these words true by virtue of their deeds: "China leads the world in acrobatics, while Wuqiao tops all China."