No Slave to Shangri-la
By staff reporters LI YUAN & LIU YI
REACHING for descriptions of Tibet, the word "mystery" rolls off many people's tongues. However Harvard Tibetologist Leonard W.J. Van der Kuijp refused to use this word, believing as he does that Tibet is in a kind of conceptual slavery to romantic notions held in the West. "People tend to impose their imagination on Tibet. Tibet is not heaven, neither hell. It is a place between heaven and hell, like any other place in the world."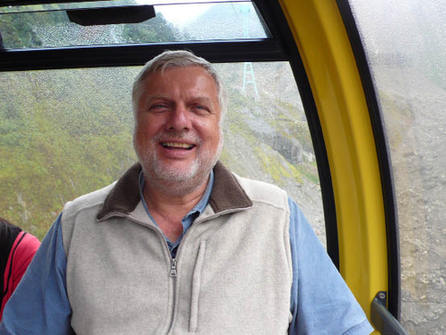 Falling for Tibet
If anyone dares venture such a notion, few people know better what they are talking about than Van der Kuijp. In 1970, when 18 years old, he happened to pick up a library book about Tibet. It was a translation by the well-known German sinologist Reinhold Günther. Van der Kuijp was a college freshman and mathematics and biology major at the time, but at once succumbed to a fascination for this remote place. "My interest had nothing to do with religion; it was purely academic. It was a hunger for knowledge."
He soon arrived at the University of Saskatchewan where Reinhold Günther was teaching. There he obtained a master's degree and studied the Tibetan, Chinese, and Mongolian languages. In 1976 Van der Kuijp left Canada for Germany to devote himself to Tibetology, Sinology, Indology and philosophy, getting his doctorate from Hamburg University in 1979.
The Tibetologist always credits his academic success to his studies in Hamburg. Liu Maocai, a famous linguist, was one of his strictest teachers. "He taught me and one other student the Book of Mencius," Van der Kuijp recalled. "We had to read ancient Chinese texts late into the night, but he never failed us in the examination."
Armed with academic credentials, Van der Kuijp returned to Canada and found himself jobless, and possibly unemployable – a painful price for his decision to follow his interests as a career choice. "My friends all laughed at me, but I never felt regret." He got a job driving a cab and undertook the study of agroeconomics.
The turning point came a year later. His tutor in Germany recommended him for a research job in Nepal. This was the Tibetologist's first real-life experience of South Asia. More opportunities to learn came from some respected lamas he met there. "They were great people. They were not common monks, they were mentors." In the first three years, he worked as principal on a manuscript preservation joint project (Nepal-Germany) at the Nepal Studies Center in Katmandu. Later he carried out research in Nepal and India.
The real meaning of living as a Tibetan Buddhist started to dawn on him in Nepal. "You can really understand what you read only if you understand peoples' lives, and then you can feel it," he says, "just like seeing a Thangka. If you know the process of creation, if you know why people prepare to contemplate a Thangka – clean themselves and sit in meditation – this is the basis of a much deeper understanding of this art."
An invitation arrived to teach at Berlin University and Washington University after Van der Kuijp left Nepal, a move that became a stepping stone to Harvard University in July 1995 where he joined the Department of Tibetan and Himalaya Studies with a remit to get their Tibetological research on the right track. In 1997 he was elected Chairman of the Department of Sanskrit and Indian Studies where his research focused primarily on Indo-Tibetan Buddhism, Tibetan Buddhist intellectual history, and Tibetan-Mongol and Tibetan-Chinese relations.
The project that absorbs much of his waking hours these days is the Tibetan Translation of Chinese Calendric Encyclopedia Commissioned by Emperor Kangxi. This calendric work was introduced to China by Western missionaries during Emperor Kangxi's reign (1662-1722), and translated into Chinese, then from Chinese to Mongolian, and finally from Mongolian to Tibetan. In the early 19th century, the Tibetan version was printed in Beijing, and now rests in the Potala Palace in Lhasa. Van der Kuijp plans to select two of its chapters and compare them to the Mongolian and Chinese versions to set up a glossary and corpus.
Scriptures are a source of endless delight to this scholar. "Just imagine, what I read in my office in the U.S. was written by some lamas in the 12th or 13th century," he says, "and I am a white man born in the Netherlands. Thousands of miles away, hundreds of years between us. Isn't that amazing?" During the 1980s, he spent three summer vacations in the library of the Cultural Palace of the Nationalities, Beijing. He feels somewhat frustrated that it's so hard to read all scriptures that he wants to read, and jokes that he will move into the library after his retirement.
As a teacher, Van der Kuijp is known for his "liberal" teaching style. "He always talked to us about what preoccupied him, and occasionally digressed from the subject," says Liu Guowei, the professor's doctoral student and lecturer at Fo Guang University in Taiwan, "but for me, his influence goes very deep, and I have learned a lot from him." Now Van der Kuijp lectures regularly on Tibetology at Renmin University of China and Sichuan University.
A Culture Endangered by Modernization
At a Renmin University symposium in the summer of 2010, Van der Kuijp explained his concept of Tibet as a "slave to Shangri-la." James Hilton's novel Lost Horizon was popular in the West and was adapted into an even more popular film; Shangri-la was an idyllic place of eternal life that remained perfect and separate from the real world. People gradually came to idealize Tibet as a place of enchantment. Many Chinese have the same idea. Obsessed with this so-called place of mystery, many who visited were nevertheless disappointed after actually traveling there. Tibet is a real society, much like societies in other places.
The first time Van der Kuijp went to Tibet was in 1982, as a tour guide for a Hong Kong agency. "The best place for studying is not the school," he quipped. His journey took him from Hong Kong, via Guilin, Hangzhou, Dunhuang, Xinjiang, and finally to Tibet. He has returned almost every year. This year he accompanied an academic group to Lhasa and Nepal. Last year he rode the newly opened Qinghai-Tibet Railway, a route that rewarded him with the most beautiful scenery.
"I saw changes every year: new highways, new railways. All the changes are good, but there are some problems." Van der Kuijp thinks Tibetan culture is facing great challenges right now, "It is gradually declining. But this is not the government's problem, not God's problem. It's the problem of modernization."
Van der Kuijp foresaw Tibet would find itself in such a situation and prepared for this time. In 1999, he co-founded the Tibetan Buddhist Resource Center, TBRC, a non-profit corporation dedicated to the preservation, organization and dissemination of Tibetan literature using the latest technology. The preservation process is labor intensive. To create a digital text, TBRC scans the ink-print copy one page at a time. Each page is then reviewed to ensure that it is legible. As pages are scanned and checked, they are published into a digital library. In future, Tibetan masters, scholars, translators and all interested readers will have access to the full range of Tibetan literature wherever they live or work. TBRC has scanned over six million pages, covering traditional medicine, astrology, astronomy, alchemy, art, history, geography, biography, grammar, folk culture, poetics, and extensive philosophical and religious treatises. Eighty percent of the texts are of top historic or academic value. TBRC has also designed a complete catalogue search system about Tibetan Buddhists and their works, greatly facilitating scholars and researchers. The system has been installed in many organizations including the Palace Museum in Beijing.
Perhaps we forget that at the end of the film, some of the protagonists return to the imperfect world from which they came. Van der Kuijp's Tibet is not a Shangri-la to be preserved as a timeless enclave in isolation from the rest of human society, but an ancient and fabulous civilization that deserves the very best protection our latest digital technologies can offer.