The Mellowing of Hollywood
By TANG YUANKAI
IN 2010, China's cinema box office surpassed RMB 10 billion, some 2 billion of which was earned by two Hollywood blockbusters – 2012 and Avatar. They both incorporated "Chinese elements" that Chinese audiences found "quite gratifying."
It's nothing new for Western cinema to add a Chinese element, but in recent years the trend has been getting much stronger. "The financial crisis has made Western countries look at China in a new light, especially because of its rise as an economic powerhouse. Things are equalizing and the manifestation of this in cinematic terms is that Chinese elements are no longer exotic ornaments," according to Fan Yugang, a professor at the CPC Party School. He feels a positive image of China started to become more commonplace in the West, and this can be seen as the start of more give and take between Western and Chinese cultures, exchanges conducted on a more equal footing.
Preconceptions
Over 30 years ago, Tang Yuhe went to study in the U.S., and from all the Hollywood movies she'd seen she thought she knew what to expect. However, she was shaken to the core by the portrayal of her fellow Chinese on the screen in her host country. She was puzzled, unbelieving and disgusted. "The way foreigners saw – perhaps I should say imagined – and depicted the Chinese was quite distorted."
In fact, the Chinese and China have figured in American movies for nearly a century, since the days of silent movies. "Seen as 'outsiders' in American culture, Chinese people have always been treated stereotypically," says Tang. "Frankly speaking, many movies are full of prejudice."
Pu Yuanyuan, a doctoral candidate at the School of Literary Arts, Renmin University of China, points out that Chinese elements were influential in the early days of Hollywood. "However, under the prevailing influences of racial discrimination and Orientalism, depictions of the East in Hollywood fell back on a world cloaked in mystery, peril and devilry; which in turn resulted in repeated misreading of Chinese images." Many movie makers built up imaginary Chinese figures, composites assembled from fragmentary, third- and fourth-hand information; caricatures with sallow skin, conniving character, long pigtails, impenetrable language and mysterious cults abounded.
In the late 19th century the U.S. launched a large-scale expulsion of Chinese laborers; the "Yellow Peril" notion spread, and movies were keener than ever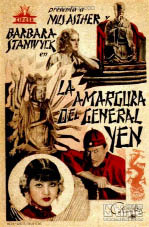 to portray the Chinese as alien posing a threat to white people. In a 1932 movie The Bitter Tea of General Yen, the Chinese warlord falls in love with a Western woman. The character represents two extremes of Chinese men as seen by Americans: kind but effeminate males, or sinister, vicious devils. Hollywood's "Chinaman" image in the era of black-and-white movies could best be described as an emblem of weirdness.
The archetype of such symbolism is the infamous figure of Dr. Fu Manchu. From 1929 on, Hollywood produced a whole raft of films in which the evil doctor was the main character. They had a very malign influence on how the American public perceived Chinese. Even now, in many Hollywood movies, the negative characters of Chinese men have their source in the super-villain that best incarnates the fears of white Americans about the East: every tiny gesture, the movement of a finger, the raising of an eyebrow spelled danger.
Distorted Stereotypes
But a few movies did have a Chinese hero. The pioneering director D. W. Griffith, father of American cinema, made Broken Blossoms in 1919. A Chinese protagonist Cheng Huan, migrates to London with "dreams to spread the gentle message of Buddha in the Anglo-Saxon lands," and falls in love with a British girl, Lucy. In contrast to his innocence and thoughtfulness, Lucy's alcoholic father is rude and cruel. Cheng Huan was something new for Western audiences. Some critics called him a romantic hero, a self-critical, humble and passive person with a kind heart.
But show that movie to Chinese students today and they universally disdain the main character's weakness and lack of steel. They object in particular to the fact that Griffith chose a white actor to play the role, complete with slant eyes, pigtail and drug addiction. "It's insulting to portray Chinese men this way. Quite intolerable," protests Gu Qian, a doctoral student at Nanjing University.
Zhang Yingjin, a professor at the University of California, San Diego, points out that Griffith's affirmation of Eastern civilization aimed to ease the racial conflicts in the West and educate audiences. "But in filmic terms, this feminine and gentle image that Griffith created inadvertently established a different stereotype of the Chinese male, one that would go on to have a profound influence."
In the 1920s a series of detective films with a Chinese hero went into production and got a great reception. Sleuth Charlie Chan was so popular a character that he featured in about 50 movies, even more than James Bond. Overseas Chinese however were not overly impressed. Though Charlie Chan might be described as a symbol of justice and law, the role was still played by white actors; he was sissy, pedantic, stuffy, and always intoned Confucius quotes in broken English. "How could Western audiences not see him as a clown?" asks Ni Jun, associate professor at the Central Drama Institute of China. Even so, this role was still the most positive created by Hollywood up to that time.
In 1937 Nobel laureate Pearl Buck's novel The Good Earth was adapted into a movie of the same name. A smash hit in the U.S., it attracted 23 million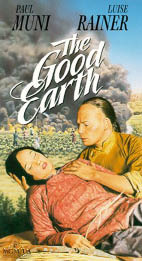 Americans to the cinema; in other countries audience numbers exceeded 43 million. It was also instrumental in overthrowing the lingering dominance of the villainous Fu Manchu image. Audiences were moved by the portrayal of the persistent and hardworking Chinese peasants, with their deep love of the land, plain moral judgments and courage in combating natural disasters. The movie got multiple Oscar nominations and Luise Rainer of Austria won the Oscar for best actress.
Prof. Ni continues: "Unwittingly The Good Earth and similar productions created a new stereotype. Americans saw Chinese people as in need of protection
and rescue, giving rise to a savior psychology. They looked at these 'unenlightened' people with pity. Actually, long after the appearance of Pearl Buck's novel and the movie, American people pictured Chinese people's living conditions under the Communist government on the basis of these two works."
Turning Positive
A year ago Xiao Cheng and his girlfriend, both college students, decided to buy tickets to see the disaster movie 2012, because they had seen on the movie poster that the rescue "arks" are built in China and that PLA soldiers come to the rescue of the planet. They still remember in the film the Americans say they made the right decision to hand over the building of the arks to China. In Xiao's view, "It was quite a positive comment on 'Made in China.' China has emerged from background status to a place of last refuge."
"In this way, 2012 was the first Hollywood blockbuster to present the Chinese dimension in a positive manner." He also points out that this was the first Hollywood production in which China featured large in the plot line.
In fact, at whatever period of history, the images of China and the Chinese in Western movies have always been heavily determined by international relations, and the degree of cultural exchange and understanding. So in a way, Hollywood itself is a barometer of how things stand in China-US relations. Hollywood movies are a window on bilateral relations at governmental, trade and business levels.
China's huge population is hungry for movies and represents a vast market for Western moviemakers. However, the Chinese authorities permit only 20 imported movies a year to be screened in its cinema chains. So of course producers devote a lot of brain space and planning time to the question of how to land in the winner's circle of the Chinese market. "Chinese content is one way to attract this colossal audience. The addition of Chinese flourishes is a decorative marketing tactic – a way of getting through the front door; the objective is to draw attention and make profits," says Gao Jun, vice general manager of Beijing New Film Association Co., Ltd. Professor Cao Jingxing of the School of Journalism and Communication at Tsinghua University and former commentator on Phoenix TV of Hong Kong, also points out that a movie like 2012 bases its plot on how Americans see the world and China, "But if Hollywood wants the Chinese market, their business sense tells them they must 'soft soap' its target audience."
Since the 1990s the Chinese dimension in Hollywood movies has become ever more positive. Disney is the obvious pacemaker in this regard, way ahead of the pack. The animated movie Mulan, based on the story of a famous woman warrior in ancient China, is a successful combination of Chinese tradition and American spirit. It was Disney's first-ever period costume animation and the result was a big success.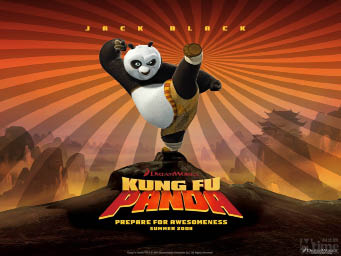 Then came Kung Fu Panda in 2008. The tubby treasure becomes a kungfu master after a spiritual journey of self-discovery. His story of growth is educational and recreational. Few Chinese can hold back laughter on hearing the family's noodle restaurant was won, generations earlier, in a majhong game. The main elements of panda and kungfu are of course well rendered, but so too is the accurate Chinese coloring – music, scenery – even the noodle details! The film allows Western audiences to experience Oriental civilization in tandem with their familiar "American Dream."
In the words of one commentator: "When Chinese and Western moviegoers both delight in Mulan and Kung Fu Panda, is there anyone who recalls the image of Fu Manchu?"
————————
Tang Yuankai is a journalist with Beijing Review.