Fun and Merriment at the Rainbow's End
By LIU HUANZHI & XU YING
THOUGH many times eclipsed by its more famous neighboring cities of Beijing and Tianjin, Hebei Province hardly delivers a lack luster performance where local color and beautiful environs are concerned. The imposing Yanshan and Taihang mountains have bestowed on Hebei one of Mother Nature's most beautiful landscapes, one that invites sustained awe at the Great Wall which graces the province with a bounteous 2,000 kilometers of its length. Sea and grasslands also favor this territory and vie to add to its beauty.
Hebei, if defined by colors, is a rainbow of yellow, red, blue, green and white. Its dynastic history and imperial heritage stain it in yellow, and the Xibaipo CPC Central Committee site in the late 1940s adds a tinge of red. And blue, green and white are the natural palette of sea, land and its romantic snowy winter.
Hebei is the only provincial-level administrative region in China that boasts a full range of geographical features, including seashores, plains, grasslands, lakes and rolling ranges both high and low. All these natural and cultural colors contribute to Hebei as a haunt for tourists and holidaymakers.
Yellow: Imperial Majesty
North of Beijing and Tianjin is Chengde, the former summer resort of the Manchu Qing emperors that ruled from Beijing. The legacies of its imperial palaces, gardens, temples and cemeteries hark back to one of the most splendid imperial zeniths in Chinese history. For hundreds of years Manchu emperors and aristocrats retreated to Chengde to escape the summer heat of Beijing, relive their nomadic traditions, and polish up their hunting skills in its grass and woodlands. Today these former imperial sites beckon unfailingly to non-royal visitors from Beijing, Tianjin and cities farther afield.
The Imperial Mountain Villa at Chengde is found behind an imposing wall that meanders for 10 kilometers up and down a rolling terrain on the west bank of the Wulie River. Construction started in 1703, the 42nd year of Emperor Kangxi's reign, and continued for 89 years and through three emperors. The colossal project is a testimony to the salad days of the Qing Dynasty during the reigns of Kangxi (1654-1722) and Qianlong(1711-1799). Both emperors made six trips to southern China and steeped themselves in its iconic scenery – natural and artificial; their experiences and architectural inclinations were recorded and reflected in the imperial gardening project at Chengde. The compact site selected by Emperor Kangxi showcased the topography – with a diversity of lake, marsh, plain, grassland, woodland and lush hills spreading from southeast to northwest over altitude differences of up to 180 meters. Today the imperial legacy stands intact as an ethnic and religious museum of China and a gardening masterpiece of the world.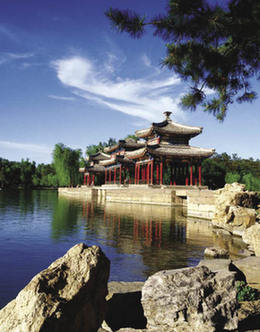 A lake view in the Imperial Mountain Villa in Chengde.
Tracing the enclosure of the imperial villa, you will find the Eight Outlying Temples on the out side of the wall. They too were built by the emperors to serve their spiritual needs. Chengde is the only place in China where you can find such a concentration of temples; each of them is related to the legend of an early Manchu ruler from 300 years ago.
To the uninformed, Eight Outlying Temples, or Waibamiao, obviously implies that there are eight temples around the mountain villa. But actually it refers to a cluster of 12 temples. In its early days, Chengde had eight Lama temples of Tibetan Buddhism. These were under the administration of the department in charge of ethnic minority affairs and were registered with the Lamaism affairs office in Beijing. Each temple had a representative office in the capital. Since they were clustered outside the Great Wall, they were collectively referred to as Waibamiao, meaning, more precisely, the "eight temples lying outside of the Great Wall." Though in later times, the number of temples increased, the terminology never changed.
The 12 temples are arrayed along the ridges of the eastern and northern hills that surround the massive imperial mountain villa. They were all dedicated to Lamaism, and their architecture and decor are a mixture of Han and Tibetan styles. It was said that the Qing emperors built the temples primarily to pacify and stabilize its southwestern frontiers. That might be true, as every temple has inscribed steles that eulogize an episode of the Qing Dynasty that unified the country and maintained a heterogeneous empire.
Hebei is also the resting place for Qing emperors and their families. The two cemeteries, eastern and western, total 2,500 square kilometers in size. According to historic records, the eastern cemetery outside Zunhua City inters 161 imperial family members. Except for five emperors and three princes that died young, the remaining 153 are female. The western cemetery was inaugurated by Emperor Yongzheng (1678-1735), and this resting place for the self-effacing emperor is modest compared with the architecture of the eastern tombs. Apart from Yongzheng and his family, Emperors Jiaqing (1760-1820), Daoguang (1782-1850) and Guangxu (1871-1908) and their families are also buried here, totaling 80 royals. According to the Qing imperial burial system, Emperor Yongzheng should have picked a tomb site adjacent to that of his father Emperor Kangxi. His blatant violation invited much rumor-mongering.
In November 2000 the Eastern and Western Qing Tombs were inscribed into the World Heritage List for their historic, artistic and scientific value.
Blue: Seaside Fun
Bohai Bay extends for 487 kilometers in Hebei Province, its northeastern side curving like a necklace from the Shanhai Pass to Haixingkou. The soft, golden beaches invite travelers to pause in their wanderings and throw themselves into the embrace of the sea – feeling the caress of its gentle waves, frolicking with the rising and retreating tides, watching the sunset and sunrise, and greeting fishing boats returning with a full day's catch. Such seaside fun can be found at Beidaihe, Nandaihe, Feicui Island, Laoting Triple Islets, Changli Golden Coast, and in fact everywhere along the 487-kilometer Bohai Bay.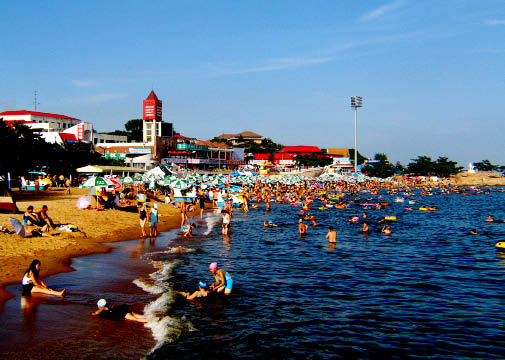 Beidaihe, the earliest and largest bathing beach in China.  
Beidaihe is the earliest and largest bathing beach in China, thanks to its agreeable climate and beautiful environment. Across its shore of 10 kilometers there are many flat and soft beaches sheltered by the lush Lianfeng Mountain on the land side. In 1898 the imperial Qing government designated Beidaihe the "summer resort for personages of various countries." In no time private villas, recreation facilities and accommodations fanned out along its beaches, and the once deserted shore became a vacation spot for officials, aristocrats and rich businessmen from China and abroad. After the founding of the People's Republic in 1949, many sanatoriums and hotels were built by government ministries and state-owned enterprises, between or behind the old facilities or farther out along the wings, turning Beidaihe into China's largest beach resort.
Nandaihe is connected to Beidaihe by a bridge and has a shoreline stretching 17.5 kilometers. Its young beaches are no less fine and beautiful than that of Beidaihe, but their waters are definitely bluer and cleaner. Over the last two decades, it has quickly grown into a popular bathing resort, with such public recreational facilities as sand and grass slides that can't be found at Beidaihe.
It would be a shame for tourists at Beidaihe and Nandaihe to miss the Old Dragon Head, the starting point of the Great Wall.
The Great Wall extends for more than 2,000 kilometers in Hebei, blessing the province with the longest, best preserved and most varied section in any province. Taking a cruise west of the Old Dragon Head, you can see a double wonder of the Great Wall – a section across mountain ridges reflects on the water surface and makes a shadowy twin brother on the seabed; tracing the shadow, you can find out how the Wall crawls out of the sea and starts its 5,000-kilometer journey across the mountains of northern China. At Hebei's Jiaoshan, Jinshanling, Panjiakou, Qingshanguan and many other places, you will witness more characteristic beauty and wilderness of the Great Wall.