A Town's Hopes Are Back on Track
By special correspondent OUYANG LIANG
IN 1993, Hu Jianzhong, a young man in Chongfu Town of Tongxiang City, decided to give up his timber business and turn instead to the more profitable leather and fur sector.
From the late 1980s to the early 1990s, the manufacture of leather goods became a red-hot business in Haining, a city in the vicinity of Tongxiang. The establishment of Haining China Leather Center in 1993 further enhanced the status of Haining as the leather capital of China. The "gold mine" effect sucked in fortune hunters from all around, and Hu Jianzhong was one of many. But without technical skills or connections in the trade, his chances of getting a piece of the action were slight indeed.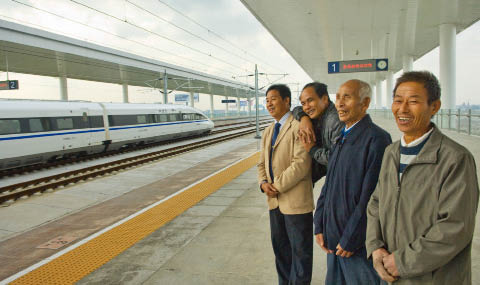 Eagerly awaiting the long-anticipated launch of the Shanghai-Hangzhou High-speed Railway on October 26, 2010. Photos by China Foto Press
Leather manufacturing in Chongfu goes back over a century, but was uncharted territory for Hu. Fortunately, one of his relatives is a veteran in the industry and after acquiring some know-how from him, Hu invested RMB 35,000 to set up a workshop, specializing in producing fur collars, hat tassels and leather coat accessories.
"My parents, my wife and my sister all got involved in production. We made between 30 and 40 fur collars a day and as soon as we completed a batch, I got on my motorbike to deliver the merchandise to Haining. On winter days by the time I got home my legs were too cold to unbend." Thinking back on those hard times Hu Jianzhong can barely conceal his emotions.
But soon motorbike deliveries became unnecessary: people were beating a path to his door wanting to buy from him. By 1998, Hu had accumulated a primary capital sum, and he used the opportunity of the Southeast Asian financial crisis to expand his business at low interest rates: he set up a modern fur and leather enterprise – Zhonghui Leather Co., Ltd., and also diversified into artificial silk. The group has since grown into China's largest leather products producer.
Prior to the 2008 financial crisis, about 80 percent of Zhonghui's output was exported to Europe, the U.S. and Japan. "The foreign business executives from Shanghai were extremely scrupulous. They did on-the-spot investigations before giving us an order, dispatched staff to supervise the production, and inspected the finished goods at the end. So there were foreign businessmen here at the company more or less every day. In addition, we have our own professional design teams based in Spain and Italy who make frequent visits to the company each year," says Ping Jianguo, chairman of Zhonghui. To provide transportation for its customers and designers, most of whom had to transit via Shanghai before heading to the small town, the company kept 30 vehicles, five or six of which shuttled every day between the metropolis and Chongfu, a ride of two hours.
"But today, our clients requested the driver to take them to the high-speed rail station in the town. The train journey to Shanghai takes a mere 30 minutes, and is way more comfortable. It's a no-brainer!" remarks Ping Jianguo.
With the financial crisis, orders from European and American markets took a serious plunge. Leather and fur products with 1,000-Euro-plus price tags saw plummeting sales volumes. However, over the last couple of years, domestic sales have been edging up, now representing about half the company's total. "The high-speed railway is significant to growth in domestic business." According to Ping Jianguo, it is commonplace to see people from Shanghai and Hangzhou coming to Tongxiang to purchase leather and fur garments. When winter comes, there is an influx of leather buyers flying into Shanghai from northern provinces, then transferring to Haining and Tongxiang. "They don't know Shanghai, and have no idea where to get the bus. The airport and the high-speed rail station are quite close to each other – which is a great convenience for passengers."
The mention of transportation problems strikes a chord in Pan Jianxin, vice-chairman of Gaoqiao Leather Co., Ltd., which is named after the town where it is located. When the company was launched in 2001, Gaoqiao enjoyed the unenviable reputation of the "Siberia of Tongxiang." "Almost every restaurant here closed before 4 p.m. and finding somewhere to eat supper was virtually impossible," recalls Pan.
One night, Pan Jianxin got a phone call from a trailer truck driver saying there was no way he could get any further in and wanted Pan's company to get out to him and unload the truck asap. "The roads here were narrow and potholed, with many bridges, most of them in poor condition and with weight limits. Container trucks really couldn't get through. There was nothing for it but to send tractors to bring the imported skins to the company. That pitch-black night in the pouring rain really burns in my memory."
Now, from a chair in his office, Pan Jianxin can see the elevated track of the high-speed railway, and with the window open he can hear the whoosh of the trains as they speed by. "It couldn't be more convenient. The station is only 800 meters from our company. Once they get off, our clients can walk here if they feel like," says Pan proudly.
"For Tongxiang the new railway is the fulfillment of a 100-year dream," observes Fan Jianhua, director of Tong-xiang Railway Construction Office. When construction of the Shanghai-Hangzhou Railway was being planned in 1905, the route was meant to pass through this city, but met with strong opposition from the local squires who believed that rail tracks traversing local farmlands, ancestral tombs, and villages would disrupt the existing excellent fengshui. As a result, the railway was rerouted via the neighboring Haining.
"With the Shanghai-Hangzhou Railway creating an intermediate station in Xiashi, Haining, the town soon made economic progress, ultimately becoming the new administrative seat of Haining. So for almost one century, Haining's development has run ahead of Tongxiang's. But I believe, with the arrival of the high-speed railway, a second 'railway opportunity' has come to Tongxiang," enthuses Fan.