The Painting Holiday
By special correspondentsXU HUIYUN & REN SHAOMI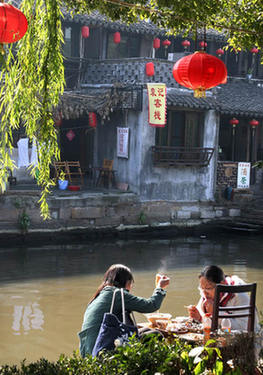 Ancient towns are alike, and Fengjing is trying to strike a different pose by reviving a genteel tradition – the artists' colony.
    IT is nightfall and Gong Qinfang has just finished a painting depicting blue-and-white porcelain. Looking up, she sees the room is filled with her paintings, all executed in "Jinshan Peasant Painting" style.
    Gong Qinfang is a peasant-painter. She and her husband Yao Xiping live in a village in Fengjing Town that is famous for this style of painting. The town authorities have built homes for the artists, each house with its own vegetable plot. For these peasant-artists, farm work is their way of life and the source of inspiration. Besides traditional peasant paintings, Gong Qinfang is specially good at paintings of blue-and-white porcelainware.
    The buzz about Jinshan peasant painting is creating a much wider market for Gong's works, and she is wondering whether the arrival of the high-speed railway spells the arrival of more customers, and higher sales. Located more than 10 kilometers from the village, Jinshan North Station is poised on the eve of the Shanghai-Hangzhou High-speed Railways maiden run.
    Many years ago, Fengjing Town stood out among others in Jinshan District because of the construction of the Shanghai-Hangzhou Expressway, which opened the door for a train of large enterprises such as Huapu Auto and Shanghai Hanbell Precision Machinery Co., Ltd. to settle in the town. Within a few years, Fengjing's economy grew from the second to last to number one in the district.
    "But in the last few years, every town in Jinshan got expressway access, so Fengjing lost its advantage in terms of road transportation," says Zhu Tao, director of Fengjing Town Economic Development Office.
    Construction of the Jinshan North Station in Fengjing certainly brought new opportunities. Zhu Tao says that Fengjing Town, adjacent to Zhejiang and serving the Yangtze Delta and neighboring Jiashan County, will see a new round of development incorporating advanced manufacturing, modern services and modern agriculture.
    As a tourist destination, Old Fengjing Town is fertile with 1,500 years of tradition and its peasant paintings constitute a unique resource. Unfortunately, its economic performance is lackluster. According to Zhu Tao, Fengjing receives one million tourists annually, clocking up revenue of several million yuan. There is a yawning gap between this puny sum and that of its neighbors: Xitang's tourist income from admission tickets amounts to RMB 35 million, Zhouzhuang's is 100 million, and Wuzhen's a whopping 120 million.