BTG: Stepping Up the Chinese Way
By staff reporter SUN LI
AT the 10th Global Travel and Tourism Summit held in May 2010 in Beijing, Duan Qiang, president of Beijing Tourism Group (BTG), put forward the concept of "Chinese service." This bold move has attracted the attention of the world's travel and tourism industry leaders.
Satisfying China's Elite
Duan is calling for a kind of creative service model that can meet the needs of sophisticated domestic and international travelers and involves an embodiment of traditional Chinese culture.
In the past few years, almost all the famous international hotel groups have entered the Chinese market, but, he notes, "We are still missing a top brand that can meet the Chinese people's consumption habits. Big-name international hotel groups in China are mainly targeting international business travelers; the domestic brand focused on China's elite hasn't been built yet."
"China's sophisticated customers not only pay attention to 'hardware,' such as physical facilities, but also value a kind of spiritual satisfaction, which foreign hospitality providers, with their different cultural perspective, find difficult to understand," says Duan. He believes that with the development of the national economy and the improvement of people's lives, domestic travelers will no longer be willing to make do with existing high-end services. Instead they will seek services tailor-made for their different needs. "BTG has to seize this big opportunity, strive to dominate the high-end market and build a distinctive tourism service in the Chinese manner," enthuses Duan.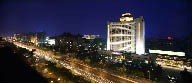 The Beijing International Hotel, the main venue of the 10th Global Travel and Tourism Summit.
"Chinese Service" Creates Opportunities Worldwide
Jean-Claude Baumgarten, president of the World Travel & Tourism Council (WTTC), once commented that China, with its rich tourism resources and a huge population of 1.3 billion, has played a crucial role in ensuring stable growth for the world tourism market. Statistics show that domestic tourists amounted to 1.902 billion in 2009 and inbound tourists staying longer than one night hit 50.88 million, making China the world's fourth largest destination. Research done by WTTC also shows that the China travel and tourism economy ranks third in absolute size worldwide and first in long-term growth.
"No one wants to miss the historic opportunity," says Duan, whose BTG property and operation, after 12 years of rapid development, have established some prime locations in downtown Beijing; they include time-honored brands, such as Quanjude (Beijing roast duck chain), Donglaishun (halal restaurant chain) and Beijing Hotel, plus a number of tourism brand names – BTG Jianguo Hotels & Resorts, Shou Qi Group (buses and cars), Home Inns, New Yansha (shopping mall), Antique City, China Comfort Travel and, of course, BTG International Travel & Tours. With this brand network BTG has cultivated a large number of loyal and regular customers. "What we need to do now is attract more customers with a tourism service modeled for Chinese tastes," remarks Duan.
In Beijing, visitors from all over the world are often seen waiting in line outside Quanjude and Donglaishun. Antique City is often crowded with shoppers carefully choosing items. Each is more a phenomenon than a business, showcasing the benefits brought to tourism from the quintessentially Chinese orientation BTG has adopted. The company's fast growth over a dozen years has proven that domestic tourism enterprises can keep ahead of international competition in China's fast-expanding tourism market.
Restructuring Enhances "Chinese Service"
BTG has restructured three times since it was founded in 1998. Currently the group is focusing on its specializations – horizontal operations. Tourism services, as a kind of high-level merchandise, is not easy to manage. According to Duan, a service process is characterized by a simultaneous process of production and consumption. Customers' expectations and their satisfaction remain crucial to evaluating the success of a service. A high-quality service will exert a positive impact on profits, cost-saving and expansion of market share. Therefore BTG has always paid great attention to a guarantee of service quality.
As a hotelier, BTG has successfully built two brands: BTG Jianguo Hotels & Resorts targeting high-end customers, and Home Inns which has become one of the most popular economy inns in the country. In view of the rapid trend upwards in business exhibitions and leisure travel, BTG has launched destination development in Beijing and on Hainan Island.
In Beijing, BTG has renovated or enlarged six comprehensive projects along a line dotted with the city's historic and cultural landmarks. They include exhibition halls, apartments, restaurants, and shopping, conference, and entertainment centers, providing multiple services to meet the diverse needs of customers.
On Hainan Island, BTG's operation includes the Nanshan Cultural Scenic Area, the Banyan Tree Sanya Resort and Spa, and a web of travel and auto services. The planned Nanshan Cultural Scenic Area will occupy 50 square kilometers and the total output value is expected to exceed RMB 10 billion. Recently BTG and Hainan Airlines Group co-invested RMB 1.5 billion to set up Beijing Capital Airlines, in a bid to facilitate the commute between Beijing and Hainan. According to Duan, when BTG's operation is in full swing in Beijing and Hainan, customers will be able to enjoy one-stop services and benefit from preferential pricing.
Beijing's tourism revenue in 2009 totaled RMB 240 billion, with one-tenth generated by BTG alone. The group's success has encouraged more state-owned tourism enterprises to launch reorganization and capital operation. The rise of large tourism enterprise groups are sure to stimulate China's tourism industry.