The Twelve Muqams and the Uygur Spirit
By staff reporter XING WEN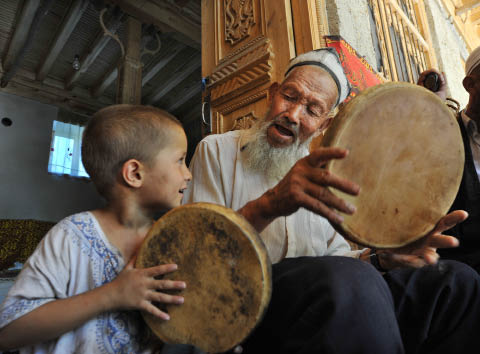 THERE is a saying in Xinjiang Uygur Autonomous Region that where there are Uygurs, there is Muqam.
Muqam is a composite of song, dance and folk music, a musical mode that is popular in Muslim-inhabited areas like China's Xinjiang Uygur Autonomous Region, and central and western Asia.
The most fully developed Muqam repertoire belongs to Xinjiang, represented by 12 suites (hence, the Twelve Muqams). These melodies enjoy considerable popularity in Kashgar, Hotan and Aksu in south Xinjiang and the Ili Valley in the north. In 2005, UNESCO proclaimed the Twelve Muqams a masterpiece of Oral and Intangible Heritage of Humanity, drawing attention to this art form from the wider world.
Muqam evolved from lyrics composed by early residents of the Xinjiang grasslands, who lived by fishing, hunting and herding. In the 12th century it took preliminary shape by merging into suites, and adopted the name Muqam two centuries later. In the 14th and 15th century, a host of literary and artistic works were created, and greatly influenced both its music and lyrics. However, Muqam compositions were not collected systematically until mid 16th century under the auspices of Amannisahan – a beautiful concubine of Yarkand Khanate Khan.
Daughter of a poor farmer, Amannisahan was extraordinarily talented in literature and music, and caught the attention of the Khan, who had his own penchant for the arts. During a hunting expedition she composed and played a Muqam piece. After she was married to the Khan, she launched a campaign to gather and sort out Muqam segments dispersed throughout the kingdom. The preservation efforts earned her the name "Mother of the Twelve Muqams." She devoted her life to collecting and compiling these musical pieces. Music from Arabia or Persia didn't make the cut; instead, she explored the rich musical resources of Uygurs spread out over the Tianshan Mountain area and the region's folk balladeers, seeking the most distinctive pieces of the Uygur ethnic group.
Working along with other musicians, Amannisahan finally selected twelve compositions emblematic of Uygur character. Her selections were passed down to the present and are regarded as the most valuable legacy of Uygur art.