Wang Guangmei's Personal Photo Album (III)
The Days with Liu Shaoqi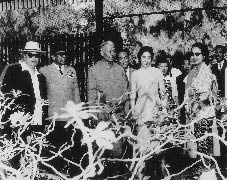 WANG Guangmei and Liu Shaoqi set a good example of happy family life for the high-ranking political couples of the Chinese Communist Party. So that Liu Shaoqi could immerse himself totally in the affairs of the Party and the state, Wang took good care of every tiny detail of his daily life. Her tenderness and firmness gave Liu Shaoqi the most peaceful and happy family life he was ever to know.
When Wang Guangmei served as Liu Shaoqi's secretary, she accompanied him on inspection tours, covering more than 20 provinces and municipalities. In the Daqing Oilfield on the northern frontier, she and Liu Shaoqi climbed up the oil derricks to shake the oil-smeared hands of workers. In the hot summer in forests of the Hinggan Mountains, the couple used tree branches as walking sticks and fought off mosquitoes and other bugs. Bloodstained from insect bites, they would walk dozens of kilometers a day along muddy, winding mountain paths. In addition, as First Lady, she accompanied Liu Shaoqi on seven official trips abroad, projecting an elegant image of Oriental femininity and Red womanhood.
In the era when "politics took command" and aesthetics took a back seat, people felt proud of the color, warmth and humanity that Wang Guangmei's pleasant image introduced into the prevailing monotony. Many still remember her dignity and grace, while wearing a traditional white qipao dress and a sincere smile. Back then, apart from newspapers and radio, the only access to news of great events at home and overseas was the documentary News in Brief, typically shown before the screening of feature films. Many people watched the News in Brief more than once, just so as to see Wang Guangmei, and were hugely proud of her.
But in 1967, early in the political turbulence of the "cultural revolution," Wang Guangmei and President Liu Shaoqi were criticized and denounced. Facing violent storms of humiliation and slander, she bravely stood by her husband, putting up firm resistance and never wavering in her trust in justice. If we say that Wang Guangmei's early love for Liu Shaoqi was born of a young intellectual's admiration for a fulltime revolutionary, then their support of each other in a time of need and seeing each other through thick and thin could be called a model for revolutionary couples.
On September 13, 1967, Wang Guangmei was officially arrested. Two months later she was jailed in Qincheng Prison, and confined for more than 11 years. Liu Shaoqi was persecuted to death in 1969.
Immediately on her release on December 22, 1978, Wang Guangmei set about rehabilitating Liu Shaoqi's political reputation. In 1980, the Central Committee of the Chinese Communist Party announced the restoration of Liu Shaoqi's reputation, and held a solemn memorial meeting in the Great Hall of the People in Beijing, where Deng Xiaoping delivered a memorial speech. On May 19, Wang Guangmei and her sons and daughters scattered Liu Shaoqi's ashes on the Yellow Sea.
Wang Guangmei preferred to keep a low profile, and repeatedly turned down media interview requests; she also refused to authorize official departments to write her biography. She did, however, spend a lot of energy helping to organize activities in memory of her late husband, making appeals that the tragedy of ultra-Leftism as in the "cultural revolution" never be repeated.
As a widow, Wang Guangmei took her children on six visits to Ningxiang in Hunan Province (Liu Shaoqi's hometown) to commemorate her late husband and her parents-in-law, and to visit the townspeople. She worked tirelessly on the large-scale commemorative activities marking the 85th, 90th, 95th, 100th and 105th birthday of Liu Shaoqi, and assisted in the compilation of important historical documents such as A Chronicle of Liu Shaoqi's Life, The Biography of Liu Shaoqi, Liu Shaoqi's Writings Since the Founding of the PRC, The Liu Shaoqi That You Don't Know, and Liu Shaoqi and I.