The Legacy of a Great Master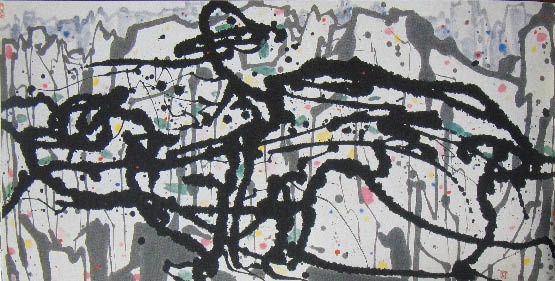 CELEBRATED artist Wu Guanzhong passed away at the age of 91 on June 25, 2010. His lifetime achievement was to successfully apply Western oil techniques to traditional Chinese painting, making a great contribution to the modernization of the classic ink-and-wash genre. His works continue to set new records at auctions, and at the time this article was written his auctioned volume of work had amounted to a value of RMB 1.78 billion.
The Mood of Landscapes
Wu Guanzhong was dedicated to landscape painting and tried to adapt Western oil techniques to this traditional Chinese subject. He endeavored to bring more verisimilitude to scenery, and combine the subtlety and richness of the French Impressionist pallet with the aesthetic concepts of traditional Chinese painting. Such a complex goal was easier said than done; in fact it took the aspirations and efforts of several generations of Chinese artists to create truly Chinese-style oils from the time that Western medium and genre made its presence felt in the country 200 years ago.
In the 1960s and 70s, Wu traveled across the country to do Chinese landscape oils. The mood of a landscape is central to traditional Chinese painting and a great deal of attention is paid to conveying particular emotional and psychological nuances. The success of a work hinges on how keenly the artist feels and relates to a particular mood and then how effectively he or she conveys it in composition and brush stroke. Wu knew this rule very well and believed the Chinese mastery of oil painting should be demonstrated in the tender grace of southern watertowns with their arched bridges and running streams, and also in powerful rivers and big, lofty mountains.
Wu brought his deep understanding to Shaoxing in Zhejiang Province, the hometown of Lu Xun (1881-1936). He had great admiration for this sharp-tongued writer, visionary and seer, and wanted to render the idea that an endowed land produces blessed people. He left his footprint in every corner of Shaoxing in search of inspiration, passing on a legacy of tranquility and elegance in his depictions of this southern watertown.