Wang Guangmei's Personal Photo Album (II)
The Family Life of the First Lady
By LUO HAIYAN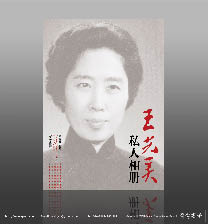 WANG Guangmei and Liu Shaoqi married in a small village called Xibaipo in Hebei Province, where the Central Committee of the Communist Party of China made its headquarters. The wedding was very simple. The bridal chamber consisted of two simple adobe rooms – Liu Shaoqi's office and bedroom – and was furnished with a wooden bed, two wooden chairs and a small trunk for books brought from Yan'an. At that time, Liu Shaoqi often worked non-stop for ten hours a day and filled his evenings with meetings but Wang Guangmei accompanied him on his walks through nearby threshing grounds during his breaks.
In 1949, following the liberation of Beijing and the founding of New China, Zhongnanhai in Beijing became the couple's home. Wang Guangmei had instantly became stepmother to five children from Liu's former marriages, and eventually gave birth to four children of her own – a son and three daughters. As a mother of nine children, Wang Guangmei treated each of the children fairly and without favoritism. Though highly principled, she never lost her temper. She was amiable and cordial to all, loved her husband and children, and contributed all her wisdom to Liu Shaoqi's work and their family of over a dozen members.
Liu Shaoqi and Wang Guangmei lived on their combined salaries of RMB 500, not a small figure at that time. But after deducting rent, water and electricity fees, and wages for a housekeeper, the rest had to cover living expenses for more than ten members, school tuition for five youngsters, and the odd needs of some relatives and friends. She had to be meticulous with the family budget, and a life of comfort would hardly describe their circumstances.
Once when a child suggested buying a bicycle to go to school, Wang Guangmei had to explain that she did not have surplus money for that, and the child had to wait for a while. She also insisted that the children themselves be thrifty. They wore clothes with patches, and in summer she was very sparing with change for soft drinks.
Regarding their learning and growth, she set high standards. To temper their children's willpower and physique, Wang Guangmei and her husband set a strict and detailed "progress chart of growth": learning to swim at the age of nine, learning to ride bicycle at the age of 11, looking after oneself by age of 13, and going out independently at the age of 15. To reach these goals, strict preparations were enforced.
During the three-year famine (1959-1961), Guangmei sent all her children to boarding schools. Hearing that a child fainted twice because of hunger, an old woman scolded Wang Guangmei, "You are being rather callous. How can you send them to boarding school and not take them back when they faint?" Wang Guangmei hesitated and asked Liu Shaoqi how to handle this matter. Liu Shaoqi listened to her and said solemnly, "People of the entire country are suffering, and our children should share the comforts and hardships of the masses. By doing so, when they grow up and serve the people, they will remember not to let people suffer like this."
When their youngest son Liu Yuan recalls this difficult period, it is the family dinners he can never forget: "My dad always put a tiny bit of everything onto his plate and left the table as soon as he finished it. He was never very talkative. In no time we children had cleaned the plates."
During Spring Festival in 1963, the economy took a turn for the better and the market picked up day by day. The whole family went for a stroll through the Changdian temple fair. The children bought candy floss, and Liu Shaoqi and Wang Guangmei indulged in the treat with them, passing the day happily. This special family had its special joys, and they blended into the happiness felt by millions of people in China at the time.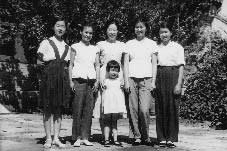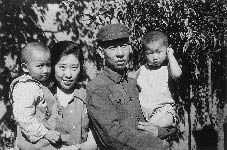 Wang Guangmei (with Taotao) and Liu Shaoqi (with Dingding) at Xibaipo, 1948.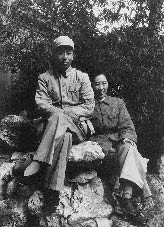 At the Fragrant Hills in suburban Beijing before moving to Zhongnanhai.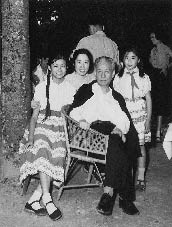 LUO HAIYAN is a senior editor with the Xinhua News Agency, and vice-president and deputy editor-in-chief of the Xinhua Publishing House. He has published a number of books, such as his collection of journalist works entitled A Listening Pen, collection of prose entitled Time of Reading and Traveling, commentary on biography entitled Oriana Fallaci Cast a Vote of No-Confidence to the World, and a book on current political affairs entitled Spiritual Memory of China: 2008 Meditations.
3