Sun-Moon Mansion
World's Largest Solar-powered Building
in the World's Largest Research and Development Base
By staff reporter JIAO FENG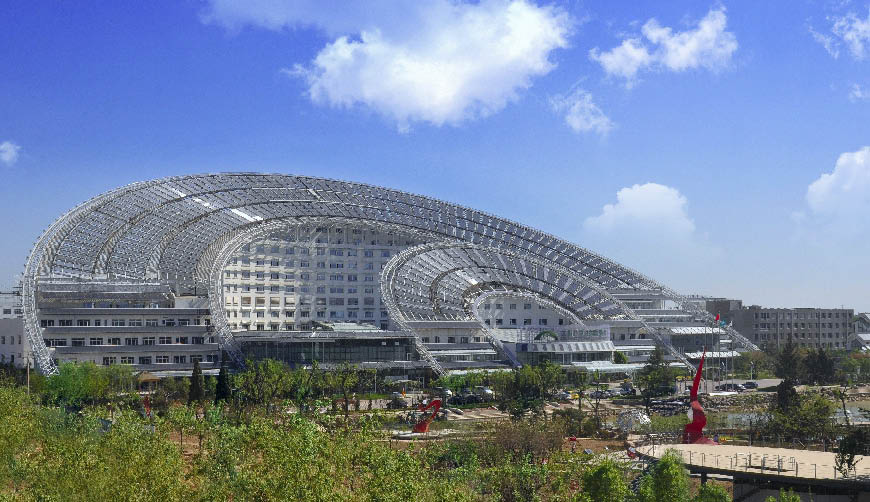 Solar Valley, the largest research and development base for solar energy use in the world and a mecca for new energy advocates. Cnsphoto
IN Dezhou City, Shandong Province, sits the largest solar-powered highrise building in the world. It incorporates enough photothermal, photovoltaic and energy-saving technologies to earn it the designation of main venue of the 4th International Solar Cities Initiative Conference, a huge expo that has everything related to solar power under one roof. Known as "Micro-Emission · Sun-Moon Mansion," this wonder of engineering is a symbol of China's rapid development in solar energy.
The Solar Valley, where it sits, is the largest research and development base for solar energy in the world now. It all began with solar water heaters. At the Copenhagen Conference in 2009 Premier Wen Jiabao referred to China leading the world in terms of using solar water heaters. China's solar heating industry's replacement of conventional energy amounts to 200 million tons of standard coal, and its reduction of carbon emissions has now reached 200 million tons – a great contribution to global energy conservation and emission reduction.
"Solar-powered Bird's Nest"
A centerpiece of the Solar Valley, this production and research base of solar energy products in Dezhou is an impressive white semi-circular building, built for over RMB 100 million by the Himin Solar Energy Group. The total floor space of the Sun-Moon Mansion is 75,000 square meters, and its dual structure features a bigger sloping arch in the north encircling a smaller one in the south. The north section accommodates an exhibition hall and the headquarters of the Himin Solar Energy Group, while the south houses the International Solar Valley Micro-emission Hotel. The complex combines comprehensive utilization of solar energy with energy-saving technologies, and adopts a number of the world's latest technologies in fields like solar-powered hot water supply, heating, refrigeration and photovoltaic power generation, which boosts its energy-saving efficiency to a neat 88 percent. Its construction has perfected technical requirements for solar energy application, given rise to several solar product lines independently developed by Chinese enterprises, and provided invaluable technical support for the large-scale promotion and application of solar energy.