An Embarrassment of Riches: Putian
By WU MEILING
PUTIAN is an economically and culturally prosperous city on the southeast coast of China in Fujian Province, facing Taiwan across the sea. It is blessed with fertile land and was and is inhabited by a clever people. The ancestors of the locals had a literate civilization more than 2,000 years ago and encoded their stories in "celestial-seal" and "tadpole" scripts carved on rocks with astrological and divination purposes that still await decoding by their modern offspring.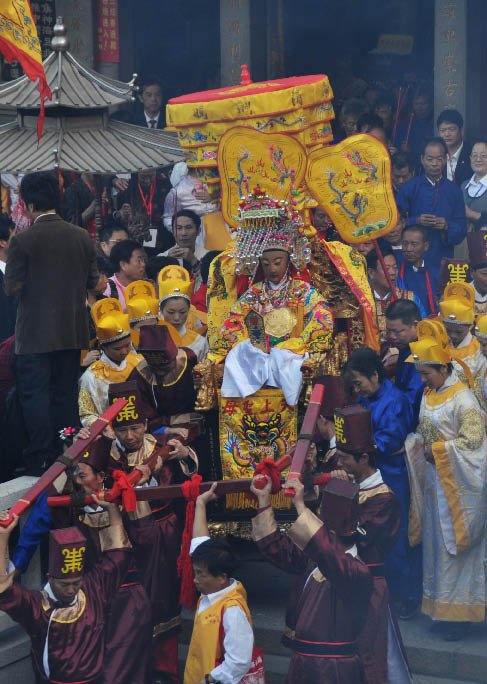 Her fans are legion: a public prayer for the blessing of sea goddess Mazu.
Goddess of the Sea
Meizhou Island of Putian City is an eyebrow-shaped island embraced by the beautiful sunshine and gentle waves of the Meizhou Bay, a natural deepwater harbor that is rarely seen in China, or anywhere else in the world. The island is the home of Mazu, the Chinese sea goddess and protector of those who live in maritime country. With the inevitable migration of coastal residents to other parts of the world, for centuries her cult has been spread across the globe. Today overseas Chinese still worship Mazu, and many visit Meizhou Island as their mecca to join the locals paying homage to their goddess at the time of her birthday.