Islands in the Fun – Shanghai
By staff reporter JIAO FENG
Situated at the mouth of the Yangtze River – China's longest river – the coastal city of Shanghai is surrounded by a variety of charming islands. Some of them have now been developed into havens for tourists, where people can escape the bustling city and cool off on sultry summer days.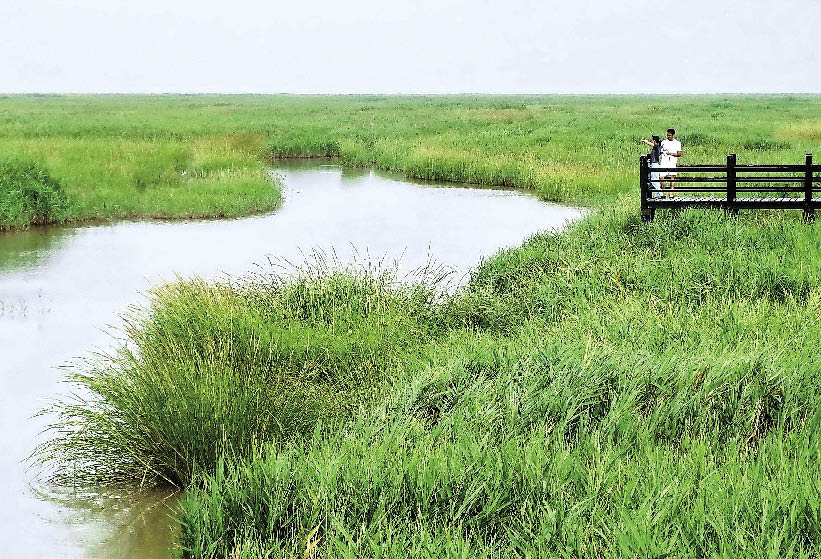 A reed marsh on Chongming Island.  
Chongming Island
Located at the mouth of the Yangtze River where it meets the sea, Chongming is China's third largest island and largest alluvial island. It was formed through the accumulation of silt carried down the Yangtze River that continues to enlarge it with each coming tide. Its eastern and western tips are expanding by 143 meters per year and at that rate the island might one day adjoin the northern banks of the Yangtze River.
Featuring a well-preserved eco-environment free from the pollution of heavy industry, Chongming Island is a "lung" of Shanghai.
Dongping National Forest Park
Occupying an area of 358 hectares, this man-made forest park is rated as one of the top ten new resorts in Shanghai. Visitors can enjoy wonderful views of a lush forest and crystal clear lakes and take part in a range of exciting leisure activities such as horse-riding, boating, zip-line adventures, grass skiing and rock climbing. In the park, appetites can be sated by a wide selection of restaurants, and accommodations are available to meet every need and budget.
Xisha Wetlands
Covering a total area of 300 hectares, the Xisha Wetlands are the only natural tidal wetlands in Shanghai. Under the rush of the tides, the area has formed a diversified landscape – lakes, woods, mudflats, inland rivers, swamps and reed marshes. Out of a concern for environmental protection, an elevated loop-line plank walkway was built, with some feeder lines leading further out over the water. An exhaustive tour takes around two hours. Along the walkway there are sightseeing platforms and a few two-to-three-storied observation towers for tourists to appreciate the enchanting scenery or just take a breather.
When the tides roll in, fiddler crabs line the shore; crabbing is a fun and rewarding way to spend the day.
Dongtan Aviary Reserve
The Dongtan Aviary Reserve is located in the eastern part of Chongming Island with an area of over 32,600 hectares. The period from late October to the following March is a perfect time to bird watch as millions migrate there. During the migration season, flocks of birds from Australia, New Zealand and Japan choose Dongtan as a transit camp. More than 100 species, including some rare ones, can be spotted here, such as the cygnet, white-fronted goose and green-backed heron. On peak days the bird population can reach as many as 3 million, clouding the sky in magnificent flying formations.
But even in the off-season, tourists can still enjoy sighting some local birds such as kingfishers and egrets. Tourists need to be patient to wait for the wild birds to settle, as the smallest sound can easily send them in a panic and an ascent to the sky. Like the Xisha Wetlands, a plank walkway system has been constructed for visitors to stroll safely.