Bibi's Birthday Bash Concert:
               China's Super Girl Turns 25
By Reuben F. Johnson
Beijing – July in the Chinese capital is not exactly the best time to be visiting this very busy and increasingly crowded city.  This year was no exception.  The heat and humidity were oppressive to say the least.  That unique blend of Beijing dust and pollution that seems to rob the air around you of most of the oxygen hung like a thick blanket of fog. 
Most of the population were trying to find ways to stay indoors in this atmosphere and making parts of the city look almost listless at times.  But on the evening of 24 July - at the Capital Indoor Stadium in Haidan district - there was so much energy you could practically feel the electricity in the air.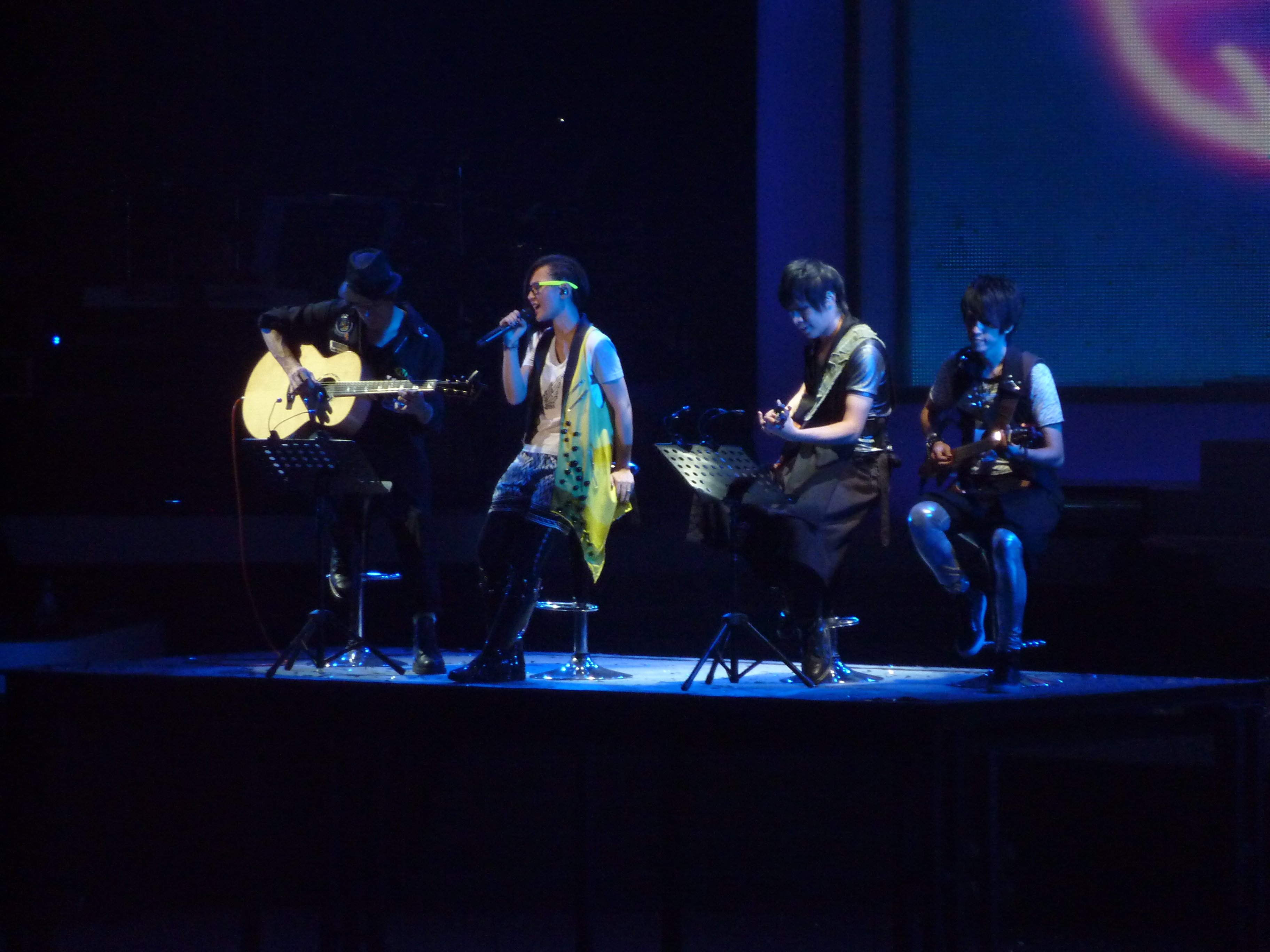 Bibi's acoustic set – this part of the show opened with the song "Season" from her Time CD.
The occasion was the July installment of the series of summer concerts by China's Super Girl, Zhou Bichang.  Known as Bibi Chou or just "Bibi" to her fans and admirers, the Beijing stop on her "Sing Along The Travel" tour was a special night that stood out from the shows held in other cities.  The reason was that just two days later on 26 July would be Bibi's 25th birthday, and the throngs of her loyal fans were all at this show to throw what would amount to an early birthday party. 
At 25, Bibi has accomplished more as an artist and a performer than many musical artists do in a lifetime.  From all appearances she is also well on the way to what looks like will be a tremendous career.  Her latest CD, "i, fish, light, mirror" (i,魚,光,鏡), is the fifth studio CD for her in five years, and was released on 18 June in the middle of the tour that began on 29 May in Guangzhou.  It has been a resounding success – even in a country where sales tend to be dampened down by songs being placed on countless internet sites where they can be downloaded for free. 
(I personally have tried to buy legal copies of almost all of Bibi's music, which probably many people would laugh at while they are busily loading up their iPods with free MP3 files, but I feel to do otherwise amounts to stealing from her.) 
Attending Bibi's concert – particularly on this day - is not just simply sitting down to hear some of the most beautiful and heartfelt music you are ever likely to hear in one evening.  It is a full-motion experience of how much love has been created by her special talent. 
As soon as I stepped out of the taxi and onto the pavement in front of the stadium I was immediately surrounded by a sea of young people wearing green "Bibi's Fans Club" polo shirts, green shorts, green hats, etc.  An American white male who is 188 cm in height, not wearing green (the chosen colour of Bibi's fans) and sporting a Detroit Tigers baseball cap is automatically going to stand out in this kind of a crowd.  (Think back to the scene in Tom Selleck's comedy film 1992, Mr. Baseball, when he had just arrived at Tokyo airport and looked so out of place among the rest of the people in the crowd walking off the aeroplane and you get the picture.) 
But, rather than shrinking away from me as though I was some alien presence I was greeted more warmly by Bibi's hardcore fans than I can ever remember in any country. 
"You like Bibi Chou?  You like Bibi Chou?," this crowd cried out to me in English. 
"Yes," I replied, "I love her and think she is the greatest talent I have seen in a long time."
"Where are you from?", several people asked at once. 
"I am from America," I answered, which caused everyone to scream with ecstasy that she has a fan from so far away.  "Look," I said, "I also have all of her music," as I showed them my iPod with almost all of her songs loaded into it, which only caused them all to scream even louder. 
About this time the gates outside the stadium were opened and as the crowd streamed through the security checks I was taken to small stage outside the stadium that had what must have been the world's largest birthday card mounted on it, and with Bibi's photo and birthday greetings written at the top.  The card was divided into sections for each province of China and each county of the world.  A green (of course) magic marker pen was thrust into my hand and someone showed me the section that read "United States" in Chinese where I was supposed to sign my name.
Bibi is one of China's "Super Girls" – a name that comes from the talent contest by the same name (超级女声) that aired on Chinese television between 2004 and 2006.  The show has been described as China's answer to programmes like American Idol, with the chief difference that it was for female contestants only.  (Thankfully, the Chinese show also had no limitlessly annoying and unpardonably rude British judges like Simon Cowell in the US.) 
In the second, 2005 season of the programme, Bibi quickly went from near-obscurity to become runner-up in the overall competition rankings, receiving only about 250,000 fewer votes than the first place winner out of a total of almost seven million between the two of them.  Her performances during the contest brought one of the judges to tears and she even received a standing ovation from all five judges after a particularly moving rendition of one of the songs she had chosen to sing near the final round. 
Like so many competitions of its type in the world, Bibi has since followed the usual pattern of the 2nd place contestant ending up being the one who is more prolific and popular.  The number of her fans increased geometrically as she rose up to the final round of the contest and most of them have stayed with her to this day. 
Why Bibi has such a loyal following and a fan base that continues to grow says as much about her as it does about the popular music scene in China.  Once thought of as one-dimensional and merely an electrified variant of traditional Chinese folk music, the recordings made by Bibi and her contemporaries show how much Chinese music is like the rest of the country – advancing, modern, fast-paced and captivating. 
One of the big changes that all the crowds have seen on this tour is the re-making of Bibi's image.  The big glasses that were always part of her look have been refined a bit – different glasses and more stylish designs.  The show also involves her making some eleven different costume changes and the wearing of hair extensions or wigs with some of these outfits.  Overall, her new look now accentuates the natural beauty that you could always tell was there, but which before had been muted by her plain and non-glamorous clothing and hairstyles. 
The new image for Bibi is one that shows how incredibly attractive she really is and how stylish she can be.  Having been to the after-party that was held once the concert was finished, I can also tell you that she is even more breathtakingly beautiful when you meet her in person.  I have rarely seen someone who was so glamorous and showed so much poise, but at the same time was so down-to-earth and friendly. 
Her new stage show also involves elaborate choreography with her dance troupe, and Bibi herself does a number of complicated dance routines - most of the time while she is wearing some very high platform shoes.  (If you think this is easy, then try it yourself sometime.)  The energy that she shows and the stage presence she has add new life to her music and her performances when witnessed live. 
Bibi's show features the best of her older material, plus many of the popular songs from her last two releases - the "i, fish, light, mirror" (i,魚,光,鏡) and "Time" (時間) CDs.  Despite the fact that many of the CD studio recordings rely on her own voice being layered in several tracks to compose the back-up vocals, her touring band covers these vocal arrangements and manages to create energetic and well-produced live versions of her songs. 
On this concert tour Bibi's show begins with a bang.  Her opening number is WOW from the CD of the same name and features her outfitted in a glittery jumpsuit that befits the space-age look of her stage set.  The synchronised movements of her and the dance company are as good as or better than any US or European act you might have seen in concert.  For three hours the action was non-stop.
Highlights of the show for me were some of my favourite songs from her catalogue.  When performing "An Apple Bitten by God" (上帝咬過的蘋果 ) from the Time (時間) CD, Bibi held the microphone towards the crowd  asking them to sing the chorus for her.  They movingly complied word for word and note for note.  Other outstanding performances are the songs 戀愛料理 (Love Cuisine) and "I Miss You Missing Me," from the i, fish, light, mirror" (i,魚,光,鏡) CD  - written by the American songwriter Diane Warren and performed by Bibi in English. 
Later on in the show after a break when the stage went dark and the crowd chanted "Zhou Bichang" over and over in rhythm with her drummer, she suddenly appeared from below on one of its moveable platforms that ascends from beneath the stage accompanied by three acoustic guitarists.  They then performed an unplugged set of "Season," also from the Time (時間) CD, "Just to Meet You" (為了認識你 ) from her WOW CD and others. 
Many Chinese I meet are too dismissive of Bibi, telling me that she is "just an average singer," but to me they are not seeing the full depth of her talent and what an almost unique voice that she possesses.  It is not by accident that she is the first mainland music artist to have a top-selling CD in Taiwan since anyone can remember.  In my many years of performing music and seeing artists perform all over the world and in numerous languages I have never seen a performer so remarkable as Bibi.  It is only a matter of time before she is as well known in foreign countries as she is in China. 
One of the greatest compliments I can pay to any performer, whether in movies or on the stage or in musical venues is that "this is a person who can do anything, any style."  Bibi is one of the rare artists who fits into this category.  Anyone who has the opportunity to attend one of her live performances should take advantage of the opportunity to see what a versatile musician she is. 
When I signed her birthday card outside the stadium and then sitting inside on the seats before the concert began I noticed that all of the big placards that has been erected for her show had the words "you are the gift from the god" at the top.  This may seem a bit much, but to me is not an exaggeration by any means.  For those of us looking for beauty and inspiration in a world otherwise gone mad, she really is a gift from the heavens.  I wish everyone the chance to someday see what I witnessed on this magical night.
Reuben F. Johnson is a foreign correspondent based in Europe who covers the former USSR, China and Latin America for The Weekly Standard, a Washington, DC-based publication.  He is currently working on a profile of Zhou Bichang to be published later this year in the US.  He contributed this review to China Today.