Legendary Shanghai Modern
By TANG YUANKAI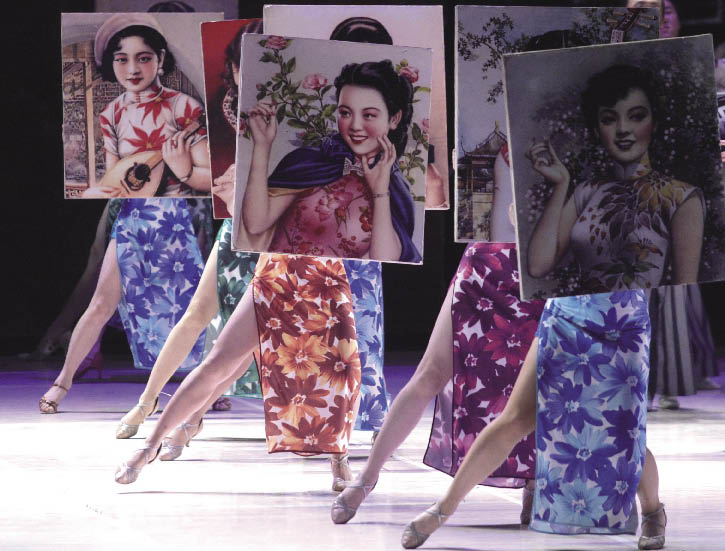 Fast growth and expansion transformed Shanghai in less than a century from a fishing village to a metropolis blending old and new cultures.                                                                                                                                        China Foto Press
SHORTLY after the motion picture industry began to blossom in China, Shanghai became subject and backdrop for its dramas. Throughout the last century, movies and TV series have presented a realistic but fictional Shanghai, with plots that capture the growth of the city and events that have made history. The film arts have produced the best footnotes to the city's legend, capturing its spirit and charm in very specific detail.
The title of the most recent is Shanghai Legend. Jia Zhangke is the young director invited to shoot the official documentary of the Shanghai 2010 Expo, and spent his formative years there although born in Shanxi, 1,000 miles away. He has interviewed about 100 people, jogged their memories and told their stories – a collection that uniquely represents the city on the screen. But Shanghai has for a long time been a theater for dramas that were defined by social change and its place at the center of it.
Making of a Legend
Compared to other famous metropolises throughout the world, Shanghai is rather young. As only a small village it was opened as a commercial port in 1843. The fast growth and expansion that followed over the next 100 years made Shanghai into an archetypical specimen of modern society. The earliest images that emerged of it were made by Westerners who came ashore here in the late 19th and early 20th centuries when Shanghai was transforming from village to metropolis. At the hub of significant global trends in the last century, the city served as a stage for big events and big celebrities. Cineastes were among the artists drawn to, and inspired by, its greatness.
The first modern movie about life in Shanghai was a silent film: Shanghai in 24 Hours. A day seems short, but an eye for what "says it all" and expert editing made it possible to convey the cruelty of an emerging city. Just as female workers drag their exhausted bodies home, the wife of the capitalist awakes from a sweet dream; a rich woman impatiently throws away a bowl of chicken soup while a child worker bleeds from recent wounds. During its formative period, Shanghai, like other cities, was rife with lawbreakers and criminal gangs. The Bund, an outrageously popular Hong Kong movie, captured the mood of the time with a series of violent encounters among the mafia and doomed lovers meeting a tragic end.
Documentaries about Shanghai really started with China by Michelangelo Antonioni. It was shot in 1972, in the middle of the "cultural revolution," but not publicly screened in China for 32 years. According to this master director, China is a political documentary with no educational intent. "I have no interest in listening to others' descriptions of China. I want to walk around with my own camera, and see through my own eyes - I am a watcher, a traveler with a camera."
The last stop of his shooting schedule was Shanghai. His staff set up the cameras in a square and waited for their peculiar actor-audience to assemble. Some people pass by and only glance at the machine; some turn their heads around but after a brief glimpse get on with their day; a father holding a baby smiles at the camera. The city dwellers through Antonioni's mechanical eye are a typical Chinese multitude, but an orderly one: white shirts, green uniforms, blue jackets and trousers flow along the streets towards busses; students run in perfect synchronicity; thousands rattle along on bicycles and whiz by the solitary camera.
China is one of the few motion pictures shot during the "cultural revolution," which roughly spanned the decade from 1966 to 1976. Flaming Years is representative of domestic feature films from this period. It tells of how a Shanghai steel company produces its own steel, independent from the use of any imported alloy. The movie mainly focuses on manifestations of the class struggle or fights along political policy lines, which is outdated in the view of younger audiences. Interestingly, the white towel the workers wore as a neck scarf is regarded as "chic" nowadays.
After the "cultural revolution," the movie market recovered rapidly and new films began to tell of hardships experienced in this political movement. A Small Street is one of these, telling an unusual love story against Shanghai's social turmoil. A girl disguises herself to live like a boy, as protection against revolutionary excesses. Not knowing her real gender, the object of her affection treats her like a little brother. It recalled to audiences that time of confusion and prompted nationwide interest in the film. People flocked to the Shanghai barber who had cut the girl's hair short in the movie, and waited in long lines for a haircut.
Modernity Defined
Harvard professor Leo Ou-Fan Lee wrote an academic treatise called Shanghai's Modernity, which despite its serious intent became a bestseller. The book reviews China's neo urban culture as represented by Shanghai from 1930 to 1945. Modernity is believed one of the most expressive words to convey the spirit of Shanghai. Shanghai's between-the-wars modernity was a presentiment of later times: the blending of the East and West, of Chinese and exotic styles.
Gong Li, best actress at both Venice and Cannes festivals, once tried to act the "modern" mistress in Shanghai Triad. However, the star met a barrage of criticism. Wang Anyi, a famous local writer, commented that Gong Li falls far short of depicting a Shanghai woman. She says a real Shanghai woman is the rich lady in Crow and Sparrow, who carelessly turns over a comic with her fine red-nailed fingers. "That is a Shanghai woman's interest and lifestyle," says Wang.
The latest arch-Shanghai woman is Tang Wei. Before starring Lust, Caution, she was sent by the director Ang Lee for "fair lady" training. She moves through a wardrobe of 27 classic and sexy mandarin gowns in the movie. Shanghai women and culturally iconic dresses like the qipao are inseparable. Senior tailor Zhu Hongsheng once made the dress for movie stars in the 1930s and praises the film in terms of its professionalism in recreating authentic conditions: "They were real silk, they had hems," he said of the costume department's work. Nowadays gowns rarely use hems, but Tang's suits were hand tailored. For director Ang Lee, different materials and styles best conveyed the changes of environment Tang's character faced.
"If you want to know the Shanghai of 1942, you should see Lust, Caution," the usually modest Ang Lee says proudly. Piao Ruomu, chief of make-up and art direction, managed to be entirely true to history as well. The genuine quality of the film was reinforced by all visual aspects being loyal to life in old Shanghai.
Hou Hsiao-hsien, another director from Taiwan, also directed a movie about the city – this time it was 1998 and the movie was Flowers of Shanghai. Attracted by the daily life and Shanghai-style gossiping recreated artfully in the original novel, he was determined to adapt it to the screen. Famous screenwriter A Cheng was invited to work as a consultant, and he suggested the crew spend more time looking for "useless" background stuff. "For example, we are walking into a girl's bedroom. She lives in it. What is the room really like? The useful stuff are the furnishings. That's all. Real life is in the useless." The story takes place at the end of the 19th century, just 50 years after Shanghai was converted from a fishing village into a commercial port, but the city is already unmistakably Western in aspect.
Lust, Caution and Flowers of Shanghai remind audiences that "modernity" is a moving, evolving concept, a living and open notion.
Shanghainese If You Please
Eileen Chang, Shanghai's most popular female author, is responsible for an unforgettable and ironic description of Shanghai in the movie Long Live My Wife (1947). The heroine was superbly skilled in human relations, smoothing out the lives of people around her. Chang, through her character, summed up the Shanghainese like this: they are a group of traditional Chinese who have experienced the pressure of a modern lifestyle; they are the strange offspring of new and old cultures, sometimes not so healthy, but always possessing a unique wisdom. "Everyone is talking about the badness of Shanghai people, but the badness never crosses the line. Shanghai people are good at flattery and they make good flunkeys. But they never go too far, thanks to a shrewd philosophy."
Shanghai people fill certain important roles in Chinese movies and TV plays. In 1990, the most popular TV series was Aspiration (Ke Wang). The cast was universally hailed for its work, except for the leading actor Sun Song; he portrayed the only "bad guy" (a selfish Shanghai man) so successfully that he later complained it was hard to find a girlfriend. Finally, an actress who hadn't actually watched the drama said "I do" to him.
Another popular TV drama in the1990s was A Family in Shanghai. For the screenplay writer Huang Yun interviewed a lot of small businessmen and over 100 old people to help him set and flesh out his saga. "Shanghai is thickly settled. The cramped living space makes them haggle over every little thing and be very practical. A special civic culture has been formed over time and people's affection for these attitudes, customs and interests is enduring."
Comic star Gong Hanlin likes to mimic the classic Shanghai man – always at his wife's beck and call. Shanghai guys are labeled as henpecked, no matter whether they admit it or not. Meanwhile, the local comedian Zhou Libo ridicules another characteristic of the Shanghai man, "feminine meticulousness."
"If I write about Shanghai, the best point of view is a woman's," says writer Wang Anyi. "If there are heroes in Shanghai, they must be women." She added, "They are not satisfied with the pursuit of romanticism, they are too earthy and practical. The place they are living is driven by pragmatism."
In her novel A Song of Everlasting Sorrow, Wang depicts a woman's tragedy: the woman who wants it all that is. The protagonist grows up in that special Shanghai civic culture and struggles for material success as well as love, in the end discarding her dignity. The TV drama details a city of developing tastes and ambitions which are not surrendered, even in the most difficult of times.