By staff reporter XING WEN
    EVERY August, Tibetans on the Qinghai-Tibet Plateau gather to hold the most important gala of the year – Shoton Festival. In the Tibetan language, "sho" means yoghurt and "ton" means feast. It falls on the end of the sixth month of the Tibetan calendar (usually in August) and lasts for five to seven days till the beginning of the seventh Tibetan month. The event is also known as Tibetan Opera Festival and Buddha Portrait Unfolding Festival since these are the two main activities during the celebration – in addition to enjoying yoghurt.
    The origin of the Shoton Festival is religious in nature. One of the most important tenets of Tibetan Buddhism is respect for all forms of life. In the 11th century, a rule was set up that lamas in all Tibetan monasteries should not go out during the sixth and the seventh Tibetan calendar months, for fear of stepping on and killing plants, insects and worms. Hence, Buddhists living near the temples offered fruit and home-made yoghurt to the lamas in case they ran short of food during this period. When the prohibition ended, Buddhists expressed their appreciation to the merciful lamas with yoghurt, and by dancing and singing. This tradition gradually evolved into the festival celebrated today.
    As time passed, more rituals were incorporated into the festival. The Buddha portrait display and Tibetan Opera performances are two that always feature.
    In current times, the unveiling of the Buddha portrait is the ceremony that marks the official start of the annual Shoton Festival. As the first beam of sun touches Lhasa, numerous Buddhists congregate under the hill near Drepung Monastery where a giant thangka (scroll with painted or woven patterns) of Buddha is preserved. They wait while a procession of about 100 monks carry the thangka to the top of a long slope, where the image (often 20 meters high) will be put on display. Lamas in purplish kasaya slowly unfold the silk-woven thangka down the hillside in a cloud of incense and amidst exclamations of wonder, while the sun blazes through the morning mist. Worshippers prostrate themselves before this holy image, and lamas blow silver horns and chant sutras. All pray for peace and happiness.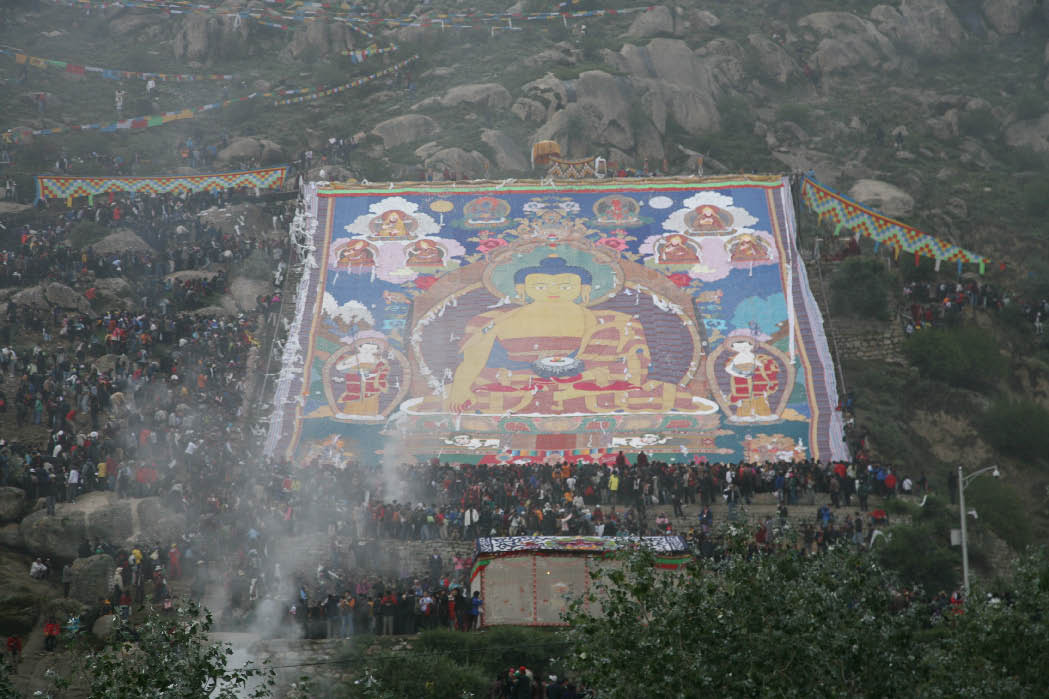 The unveiling of the Buddha portrait marks the solemn start of the annual Shoton Festival.  
    This solemn ritual usually draws to a close at noon, at which point the lamas roll up the thanka and carry it back to Drepung Monastery. Worshippers along the road present khata (ceremonial scarf) to the portrait and touch it with their forehead to show their faith and devotion. To Tibetan and Mongolian people the khata symbolizes purity and auspiciousness.