Taiyuan Loess Civilization: A River Runs Through It
WHERE the middle reaches of the Fenhe River cut through the eastern part of the Loess Plateau an agricultural civilization arose 5,000 years ago, and an urban civilization cropped up some 2,500 years ago. Now Taiyuan, capital of Shanxi Province, carries that great legacy forward and makes its own history, and China's, again.
The Seat of Power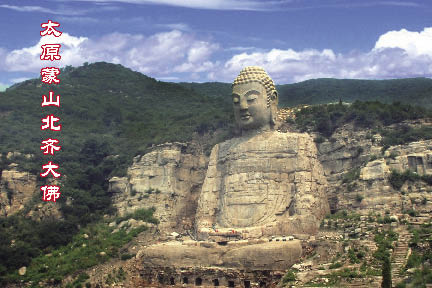 From the time the city of Jinyang was founded about 2,500 years ago, this piece of land has somehow remained a hub of communication and a stronghold of strategic and military importance overseen by a succession of imperial vassals, warlords, and all manner of political and military heavyweights.
During the Spring and Autumn Period (770-476 B.C.) a Zhao clan established the State of Jin in present-day Taiyuan and its environs. Though the state was later carved up by three of the "Seven Powers of the Warring States Period," the territory seems to be held under the spell of the Jin culture even today. "Jin" remains an alternative name for Shanxi, and natives still prefer to style local culture, arts, music, and even merchants by the prefix "Jin."
In the early Han Dynasty Prince Liu Heng (203-157 B.C.) was ensconced in Jinyang, where he lived until he became Emperor Wendi, then establishing one of the greatest periods in Chinese history. During the Northern Dynasties (386-583), the Middle Kingdom was split into several local regimes, making Taiyuan the capital of Northern Qi, a monarchy established by a Gao clan. In the late Sui Dynasty (581-618), an aristocratic Li family of Taiyuan rose up against the corrupt imperial court, and their forces quickly swept across the country, establishing as a result the Tang Dynasty (618-907). The Tang was one of the most influential periods in Chinese history, and people can still detect its legacy in such vernaculars as "Tang people" and "Tang coats." Later, more dynasties and local regimes changed hands in Taiyuan, and old and new rulers came and went. Some ancient historians and geomancers therefore speculated that Taiyuan had outlets by which dragons arrived and departed and the place became known as "City of Dragons."
Religious Legacy
Taiyuan is the soul of Shanxi and springhead of the Jin culture, best manifested in the 1,500-year-old Jin Temple that still stands in the city today. Built in memory of Tang Shuyu, the founder of the State of Jin, the temple is the oldest extant imperial garden in the country, and now a historical site under national protection and a tourist attraction.