Brains Unchained
By staff reporter ZHANG HONG
    By 2020, the number of people holding accreditations of higher education in China will reach 200 million. Astounding as the figure is, most Chinese higher education institutions (HEIs) are still puzzled by a question that was first raised to Premier Wen Jiabao by famous Chinese scientist Qian Xuesen – why can't we cultivate top-notch talent? So far no university in China's mainland has been included in the Top 200 Academic Rankings of World Universities. Though the country has the largest number of college graduates and postgraduates, it hasn't yet produced one Nobel Prize laureate.
    Higher education reform initiated in 1992 didn't solve the problem Qian proposed either. National Outline of Medium and Long-term Education Reform and Development (2010-2020) for the purpose of gleaning public opinion took one and a half years to draft and amend, but its publication drew wide public attention under these circumstances. How to make HEIs a better environment for cultivating talent has stirred up deep concern.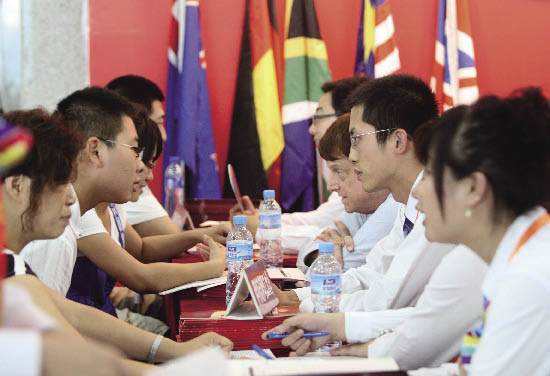 An increasing number of high school graduates choose to study in foreign universities.  
    Scoring Machines
    After reading the article "Dead End of China's Education" published in Financial Times Chinese edition, Chen Mian, dean of the College of Petroleum Engineering, China University of Petroleum (CUP), is eager to share the article's take on things with his colleagues – most students have lost interest in demonstrating earnest application to their chosen field, and spend the best part of their lives cramming for exams, just like "scoring machines."
    "It sounds a little extreme, but I think it's true," says Chen Mian, whose daughter just entered university. "Chinese parents always like to arrange the lives of their children; however, it doesn't necessarily follow that the children will grow into the much-needed talent China's future calls for."
    In 2009 Chen's daughter graduated from Beijing's best high school. Half of her classmates passed the entrance examinations to Peking University and Tsinghua University, the top two universities in China's mainland. "We made good marks, but all of us couldn't help bursting into tears after being through so many years of hard study," his daughter recalls.
    At that time, Chen's daughter was qualified to enter any domestic university, but she chose to leave for the U.S. There she also had a very tight schedule and often studied into the wee hours of the night, but says she felt happy. "When exam time rolls around, our teacher just puts the papers in the office. The paper can be picked up whenever we have time. We finish the closed-book exam within the allotted time in our dormitories and then take it back to the teacher. This is how the examination is conducted," says the girl.
    "Is the exam different for each person?" Chen Mian couldn't help asking as a concerned teacher. "No, they are exactly same," answers the girl.
    "Surely it would be unfair to the students taking the exam first, as the students taking the exam later might know the content of the exam in advance," Chen Mian speculates.
    But the student replied: "Nobody in the school would even think about such a thing because this behavior means the person has sacrificed his dignity."
    A Chinese American told Chen Mian that he believes exams have played an excessively important role in selecting people to move up the academic ranks in China. It takes 20 years for a person to grow up, and if told that his future is decided simply on the basis of a two-hour exam, he becomes obsessed with figuring out the techniques and skills that guarantee a good mark on that exam. "If we really want to judge how much the person has learned in 20 years of experience, we need to see it with our heart," says the Chinese American.
    Chen Mian concurs, "We need to understand the essence of education, and put more effort into improving our educational system and setting the direction of its development. Right now we spend time arguing about petty details such as how many English words should be taught, or what kind of discipline should support learning." At the Third Session of the 11th National Committee of the Chinese People's Political Consultative Conference (CPPCC) in March 2010, Chen shared his views with other CPPCC members who are also engaged in education work.