The Shanghai School
By staff reporter WU BING
The decades from the mid 19th century to the early 20th century were years that saw the migration of many painters to Shanghai from its neighboring provinces Jiangsu and Zhejiang. The phenomenon gave rise to the Shanghai School, which corresponded to the Beijing School in the north. Artists in this school made innovative efforts to integrate genteel techniques and sensibilities with the exuberance of folk art, and Western media with indigenous ones. Their works therefore appeal both to those with a cultivated taste and to the appreciative public alike, making the works popular abroad as well as at home.
Ren Bonian
Ren Bonian (1840-1895) was one of those artists who moved to Shanghai to seek more opportunities for his career. Born in Shaoxing, Zhejiang Province, he arrived in his 20s – talented, but little known – to make his way in a metropolis already brimming with celebrated artists. Seeing works under his own name didn't sell, and crushed by the subsistence livelihood he managed to eke out, Ren Bonian began to fake the signature of one of the most beloved painters in the city – Ren Xun. Buyers immediately fell for the ruse. One day a middle-aged man stopped by his stall to take a close look at the pieces on sale. He asked the young man if he knew Ren Xun in person. Embarrassed and anxious, Ren Bonian stammered that he was a relative. The man in front of him was Ren Xun himself. Discerning the young man's artistic gifts, Ren Xun didn't fume over his malfeasance, and instead, took the lad into his brood of students.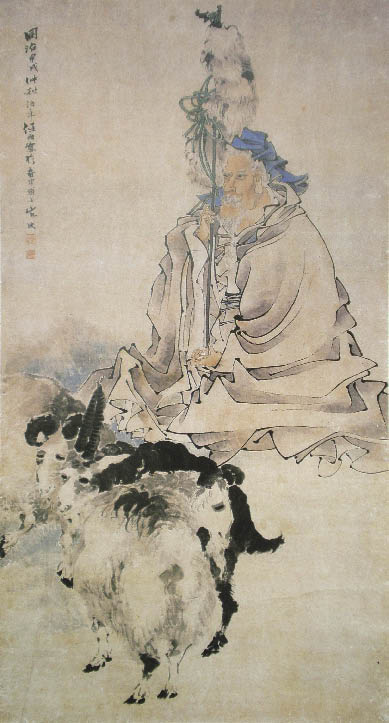 By the age of 40 Ren Bonian had overtaken his mentor in the art circles of Shanghai and beyond. He incorporated Western watercolor techniques and sketching into Chinese ink painting, enhancing the realistic character of his works. To bring life into the objects on paper, he observed the world around him with the utmost attention. His home in Shanghai was adjacent to a pet bird and fish market. Everyday Ren Bonian spent hours there watching his feathered friends, studying their constitution and movement. This familiarity enabled him to render this small creature with just a few nimble strokes. Accomplished in landscape and bird-and-flower paintings, it is Ren Bonian's figure paintings for which he is most often commended. The people he brushes into life all have souls, inviting communion with art lovers, dealers and collectors.
In Ren's time – the late Qing Dynasty, a declining China suffered under the constant bullying and aggression of foreign powers. The painter produced a number of historically themed works to express his concern for the future of the nation, to drum up patriotism, or to rally his people in defense of the country. The best known exhortations of bravery and patriotism include Su Wu Herding Sheep. Su Wu was a Han envoy detained by the Huns during his mission and trapped in the wilderness to tend herds for 19 years before getting a chance to break away and return to his homeland. Another is Mo Ye and Gan Jiang Making Swords, a famous revenge story from the Spring and Autumn Period (770-476 B.C.).
Wu Changshuo
Wu Changshuo (1844-1927) was born in today's Huzhou City, Zhejiang Province, and began his evolution into a noted painter from a study of seal carving. At an early age he began to explore ancient Chinese characters, which were mostly found on metal vessels and stone tablets. As seal making is fundamentally about handwriting, he practiced calligraphy for many years, by copying the inscriptions of earlier masters on rocks. This experience lent an aura of antiquity and formality to his paintings, most evident in those depicting dense clusters of purple blossoms on vines of wisteria.