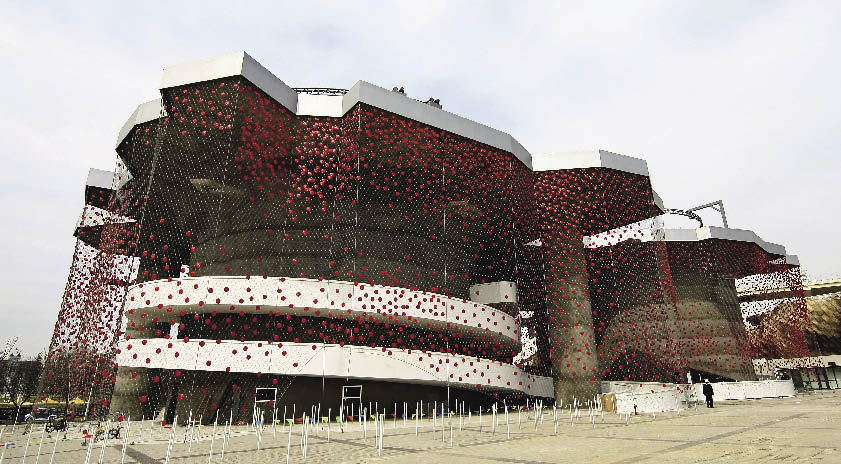 The outer wall of the Swiss Pavilion employs photovoltaic technology. Yu Xiangjun
The proposition and implementation of a low carbon expo will help promote related technologies that make it possible for people to live green at home. The organizers see it as a good opportunity to inform the 70 million visitors and millions of those participating through the Internet and other media that low carbon is the smart and easy option to live their lives.
For a long time, there have been many misunderstandings about what a low carbon lifestyle means – some associate it with reverting to primitive conditions, but the Expo will expel such notions. When people see the advanced technology and state-of-the-art designs, it's expected that low carbon will call to mind a wisely selected future of ease and cleanliness.
The reduction of carbon emissions doesn't mean turning off the lights and enveloping ourselves in our quilts. Low-emission lighting systems will save 70 percent of our energy. If wind, solar and other renewable energy sources can be utilized to generate electricity on a large scale, we will have sustainable renewable power that will free us from our dependency on fossil fuels.
Technology Blazes a Green Path
The development of technology ensures a high living standard even when we reduce our carbon consumption. In the past people believed in just eating till they were full. Later people began to consider body maintenance and eating healthy – not just eating to live but eating well. Now when people are seeking to renew the relationship between human being and nature so as to make our "progress" less damaging, low carbon is an important marker.
High technology is not the only means of reducing carbon emissions. Some new habits, even minor ones, can contribute to the greening of the world. For example, we can use public transportation instead of private cars, use staircases instead of elevators, turn off electrical devices and recycle our daily commodities.
Since the first Earth Day in the 1970s, the focus on how to live a low carbon life has been expanded greatly, from a discussion among a small group of environmentalists to every sector of the society.
Where unchecked carbon emissions could lead to the destruction of our planet, to reduce every ton of carbon dioxide is our responsibility and duty to our fellow man.
A low carbon lifestyle is an attitude and a habit. Living a green life does not mean lowering our living standards.