An Imperial Enclave
By staff reporter JIAO FENG
THE ancient city of Kaifeng sits at the center of the Central Plains, by the Yellow River in Henan Province, where the first light of Chinese civilization shone. Due to its central location, Kaifeng took several turns as national capital and home to seven royal families that ruled either a united or broken Middle Kingdom. Today the deep tincture of its antiquity can still be seen or sensed on a trip to this 2,700-year-old city, rich with imperial legacies and pristinely preserved folk traditions.
Legacy from the Song Dynasty
One of the most illustrious and prosperous periods of Kaifeng unrolled when it was made the capital of the Song Dynasty (960 - 1279). Much of the city's unique architecture, folk traditions and culture from the period still remain well preserved. Its ideal location on the southern bank of the Yellow River has been both a blessing and a curse. While the river helped Kaifeng serve as a transportation and trade hub, it also left it vulnerable to periodic, devastating floods, whose natural silt deposits over many centuries finally covered the Song capital completely. In the early 1980s archaeologists discovered the imperial palace of the Song Dynasty buried over ten meters underground. Later they were also able to excavate the city walls and bridges, some of which were still in relatively good condition after all these years.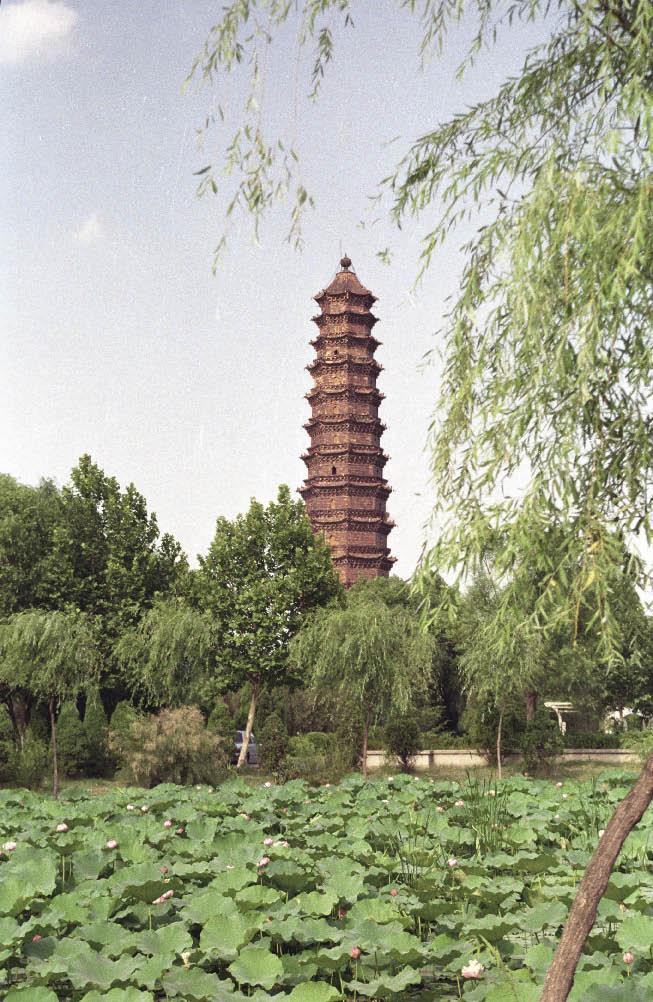 The Iron Pagoda, Kaifeng's oldest surviving landmark. China Foto Press
Today visitors to the city can enjoy traveling a thousand years back in time at the imperial marketplace reproduced in the Millennium City Park. This must-see site was built in accordance to The Festival of Pure Brightness on the River, a famous scroll that was handed down from ancient times. The painting now hangs in the Palace Museum, portraying a grand view of the Song capital at its zenith and humming with market places, villages, houses, bridges and trees along its river banks, as well as 815 intricately rendered figures engaged in various activities. This particularity of the painting reveals the diversity and prosperity of the Song capital, which was once one of the most populous cities in the world.
Tourists to the Millennium City Park can don traditional Song-dynasty garments and exchange their RMB for the Song currency before they embark on a discovery journey that would take them back to the ancient capital. They can roam about pubs, wharves and handicraft workshops reproduced in the Song style, and stop, as they go, to attend and even try their hand at reenactments of old sport pursuits and activities, such as a cockfight, an embroidery class, an imperial civil examination, or an old engagement ceremony.