The Next Generation of Gymnasts
By staff reporter ZHU HONG
GYMNASTICS has always been one of China's strongest professional sports. Chinese athletes are so good in the field that the International Gymnastics Federation has named over 30 technical moves after the best of them.
The year 2009 saw the retirement of several elite members of the Chinese Gymnastics Team. One of those was Li Xiaopeng, 16-time world champion and winner of four Olympic golds. Another was Yang Wei, who has two World Gymnastics Championships golds and three Olympic gold medals in the men's individual all-around under his name.
With the absence of these big brothers and sisters, young gymnasts on the team saw an opportunity to fill their shoes. This new generation of Chinese gymnasts know it's time to distinguish themselves as future champions.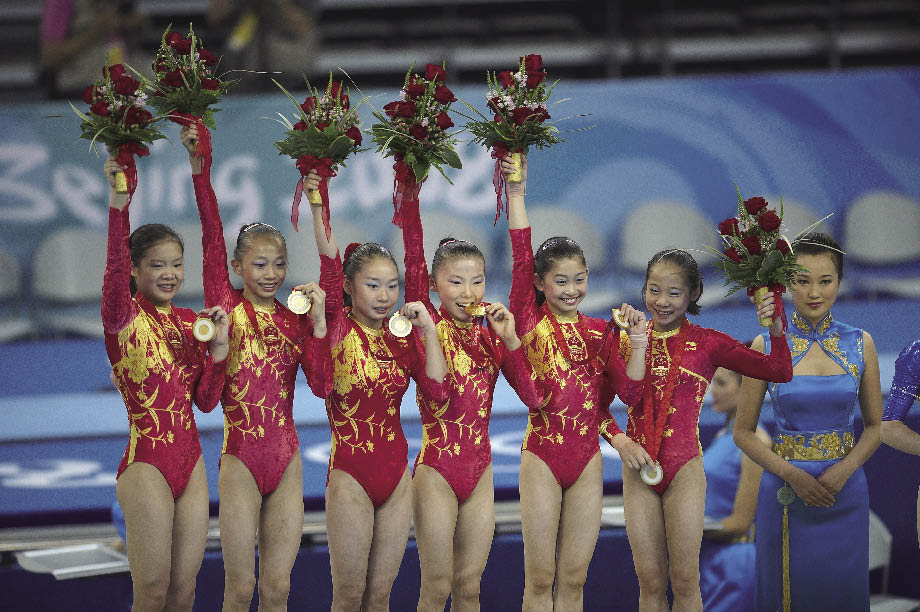 China won the women's gymnastics team gold at the Beijing Olympics.
Star Studded: The Men's
Chen Yibing was crowned the new "Lord of the Rings" after sweeping all the ring events at the 2006 and 2007 World Gymnastics Championships and at the 2008 Beijing Olympic Games. Chen has also shown huge potential in the men's all-around; in 2006 he ranked 4th at the World Gymnastics Championships and came in first at the National Gymnastics Championships.
Another strong up-and-comer, 22-year-old Zou Kai, excels in the floor exercise category and on the horizontal bars. He won three gold medals at the Beijing Olympics, the highest personal booty in the Chinese delegation. Zou's strength balances the vulnerability that his team has shown in these two categories, a situation that has plagued them for some time. "Zou Kai has managed already to have an outstanding career at such a tender age. I believe that as long as he keeps working hard, he will be able to enjoy many future achievements," said Huang Yubin, head coach of the Chinese Gymnastics Team.
Another strong contender is Feng Jing, who shines in the individual all-around. He claimed his first men's individual all-around gold in 2001 World Gymnastics Championships at the age of 16, becoming the youngest to do so in the event's history. "We all feel sorry about Yang Wei's retirement. My goal is to stay injury free, and do my best to follow in his footsteps and become No.1 all-around gymnast in China," the ambitious Feng declared before the 2009 National Gymnastics Championships.