Fu Ying: Cultural Bridge
By staff reporter LU RUCAI
Fu Ying graduated from Beijing Foreign Studies University and took advanced studies in the University of Kent. She has served successively as an attaché of the Chinese Embassy to Romania, translator, minister-counselor to Indonesia, ambassador to the Philippines, director-general of the Department of Asian Affairs of the Foreign Ministry, ambassador to Australia, and ambassador to the United Kingdom. She once worked as an interpreter for national leaders, took part in peace negotiations regarding the Cambodia issue and the UN's peacekeeping activity in Cambodia, and was in charge of multi-lateral cooperation among Asia and ASEAN (the Association of Southeast Asian Nations), boosting the comprehensive strategic partnership with ASEAN members, conciliating the North Korea nuclear issue and six-party talks. She was appointed Vice Minister of Foreign Affairs on January 4, 2010.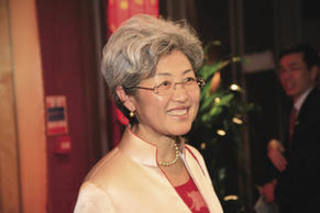 Fu Ying is the second female to become a Chinese vice-minister of foreign affairs.     China Foto Press 
At the beginning of 2010, Fu Ying, Chinese ambassador to the United Kingdom, learned of her new mission to take effect January 4, 2010. A promotion would make her vice minister of foreign affairs, the second female in China ever to take the post. The first one was appointed over 30 years ago.
Diligent Diplomat
The diplomat is low key. She is of medium height, keeps her gray hair short, and wears a pair of frameless glasses. What makes the deepest impression on everyone is Fu's professional skills, mental acuity and feminine charms. Her diplomatic performance confirmed these impressions again and again.
Fu, of Mongolian ethnicity, was born in Hohhot, capital of Inner Mongolia Autonomous Region, in 1953. Her father was a local celebrity, a hazard during the "cultural revolution" (1966-1976). The 16-year-old Fu was sent to work in nowhere land for three years.
It was the hardest time in her life. She experienced starvation, toil, and the limits of her body. Meanwhile she learned how to show movies and completed all her high school courses without teacher or tutor.
Then an opportunity to study in the Department of English of Beijing Foreign Studies University came up in 1973. Four years later, she was selected to be a translator in the Ministry of Foreign Affairs. Later still, she took part in bilateral talks and was promoted to positions as counselor and ambassador. Her career looked rosy all the way.
But those who are familiar with Fu know that her success is owed to her diligence in learning. In addition to diplomacy, she read everything that interested her, like history, literature, economics, politics and philosophy.
Always keen on Long Tune – a kind of Mongolian folk song which has been listed as intangible cultural heritage – this became a personal passion. Though she has little time to regularly return to her home town, she likes to present a Long Tune CD as a gift to foreign friends.
Who, Me? Powerful?
Fu studied in the University of Kent from 1985 to 1986, majoring in international politics. Being a translator who is sensitive to the differences among cultures, the two-year program gave her a perfect opportunity to experience the political and social distinctiveness of her host country.
Fu believes that it's very important not just to make China's voice heard in the world, but to be understood as well. She spent a lot of time writing for mainstream Western media or giving speeches in order to help people develop more informed and refined ideas about her country.
She made a speech in Oxford at the end of last April entitled Is China a Power? American scholars had first suggested the idea of a G2, and a survey in Europe at the end of 2007 echoed this view; 80 percent of respondents thought China had become No.2 power next only to the U.S. However, Fu brought to light an entirely different view from Chinese people – 80 percent of respondents didn't see China as a world power.
On China's polar qualities, she quoted Deng Xiaoping's words describing China as "big and small, strong and weak." Outsiders tend to see the big and strong aspects of China, while those living in the country are more aware of its weaknesses and challenges, including a comparatively low GDP per capita, the lackluster service sector, and 135 million people living on under a dollar a day. Meanwhile, statistics and facts are everywhere used to show China's great achievements in poverty relief, infrastructure-building, democratization and legislation.
There is a big gap, Fu Ying wants the public to recognize, between the China of the Western imagination and the one China sees in the mirror. She concluded in her speech that China would become a strong and prosperous country but never a country in a position to exercise hegemony. The Daily Telegraph published her article on the same theme: We've Made Huge Strides, but China's Influence Has Its Limits. She stressed again that the reason lay in the not-so-balanced coverage from Western media. "While managing China's emergence," Fu Ying concluded, "it's even more difficult to protect and promote our international image. Opportunities as well as challenges in public diplomacy are increasing."
Strengthening Mutual Understanding
In most Western countries, there is limited information about China, particularly about the country as it is today. In Beijing or any other city, information about the West is relatively abundant. Fu thus emphasized repeatedly that China needs to do more in terms of telling its own story.
In April 2008, a month after a riot broke out in Tibet, an article by Fu was published in the Sunday Telegraph: "If the West Could Listen Attentively to China." At that time, the torch relay for the Beijing Olympics was in progress in London. She pointed out the timely example of a problem rooted in an unequal flow of information. She marshalled facts and figures: four million tourists visit Tibet every year; the past five years saw the income of farmers and herdsmen increase by 83.3 percent; in this autonomous region, there are 1,780 temples, or one for every 1,600 people.
After a riot occurred in Xinjiang Uygur Autonomous Region on July 5, 2009, Fu Ying wrote another article, this time for the Guardian: "Unity Is Deep in China's Blood." Starting with a folk song known in every household – Xinjiang, an Adorable Land, she introduced the history, geography and status quo of the region where different ethnic groups have lived side by side for centuries. She maintained that people of all ethnic groups are firmly against violence and long for a peaceful life.
Fu indicated on several public occasions that she expected the Western media would criticize China, but on good grounds and in line with objective, balanced principles. Strengthening understanding with mutual respect is the way she thought most effective for removing the barriers between the West and the East.
Fu was acclaimed "Asian Diplomat of the Year" by The Diplomat in April 2009. The British magazine praised the work she did introducing China's domestic and external policies "in a candid and humane way hardly seen before." Ambassador Fu has fully demonstrated, the magazine announced, that China hopes to achieve peace and development through cooperation. Playing a bigger role in countering shared international challenges is for the ultimate purpose of building a harmonious world.
Two years ago, one of my friends witnessed Ambassador Fu Ying at work in the U.K during an activity held by the embassy. When he came back, he shared his impressions with me about a female diplomat full of affinity, energy, and speaking capably to fields she is not expert in. Now, as the new vice foreign minister, she has a larger arena to show how her diplomatic charms combine strength with tenderness and carry the message that China hopes to deepen mutual understanding with others.
(The author has referred to other media sources.)