The Idea of Home
By staff reporter LI WUZHOU
AS an old saying goes, "Home is where the heart is." So even if your home goes through changes, as long as there is love it will be there. I was born in a very small village with only a few households along the coastal area of northern Jiangsu Province, at the end of 1969. Over the 40 years of my life I have experienced many changes, moving from deep in the countryside, to a larger village, then a small town and finally a city, eventually settling down in Beijing.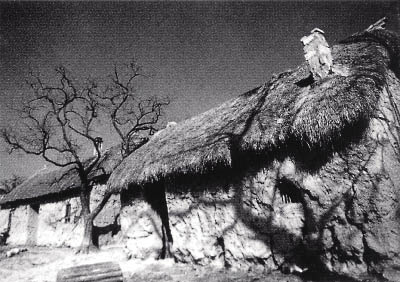 During the 1970s, a majority of Chinese farmers lived in thatched houses made of mud.                                               Cnsphoto
From Many to One
One might consider my family a big one, as I was the youngest of five brothers; but families of this size were not uncommon for rural areas in the past. My eldest sister-in-law has six brothers and sisters of her own; my second sister-in-law has seven; my third, five; my fourth, nine; and my wife's three siblings made up what was considered a small family.
After the People's Republic of China was established in 1949, medical conditions began improving across the nation, and infant mortality rates dropped considerably. During those relatively peaceful periods most families would have anywhere from five to eight children. Sometimes families might consist of up to five generations living under one roof.
Every year my brothers and I do our best to bring our wives and children back home to celebrate the Spring Festival with our parents. In the Chinese tradition, we consider our parents' family as the full family, and our separate satellites just a small part of it.
If expanding broods are in step with that tempo, my extended family should have nearly 40 members by now. However, we have only made it to 17. Since the late 1970s, the Chinese government has implemented a family-planning policy, advocating one child per couple and this has been followed rather strictly in urban areas. Those of my age group now, for the most part anyway, have a three-member family. I expect that my extended family will shrink to a 5-member one 20 years from now by the time I become a grandfather.
These days most Chinese couples tend to have only one child what with the fast paced lifestyles and the spiraling costs for rearing children. Now one-child families have even started to emerge in rural areas, though most rural families like to have at least two kids. In urban areas, where couples are busy just trying to make a living a new breed has surfaced, affectionately known as DINK's (Double Income No Kids).
My son, like many other city kids, is an only child. These kids generally lack the ability to share and often behave in a self-centered way. This has triggered deep concerns in parents like me. In order to cultivate our children's social skills, my friends and I often organize family parties on weekends, aimed at creating opportunities for our kids to learn to cooperate and work together with others. The technology world has caught up with websites set up to serve as middlemen to bring "only-children" in the same age group and with similar personalities into contact with each other. They help parents design activities for them too.