Going Green: Embracing the Low-carbon Lifestyle
By staff reporter JIAO FENG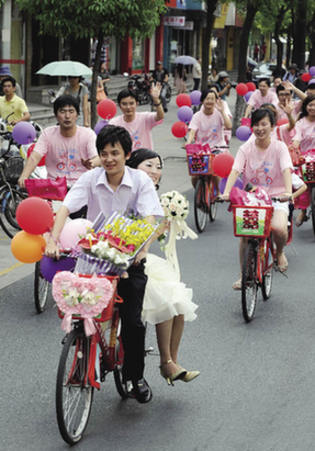 An eco-fashionable, low-carbon wedding was held at a hotel in Hangzhou, Zhejiang Province in June 2009; the newlyweds and their friends cycle to the hotel.                                         China Foto Press
Although the December 19, 2009 Copenhagen Summit on Climate Change did not conclude as hoped, leaving only a non-binding "Copenhagen Accord," students from the Middle School Affiliated with the Beijing Jiaotong University decided to hold their own summit three days after. Class 7, Senior Grade 2 themed their meeting "My Part at Copenhagen."
All 46 students in the class were involved, and each was given a different role. Some researched the summit's background information, some role played world leaders to put forward their own positions, others performed skits that illustrated the relationship between human activity and climate change, and still others introduced low-carbon green living tips for people to follow.
China, as a developing country, faces challenges to its rapid economic growth. More and more Chinese citizens and organizations have begun to consciously focus on the impacts of growth on global climate change. People have realized that limiting the damage can start with themselves, by promoting a low-carbon way of life.
Easy Being Green
One cannot help noticing the large banner prominently displayed near the entrance of the classroom of Class 7, "This is our slogan!" Tang Fangyong, the monitor, stated proudly. Every student has signed their names on the white banner with green characters.
"At first, I just wanted to find ways to teach the students about self-discipline, so I chose the topic of environmental protection," said Ma, the class's teacher. "I didn't expect such high enthusiasm as this or that it would change them as it has. Now everyone is an environmental volunteer." He took out a proposal entitled My Low-carbon Life: Green Changes Me. "The students wrote this themselves."
High school life has never been easy due to the heavy pressure of college entrance exams. However, students in this class insisted on doing weekly presentations about "my low-carbon life" in which one of them would share his or her tips on going green. They also invited members of green organizations to give lectures and explain the significance of a low-carbon lifestyle.
"I used to feel that how much electricity and water I used or how much food I ate was my own business, because I paid for it all with my own money," a student named Yang Shiqi said. "Then I realized that these are in fact public resources, so they really don't belong to me personally. Now I am always conscious about conserving these things." Since getting involved in the green movement, they have changed dramatically. In the past, they all enjoyed buying bottled water during breaks, but now they prefer to use their own cups. "Saving a plastic bottle is reducing carbon emissions," they claimed.
Students started buying fewer bottles of soda each week, in turn putting the money they saved into their special "Green Fund." They combine that with the income from recycling waste papers and other materials, and use the proceeds to regularly donate trees to arid areas. The most excellent student is designated the official donor of the tree. Students regard this as the best reward, although it's not easy going green.
Their actions have won the support of the entire student body. Further measures followed, like "Real schoolboys do not take elevators." It calls for the boys not to take elevators on campus or elsewhere, with the idea of killing two birds with one stone: saving electricity and promoting good exercise.
This school is not alone in China. Children are masters of the future society, so they should be educated to love nature and protect the environment.
The Snowball Effect
Ms Chang, an engineer in Weifang City, Shandong Province, often recalls her childhood in Heilongjiang Province in Northeast China. "The snow was quite heavy, the temperature low and the air clear. But now winters are not winters. When I returned to my hometown, I saw that the air was becoming less and less clear, and the snows lighter," she was worried about the change, "The greenhouse effect has brought about global warming. We might not see snow in a few years. This thought, I found particularly frightening."
Because of these personal experiences, Chang has paid special attention to her low-carbon activities. "I rarely turn on air-conditioners. If I have no choice, I set it to 26 degrees at most. In my daily life, I use water sparingly. I installed energy-saving lamps, and put my used batteries in a special recycling box," she said. "These small things can only reduce a limited amount of carbon emissions, but this is what I can do. And now my colleagues are doing the same. Maybe that will have a snowball effect, getting bigger and bigger as it rolls."
She met her boyfriend Mr. Pan during a business trip to Northwest China. They fell in love over their concern for the spreading desert there, watching land turn to dust. The couple knew something had to be done, but had no idea what to do.
They happened upon a project called "Million Forest" initiated by the Climate Group and immediately donated 99 sea-buckthorns. "They represent our love," said Mr. Pan. "In Chinese the numeral nine is the homonym for an eon of time. I hope our love will be everlasting. This dream will come true just as these trees will grow tall."
"The more economically developed countries tend to emit the highest amount of carbons. But people in less developed areas have to bear the consequences, which is unfair," explained Luo Jiajia, a staff member of the Climate Group. "In cooperation with the China Green Fund, we launched 'Million Forest' to reduce carbon emissions, and to also aid those living in poverty-stricken areas." To plant a sea-buckthorn in the Northwest cost less than one US dollar. This tree is drought-resistant and has high economic value. "In less than two months, we have received donations for over 30,000 trees."
Since the 1980s, China has been engaged in returning grain plots to forests and advocating tree-planting. From 2003 to 2008, the country registered an increase in forest area of 20.54 million hectares, with an increase of forest growing stock of 1.123 billion cubic meters. Now China has over 54 million hectares of planted forest, topping any other country in the world. Individuals like Ms Chang have also made important contributions to the movement, supplementing government actions.
Low-carbon Nuptials
Now more and more Chinese citizens are following in the footsteps of people like Ms. Chang and the students of Class 7. Greater media coverage has been focused on the government's efforts to reduce greenhouse gas emissions and energy consumption too. Environmental clubs advocating a low-carbon lifestyle are being formed via the Internet. On some websites people can even calculate their yearly carbon emission levels using a special program, and learn methods to neutralize carbon. Even fashion magazines have gotten onboard as they introduce low-carbon living as a fashion statement.
"Low-carbon lifestyle" refers to a green way of life, which can be embodied in every aspect of our daily life: save a piece of paper, a coke bottle, a plastic bag or a snack box. When you get used to this lifestyle, you will find, as the students' proposal said, "your every gesture will save a tree for the earth, and your every change will bring hope for our future."
Guan Yisong, 31-year-old owner of a Beijing-based green consultancy, and his bride Ms Xu, held a bold, low-carbon wedding. They knew normal weddings have a rather large carbon footprint as guests travel so far to attend, so they applied their energy saving techniques to the entire guest list. Taking the number of invitees, they calculated the carbon emissions generated by attendance at their wedding, and the number of trees that should be planted to neutralize the carbon. Guan and his bride then donated trees in their guests' names. "This was our opportunity to show everyone the concept of low-carbon living," he said. "I wish that more people would take the time to care about our earth. As the average living standard has improved, it is impossible to demand that all people walk or take buses only, or maintain a strictly vegetarian lifestyle, but we should try our best to cut waste, and let more people know how to make up for their carbon emissions."
In April 2009, "Internet Forest" was kicked off online by the Climate Group, aiming to remind more people to be aware of their "carbon footprint." The participants are rewarded a digital tree if they take the initiative to reduce 18.3 kilograms of carbon emissions per day. As of mid-December 2009, over three million netizens participated in this activity.
More and more Chinese people have embraced the low-carbon lifestyle, not out of fascination with everything new, but because it echoes a long-standing tradition of frugality. Seniors have always educated the young to save water, electricity and grain as well as to recycle materials. Water-saving taps and toilets are common in Chinese urban households now. China's carbon footprints are leading all toward a green lifestyle.