Liao Xiaoyi: Greening the Lifestyle
By ZHOU YIYAN
LAST October, 55-year-old Liao Xiaoyi was listed one of Time Magazine's Heroes of the Environment 2009. This was not the first time she received an award. In 2000 she became China's first individual winner of the Sophie Prize, aka the Nobel Prize for the environment. A year later, she won top environmental laurels in Australia – the Banksia International Environmental Award. In 2008, the Global Citizen Award was presented to her by former president Bill Clinton. It was also in that year that she was invited to be an environmental consultant to the Beijing Olympic Organizing Committee.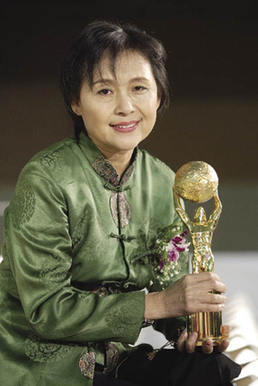 Liao Xiaoyi, one of Time's Heroes of the Environment 2009.
Back in 1996, Liao gave up the opportunity of pursuing a doctoral degree in the U.S. and returned to China, where she launched an environmental NGO, the Global Village of Beijing Environmental Education Center. She has since dedicated herself to promoting environmental protection in China.
Liao is currently deeply involved in the reconstruction of Wenchuan and other earthquake-stricken areas in Sichuan, according to her "green community" idea. Since her project LOHAS (Lifestyes of Health and Sustainability) kicked off in Daping Village in September 2008, she has spent most of her time living in a small tent in that village, only occasionally returning to Beijing for business.
"Environmental protection is a way of life, which exemplifies the possible and the feasible," professes Liao Xiaoyi.
Green Lifestyle Movement
Liao sees herself as an ordinary woman. It was passion and dedication to environmental protection that led her to start the Global Village of Beijing in 1996.
In the past, the greatest obstacle for an NGO was its lack of funds. On one occasion, a large company proposed to invest hundreds of thousands in the organization in exchange for naming rights, but Liao flatly rejected it. "I will not be some corporate spokesperson," she said, "we cannot be bought."
Environmental NGOs are generally divided into two categories: pollution control and ecological construction. But Liao has chosen the third one: the green lifestyle. She is determined to establish "green community" models to promote and broadcast the "green lifestyle and green movement." She pushes for the adoption of green living habits, such as trash sorting, setting the temperature of the air-conditioners at 26 degrees Centigrade in summer and 18 degrees in winter, and the use of recyclable shopping bags.
"This is not the kind of work you want to get involved in," an American environmental expert said as a warning to Liao many years ago. "The U.S. has engaged in waste sorting for over 30 years, but has reached only a 30 percent classification rate now. The undertaking will not succeed in China unless your government injects powerful support." But Liao never considered turning back.
Now, the first waste sorting pilot community, Dachengxiang Neighborhood in Beijing's Xicheng District, has continued with the practice for over ten years. Another neighborhood in Beijing's Xuanwu District, Jiangongnanli, has become China's first green community under the guidance of Liao Xiaoyi. In 2000, Beijing promised to build green communities during its bid for the 2008 Olympic Games, and implemented relevant policies and regulations that included the AC temperature standards Liao and her colleagues called for and the discouragement of plastic bags by banning their free use.
For over a decade, Liao has continued to work as hard as she did the first day she started her environmental career, and many people are impressed with her stamina and enthusiasm. "Where does your passion come from?" a journalist once asked her. "Let the heart and mind lead you," she answered without hesitation. "What your heart wants to do, just do it."
"Philanthropreneur"
The Wenchuan earthquake marked a turning point in Liao's environmental career, and also for China's environmental NGOs, she believes. She called it a "second pioneering," a term often used to describe China's industrial and economic upgrading.
"The operation of Beijing's Global Village is, in effect, based on 'alms'," she said. "We have to search for our next meal when having breakfast. If our money dries up, the project would have to be suspended." Today, her position as the chief of the LOHAS housing project, which is part of the relief work for the Sichuan earthquake victims, has earned her a new title – philanthropic entrepreneur. Her task is to help local people realize sustainable development and build ecological civilization. She is assisting them to develop ecotourism, handicrafts and organic farming, as well as green lifestyles.
A month after the earthquake occurred, Liao and her team made their way into Sichuan. The village in front of her was razed to the ground, but she noticed a traditional wooden house built in the local style standing there totally intact. It struck her as an exemple that best embodies ecological and environmental concepts. Liao advocates post-disaster reconstruction of residential areas that follows ecological principles and contributes to a solid ecological habitat.
Liao initially anticipated building one or two such houses in Daping Village. But encouraged by experts, local residents and the government officials she consulted, the idea of a LOHAS community that promotes an environmentally friendly lifestyle took shape in her mind. In July 2008, Liao came to the village bringing with her a group of construction specialists from Xi'an, Kunming and other areas. Two months later she returned again, this time with a construction fund of RMB 3.8 million contributed by the Red Cross and the Narada Foundations.
"RMB 3.8 million might only be enough to buy one house in any of China's metropolitan cities. But here in Sichuan we've built 80 eco-dwellings and two 120-square-meter clinics, in addition to getting a few other projects underway, including a 150-square-meter workshop, 80 sets of energy-saving stoves, two 400-square-meter village halls, and biogas and waste sorting systems."
Liao believes that China's future relies on its rural communities, and so does its environmental protection. "You're not going to teach villagers what to do; look for positive things that have always been there. We just re-activate them and put them together." From the Global Village of Beijing to Daping Vilage, Liao said she found the way home, and also the path for China's environmental protection. To her, Daping is shouldering the mission of civil transformation, and will go down history like Xiaogang Village of Anhui Province, where the rural household-based contract responsibility system was conceived and brought to life in 1978.
Liao recommends that to cope with climate change China should approach its transition from a high-carbon to a low-carbon development path by starting with rural villages, where the job is easier and more cost-effective than cities in that they have pursued industrialization for decades. "China is different from developed countries, as the majority of its population is rural. If the countryside is pressured to follow the example of cities, both energy consumption and carbon emissions will be disastrous," Liao says. So she will continue her exploration by promoting LOHAS eco-villages.
"I'm really happy with what I'm doing. The more I'm involved, the more I grow confident in my choice," she says, beaming like a child. "If we work hard, one dream after another will become a reality."
Philosopher Environmentalist
Liao was not always a conservationist. Prior to founding the "Global Village of Beijing," she was a professor of philosophy. During the period she taught at the Chinese Academy of Social Sciences, she embraced the concept of "submitting to nature." "I was astonished, just seized by the idea!" she recalled. "All I had been taught was that man can and must conquer nature, which was perceived as a natural law." She began to read major environmental monographs, like Rachel Carson's Silent Spring.
In 1993, Liao left for the U.S. with her daughter to join her husband who was studying for his doctorate. Then she became a visiting scholar at North Carolina State University, where she set off to shoot an environmental documentary. A Daughter of the Earth brought her into deep contact with many American environmental NGOs. Liao was impressed with the role that these organizations played in promoting the environmental protection movement. She was determined to return home to set up a similar model, reinforcing the cause of China's environmental NGOs. In 1998, she signed the "Voluntary Renunciation" form and gave up her U.S. green card. In the column asking her to state a reason, she wrote simply: to stay involved in the environmental protection of China.
Liao Xiaoyi believed that by studying its ancient wisdom, China could find the solutions to various environmental problems that arose over the course of the country's rapid modernization. In 2000, she and her daughter Wang Shenghan set out on their trip in search of Chinese wisdom, with Athens as the first stop. They visited scholars of Chinese philosophy from various countries, and in the process looked for the possibility of complementarity between Eastern and Western philosophies. Two years later, she completed a documentary, which recorded the dialogues between her and her daughter during their journey of discovery.
Liao tries her best to convey ideas through her own practices to the people around her: She chooses public transportation; she said that she would never buy a car and will not take a taxi unless it is absolutely necessary. She avoids elevators and never turns on an AC no matter how hot or cold it is. The consumption of wild animals or the use of products made from them is a personal taboo.
With less desire for material things and more for spiritual wealth, she shows all of us another life is possible.