The Road Home
By intern reporter GONG HAN
The haunting dreams of home finally come true four decades after these war veterans crossed the Straits.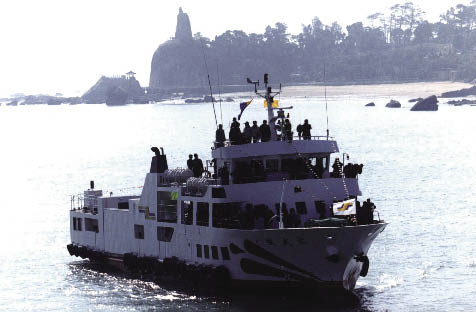 Two ships from Taiwan's Jinmen anchored at Xiamen, Fujian Province, carrying 190 visitors to the mainland on January 2, 2001.                   China Foto Press 
ZHANG Zhizhang lost contact with his father in 1949. The writer from Taiwan made his first trip to the mainland in 1992, cherishing the hope of finding him. Scanning the crowds as he wandered through Nanjing's busy downtown, he wondered: "Could my father really be among them? Of the 1.2 billion people, how many families share a story like mine? Has anyone ever researched and calculated their number?"
No one can say for certain how many families were separated when the political tides that divided the Straits pulled and split people on either side. Some widely accepted data shows that from 1949 to the early 1950s, about two million military and civilian personnel went to Taiwan with the Chiang Kai-shek regime, 400,000 of whom were veterans of the war. Likewise, about 30,000 people from Taiwan were left on the mainland; they came after 1945 to serve in the army, make a living, or avoid political persecution. Each is a family separated by the fates of history.
The Dawn of Hope
On the last day of 1978, China Central Television (CCTV) made an unprecedented move by broadcasting a documentary about Taiwan. For the first time people on the mainland soaked up the picturesque scenes from the other side of the Taiwan Straits. The following day, the first day of 1979, the National People's Congress published A Letter to Taiwan Compatriots.
This was not the first time that the central government issued an open letter to the Taiwan people, but the 1979 version was quite different. This letter used "Dear Taiwan compatriots" instead of "servicemen, civilians and other compatriots in Taiwan, Penghu, Jinmen and Mazu," and it spoke of the goal of "peaceful reunion" instead of the term "liberation of Taiwan." At the same time, it declared the termination of the routine, symbolic bombardment of Jinmen and explicitly put forward the hope of resuming normal communications between the two sides of the Straits.
Jiang Sizhang, another war veteran, recalled his excitement at that moment, "Upon hearing the news, I knew the chance to return was coming." He was rounded up into military service by KMT troops and dispatched to Taiwan at the age of 14. "After arriving in Taiwan, many of us thought it wouldn't be too long before we could go back home," he said in an interview with China National Radio. "Year after year, we told ourselves that the day may come the following year, but that anticipation stretched over 30 years."
Though the central government extended the olive branch, the Taiwan authorities held to its "three no's policy" – no contacts, no negotiations and no compromise. Concerned about desertion, the Taiwan authorities strictly forbad veterans to visit their hometowns in the mainland. However, many managed to get in touch with their families on the mainland through every channel they could find, mostly with help from friends in Hong Kong, the U.S. or Japan.
During this period, the Chinese mainland media distributed overseas acted as a convenient source for people on both sides of the Straits seeking the whereabouts of their relatives. The Chinese edition of China Reconstructs (predecessor of China Today), for example, ran a special column, "Looking for Family Members and Friends," which published letters from people desiring contact with family members in Taiwan. "We got a lot of feedback, and helped bring about many family reunions," recalled Wei Xiutang, a retired editor.
"I received my parents' letter and a family photo forwarded from the U.S.," read one letter from the mainland. "Our whole family is very grateful to you. I learnt from the letter that my parents, brothers and sisters were missing our hometown. In a reply I told them of the great changes that have taken place at home. I am looking forward to our family reunion."
On the other side of the Straits, people from all walks of life, especially those in the cultural field, began searching for their "roots," and the general environment further whetted the desire of the veterans and others who had been displaced from the mainland to go home, desires smoldering for decades. "For more than 30 years, the most common of human longings has been subjugated to the total ban on travel, reducing us to pursue that longing in our dreams, and finding ourselves in tears upon waking up. Many of us have died in Taiwan before having the chance to reunite with our lost families," a veteran wrote in the 1986 May issue of Hong Kong-based magazine Wide Angle.
In a few cases, exacerbated homesickness resulted in desperate acts. On May 3, 1986, Wang Xijue, a pilot with Taiwan's China Airlines, landed in Guangzhou when he was supposed to fly his cargo plane from Bangkok to Hong Kong. This caused a sensation across the Straits.
The Lift of the Ban
"We have parents, but we don't know whether they are alive or dead. What we are asking for is to serve a cup of tea to them if they are alive, or sweep their tombs if they are dead," stated a leaflet printed by an organization established in May 1987 for promoting visits to hometowns in the mainland. Most of its members were veterans, retired teachers and civil officials. After nearly 40 years in Taiwan, they had grown old and couldn't wait any longer for their right to reunite with their families.
On Mother's Day, they banded together at the National Dr. Sun Yat-sen Memorial Hall in Taipei, wearing white shirts emblazoned with Chinese characters meaning "Missing Home." These people arrived in Taiwan in their youth, but time had turned their hair to gray. "Where are you, mom?" they sang through their tears. Sympathy swelled in the society and placed authorities under intense pressure, until the travel ban was finally lifted.
On October 14, 1987, Chiang Ching-kuo, then the leading Taiwan official, authorized new policies concerning Taiwan citizens visiting their relatives in the mainland. The changes stipulated that other than active servicemen and officials, people who had a spouse, blood relatives or in-laws on the mainland were eligible to apply for visiting rights.
Taiwan's newspapers recorded the historic day on November 2, 1987, when thousands of applicants went to register at the Taiwan Red Cross. As many as 1,300 were approved on that first day, and within half a month 100,000 registration forms were filed. Many veterans finally able to realize their dreams swarmed onto the mainland in search of their lost families.
Take Dongshan County, Fujian Province, as an example. Just before the liberation in May 1950, 4,749 enlisted men were sent to Taiwan, leaving behind 1,200 wives. There were such extreme cases that entire villages became communities of solitary wives with their young children. Since the ban was finally lifted in 1987, the county receives around 2,000 visitors from Taiwan annually, reported the Fujian Daily.
More media outlets became involved in helping to search for lost relatives, like the overseas edition of People's Daily and Taiwan-based Minsheng Daily. Flooded by letters telling moving stories of homecomings and family reunions, the Chinese edition of this magazine changed its column title "Looking for Family Members and Friends" into "Homecoming and Traveling."
The initial arrival of returnees paved the way for broader communications and exchanges across the Straits. In 1987 Taiwan singer Ling Feng visited his hometown and took the chance to shoot a TV documentary series on scenic vistas of the mainland. He brought it back and had it aired in Taiwan two years later. A record of the sights and customs of Beijing, Guangxi, Heilongjiang, Jiangsu, Sichuan, Xinjiang, and Yunnan, the show became popular overnight.
Ma Ying-joeu, head of the Taiwan authorities and former secretary to Chiang Ching-kuo, remarked, "In the history of communications between the two sides of the Taiwan Straits, Chiang Ching-kuo's decision to lift the ban was a key step which should never be downplayed." Allowing those visits helped melt away years of frozen enmity. And once opened, the channels of communications, although not completely free of barriers and obstacles, could no longer be closed.
Two-way Communications
In November 2008, two decades after the ban was lifted, the representatives of the Taipei-based Straits Exchange Foundation (SEF) and the Beijing-based Association for Relations Across the Taiwan Straits (ARATS) had their second conference, which resulted in substantial progress on the "three direct links" – direct flights, shipping and postal services across the Taiwan Straits. On December 15, Flight MU2075 of China Eastern Airlines took off from Shanghai's Pudong International Airport, marking the first direct flight between the mainland and Taiwan. That same day, direct marine transit and postal services were also realized.
Meanwhile, the Taiwan authorities announced its plan to relax limits on mainlanders visiting families and relatives, seeking medical treatment, or attending funerals in Taiwan. This meant that the communications could go both ways. Reports of people from the mainland visiting relatives in Taiwan began appearing in the media at the end of 2008.
August 31, 2009 saw another breakthrough in improved communications: chartered flights across the Straits became regularly scheduled flights, and increased from 108 to 270 per week.
Zhang Zhizhang did find out where his father had lived. At the recent Shanghai Book Fair, the Taiwan writer celebrated the debut of his biographical novel Dad in Mirror, in which he wrote about the complex emotions that wracked him after losing contact with his father in 1949. His quest to find him from 1992 to 2001 brought him to where his father had passed away ten years earlier, but it wasn't an entirely tragic end to his quest.
In the last chapter he recalled an interesting detail – a writing contest he registered for when he was a child. In filling in a form, he did not know how to describe his father's occupation. His mother told him, "stranded on the mainland and out of touch." Those words impressed him so much he held them in his heart. "Now I can tell my mother the contact has resumed."