Messages Encoded in Bird-and-Flower Paintings (Part II)
By staff reporter WU BING
IN the West, red roses are a symbol of romantic love, yellow roses of friendship. To observe Valentine's Day, various kinds of roses are marketed on China's streets and lanes. In ancient China flowers symbolized sentiments. For instance, twin lotus flowers on one stalk or two trees with branches interlocked were imagined to be devoted couples. The lotus flower connotes nobility, and the peony, wealth and rank. For thousands of years these flowers have been key elements in the composition of bird-and-flower paintings.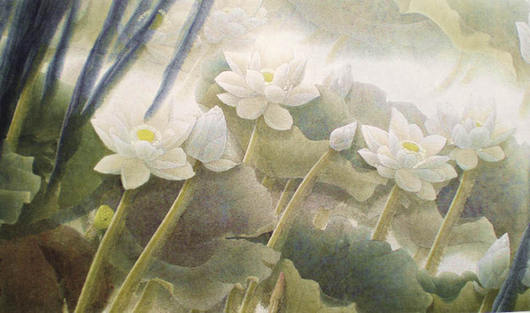 White Flowers in the Jasper Lake by Li Kuizheng.
Lotus Flowers: Elegance and Purity
    In ancient China the lotus flower was admired for its statuesque elegance and purity, as described by the Song Dynasty Confucian scholar Zhou Dunyi (1017-1073) in his essay A Tale of the Lotus Lover as "Born out of sludge but unstained; delicately poised but without guile." Zhou Dunyi likened himself to a lotus, holding himself aloof from politics and material pursuits. Since then, this flower has become a favorite motif for Chinese artists, and lotus flowers, one of the most common elements of bird-and-flower paintings. Its changes over four seasons and throughout the day are akin to specific auspicious meanings.
    Yu Zhizhen (1915-1995) was the woman artist best known for her renderings of lotus flowers in the 1950s and 1960s. She was especially skilled at depicting the flowers in full bloom. In 1937, to learn from the more experienced older generations of lotus painters, she joined the Palace Museum's Traditional Chinese Painting Research Institute. The artist started out by copying and researching important works from various dynasties in the museum's collection. In 1946, she was formally apprenticed to Zhang Daqian (1899-1983), famous for his lotus flower paintings. In the 13 years from 1971 to 1984, she painted the huge bird-and-flower painting, employing the meticulous gongbi brushwork, for Diaoyutai State Guesthouse, with lotus flowers as the main theme. In 1983, she produced a large painting entitled The Lotus Pond Delights Again for the Hall of Purple Lights in Zhongnanhai, headquarters of the Communist Party of China and the central government. Now Yu Zhizhen's works are used as models for students of fine art.
    Li Kuizheng (1942 - ) was a student of Yu Zhizhen. After decades of exploration, Li has formed his own unique style of painting lotus flowers. All his students know that Mr. Li never paints lotus flowers in class. He explains, "It is intolerable to sully the sanctity of the lotus flower by painting it in class, which is a blasphemy against the flower." Li Kuizheng regards himself as a commoner whose selfish desires taint the purity of his soul, and painting lotus flowers as a way to purify it again. He prepares to paint the lotus by first taking a bath and changing into clean clothes. Then he cleans his studio, lights a burning joss stick, and plays some soft, light traditional music. After that he sits quietly, closes his eyes to banish distracting thoughts from his mind, and begins to unfold the paper and grind his ink stick. White Flowers in the Jasper Lake (a legendary place where the fairy Queen Mother of the West lives) is a large painting he did for the Jingxi Hotel, representative of his lotus flower works. In the painting, green lotus leafs cluster around graceful white flowers, and the leafs flutter in the breeze. In executing this work, Li Kuizheng adopted many non-Chinese techniques, such as French Neoimpressionists, which produces an image stroke by stroke. In his opinion, an artist can use any means to achieve the desired effect.
    Since lotus flowers comprise the Buddha's lotus seat, many people regard withered lotus leaves as symbols of Nirvana. A line of the famous poet Du Mu of the Tang Dynasty reads, "Withered lotus remains in the open listening to the pattering of autumn rain." This image was often evoked in works by artists of later generations. Jia Mian (1952- ), a female artist, often depicted withered lotus, and made inscriptions like "Gilded Buddha remains in the open listening to the pattering of the rain," or more straightforwardly, "Nirvana."