Bunkers to Castles
By TANG YUANKAI
AS one's circumstances change, so often does taste. The home, and ideas on how we should shape this most intimate of surroundings, have passed through some very diverse and interesting phases in modern day China.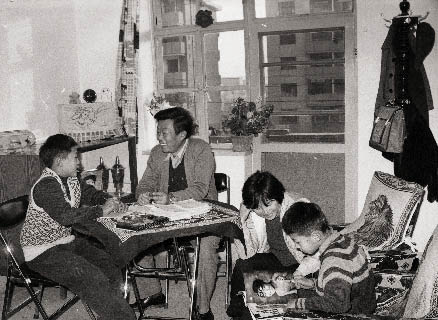 1982: A family in Tianjin City in their new apartment, with cement floors and whitewashed walls.                                                                         Xinhua
The Satisfaction of DIY
    Like most urban youth, Zhong Li has bought an apartment by saving a little and borrowing some. At age 31 marriage plans are not far off for this white-collar employee of a foreign enterprise. Eight years of steady effort have earned him a comfortable and cozy home, and much of that effort was "hands-on."
    When real estate markets are booming, as they are now in China, interior decoration teams are in high demand, and so the quality of the work varies greatly. Zhong Li did not trust the migrant workers waiting to be hired at the roadside daily, and chose a professional decoration company. Several rounds of difficult negotiations ensued, the young couple driving a hard bargain as if dealing with a vegetable vender at the morning fair. Finally they cut a deal in the range they had planned beforehand.
    Over the next few days, Zhong Li and his bride-to-be Cai Xianxian rearranged their life around their home decoration marathon. Hours of their spare time were spent in interior decoration supermarkets and building materials stores. Once they found the items they desired, they would ask for a business card, write down the price, and begin comparing the quotes of different suppliers.
    Before deciding to do their own interior decor, they picked up some "tricks" of the trade known to interior decorators and accessed through the public media or through Zhong's friends. Zhong Li and his fiancée agreed that one of them would always act as supervisor, keeping vigilance in the dusty rooms. Every tile and wood board was put into place under his or her watchful eye.
    The interior decoration in fact lasted several months. "Finishing an interior is very tiring and energy-consuming," summarized Cai Xianxian. "But my home is really adorable. Improving living conditions is not only a material need, but also a spiritual pursuit."
    The satisfied couple began to carry forward the "do-it-yourself" spirit: assembling furniture purchased from Ikea, grinding their own coffee beans, singing karaoke on their hi-fi set, and cooking home made dishes…
    Investing so much of themselves in their home, and taking such pleasure in it, the young couple continue to do their best to meet all their own needs in life.