Northern Guizhou: A Past Relived
By staff reporter ZHANG XUEYING
NORTHERN Guizhou Province is one of the few isolated areas in China, due to its difficult access and inconvenient transportation facilities. Surrounded by mountains on four sides, the area has been cut off from large-scale development that has continued for decades outside of this fortress of mountains. But this omission has turned out to be not necessarily a bad thing: northern Guizhou has recently caught the attention of tourists for its well preserved primitive ecology and 200-year-old man-made sites. The obstacles of geography haven't, and shouldn't, deter those in search of a pristine natural environment and an authentic Chinese past.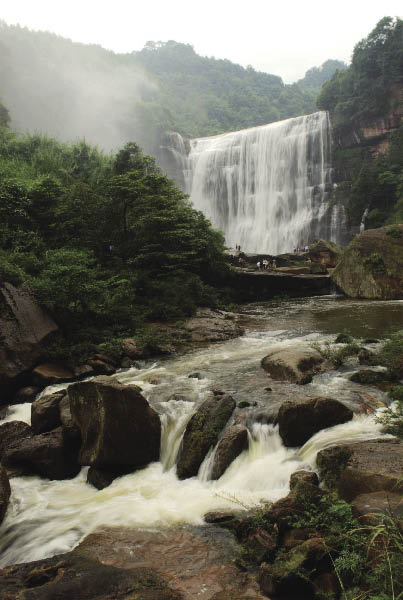 Shizhangdong Waterfall. Li Xueshi
Unique in the World
    Of the 1,200 sites of Danxia Landform in the world, more than 790 sites are found in China. Chishui City and neighboring Xishui County are the largest continuous Danxia landform in the country.
    The Wuzhufeng (Five-Pillar Mountain) Scenic Area, 42 kilometers from downtown Chishui City, a national scenic area, is known as "No. 1 Danxia Park of the World."
    The most characteristic scenic spots of the area are Big White Rock and the Five-Pillar Mountain. The Big White Rock is circular in shape, having an impressive height of 234 meters and a curve of 1,000 meters at a 666-meter span. It looks like a huge circular screen, and makes for great vacation photos, as a human standing in front of it forms a strong contrast in size. In sunshine, the rock texture is seen to be beautifully swirled like rosy clouds. A waterfall cascades down its center. Not far from the rock, linked by a wide and smooth stone path, is Five-Pillar Mountain. Its five Danxia peaks are covered by ferns and vines, making a soft, pleasing vista.
    At present, Chishui, Fujian's Taining, Hunan's Langshan, Guangdong's Danxia Mountain, Jiangxi's Longhu Mountain and Zhejiang's Jianglang Mountain are jointly applying for the world natural heritage status. These sites reflect the evolution of Danxia Landform. Chishui Danxia is considered by scientists as typical of Danxia Landform belonging to the early plateau valley type.