Daughter-in-Law with a Difference
By ZHANG LINGLING
Three decades earlier most Chinese people would have regarded a romantic relationship with a foreigner as something beyond their imaginations, even actively seeking to avoid such a taboo scenario. However, as the opening-up and reforms nudged China into interacting with the outside world, society has begun to view this as a normal occurrence. Expats are no longer exotic and mysterious to ordinary Chinese people, and interracial couples have risen out of China's increasingly internationalized society.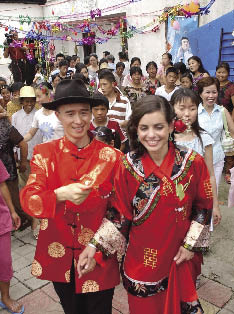 Interracial couples are becoming more ubiquitous in modern Chinese society.  
During the initial years of the reform and opening-up, cross-cultural marriages were left to the realm of a few "vanguards." Today, with increasing numbers of foreigners coming to visit, study or work in China, and with more and more Chinese people following suit in the opposite directions, these romantic worlds were bound to collide. Top that off with a greater access to the Internet, it is no wonder that the idea of international marriage has become a commonplace in our daily lives. However, I never imagined that one day an American girl would join my family.
A few years ago my son went off to the U.S. to study, and ended up working there after receiving his doctorate degree. Soon he married an American girl, and they had a baby daughter. Last year they invited my husband and I to the U.S. for a family reunion during the Spring Festival.
To my surprise, on New Year's Eve, my American daughter-in-law prepared a cornucopia of delicious Chinese dishes for us. We sat around and chatted with each other, enjoying some wonderful wine and soaking in the joy. As per tradition I handed a "red envelope" bearing money to my granddaughter. She replied politely in her cute Chinese tinged with an English accent: "Thank you for the gift, dear grandma."
After dinner my daughter-in-law turned on the TV. Suddenly the familiar hosts and hostesses of China Central Television (CCTV) appeared on screen. " Wow! How is it that we can watch CCTV in the U.S.?" I asked my husband, sort of half surprised and half filled with a childlike pleasure. Immediately I realized that it was due to a concerted effort made by my son and daughter-in-law to make sure that we could enjoy the CCTV Spring Festival Gala, which almost all families watch in China on the day. Half a month before the holiday, my daughter-in-law got wind of the fact that Chinese TV channels would be available on their cable system in the U.S. They immediately purchased the package, and ordered the equipment. But in order to save money they decided to install it themselves. My amazing daughter-in-law, who has a background in wireless technology and engineering, was able to tackle that project and get it all going.
While sharing some traditional snacks that I brought from my hometown, our family watched the star-studded performance on TV as we do every year, humming familiar tunes and laughing over the comic dialogues and skits. Even though we were in the U.S. we felt as though we were home. When my daughter-in-law suggested: "Why not send our festival greeting message to the broadcast?" We happily obeyed, and fired off an E-mail. Moments later the CCTV hostess announced: "We have received hundreds of congratulatory messages from all over the world." I felt so elated because I knew that one of them was ours. Our message read: "Best wishes for our country's peace and unification, thriving and prosperity." These are hopes that represent the common aspirations of all Chinese people no mater where in the world.
In the following days my daughter-in-law took us around to tourist sites and shops, just as a Chinese wife would do. I could see she was deeply in love with my son. But she adhered to her "rules" in their daily lives, which she thought crucial for a lasting healthy relationship. For example, she insisted that she and my son manage their incomes separately. So, when it comes to paying for their dinners out, rent, furniture or car, they share the cost equally. But when it comes to personal commodities such as clothes or cosmetics, they cover it individually, as needed. In the beginning my son had a tough time with this, as he believes in the Chinese tradition of unified family saving and spending. But he eventually decided to respect her opinions and try a new way of thinking.
I was glad to learn from my son that his American wife is thriftier than many from China, where frugality is traditionally a meritorious trait. When they go out for dinner, my son often orders more dishes than they can finish. My daughter-in-law always insists on taking the leftovers back home, and lectures my son for being so wasteful.
"After living together with a foreign husband for such a long time, I realized that it is essential that both parties in any intercultural marriage understand each other, and accept each other's cultural differences, traditions and habits. Both should regard the other as best friend without any sense of superiority. This is the only way to sustain the affection between them," said my daughter-in-law.
I hope that my son and his American wife continue their respect and passion toward each other forever, and the same for other couples like them. I also look forward to seeing stable and strong growth in the Sino-U.S. relations and increasing understanding between the two peoples in the coming years.