Rhythm and Blues
Sacrifice, Satisfaction and Survival for Child Gymnasts and Their Parents
By staff reporter ZHU HONG
    By 6:00 a.m., when most children are still enjoying a sweet slumber, seven-year-old Paopao and eight-year-old Rourou are already on the playground and immersed in their daily training in rhythmic gymnastics. Watched over by Nana, their coach, their task is to run an 8,000-meter course before school starts.
    Paopao is the "country mouse" from Sichuan Province in Southwest China, while Rourou, the "city mouse" hails from Hebei Province abutting Beijing. They have trained like this for three and half years and four years respectively. The girls' parents enrolled them in a Beijing-based rhythmic gymnastics club in the hope that they would win a competition to be held half a year later, a win that would make them part of the national reserve team.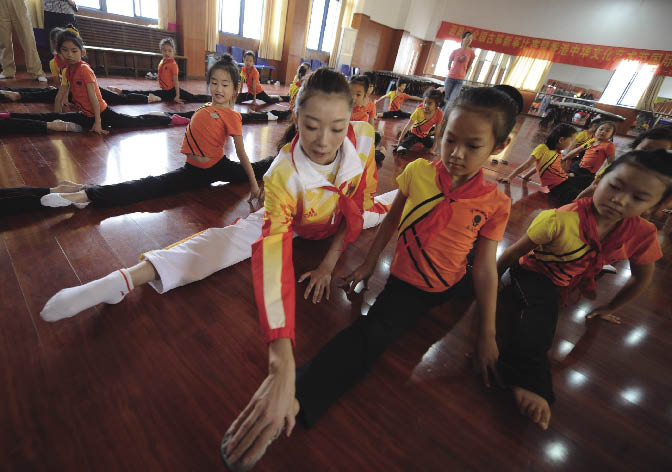 Lv Yuanyang, silver medalist, Olympic rhythmic gymnastics team event, leads younger gymnasts in practice at her Alma Mater Shapingba Primary School. 
    Sacrifice
    The two little girls began rhythmic gymnastics for completely different motives. Paopao was born in a relatively poor family sustained by a limited income from her parents' odd jobs. When she was three and half years old, she was identified as a potential gymnast by a coach at a local sports school. The family's hopes ride on the child. Her mother dreams that one day Paopao will become a world champion, an achievement that brings with it money, social standing and honor. Rourou's parents sent their little girl for training simply because they wanted her to grow healthy and confident through the rigorous and demanding exercise program. Young as the two girls are, they have to face very tough training six days a week, seven hours per day for six months, and then study English in the evening. Only one day per week is set aside for rest.
    Acquiring flexibility is the point of basic training. Only by achieving extraordinary pliability can a gymnast make the beautiful, standard movements of a rhythmic routine. However, practice poses great challenges to the youth. The side split must be at least 230 degrees and the front split at least 250 degrees. To assist trainees in the execution of the moves, coaches need to adopt some "brutal" methods. "When I first started training, my coach piled 5 mats to the front and back of my body respectively. When I made a front split, my coach would press my legs down hard on them – until my legs formed a V-shape," Paopao says, on the verge of tears. "I had to hold that position for at least two minutes every practice, and I felt the time pass so slowly. I thought in just one more second my legs would be broken." As coach Nana tells it: "To become an excellent rhythmic gymnast this is just the first step. I practiced these moves for 16 years so I totally understand the kind of unbearable pain involved, but you have to be determined if you really want to attain the heights in this field."
    To keep slim, Paopao and Rourou have no choice but to say farewell to the snacks adored by most children. On Children's Day, Nana took them for a buffet as a reward for the improvements they had made. Paopao ate 15 cakes, seven shashliks and five ice-cream cones until she was too full to stand up. "I hadn't eaten such delicious food for such a long time that I just couldn't control myself. I ate all of them even when my coach criticized me," Paopao said, looking quite pleased at her recollection of the moment.